Cars Land Progress in 11 Pictures
With the official opening date of Cars Land announced/set at June 15, 2012 I thought it would be fun to pull some progress shots to show how we got to where we are. So to start what I suspect will be a series of posts here is an overview done in 11 pictures (my goal was 10 but I failed!). I know I left out a lot of key moments, was looking for some representative dates for this posting.
If you are interested in seeing the progress I recommend my Construction Progress section which now has over 3.000 photos showing the work. If you have ideas for a series of shots you would like to see submit a comment or email.
We start with a shot from May 15, 2009 – A little over three years before opening day.

By July 24, 2009 dirt was starting to be moved around and the parking lot was disappearing.

December 18, 2009 – The foundation for the Racers track are taking shape.

March 10, 2010 – The test circuit for the Radiator Springs Racers is taking shape

April 16, 2010 – The steel for the rocks is starting to go up.

June 10, 2010 – Approximately two years till to opening

January 2011

June 10, 2011 – Approximately one year till opening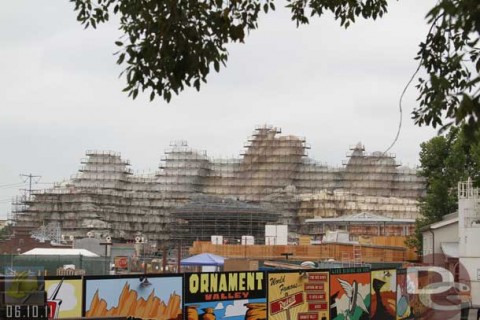 September 23, 2011

January 13, 2012 – Only 5 months till opening

March 10, 2012 – Only three months till opening