#D23Expo Day 2 – Thoughts & Observations
Day 2 of the D23Expo was filled with arena events for me. I started off arriving just before 8am again and there was massive lines out and around the convention center most having started before 5am. Most guests were waiting for the Studios presentation that was to begin at 10:30am.
I had a little time until I had to meet for the first event of the morning so I ventured out on the show floor again and stopped by Journey Into Imagineering to catch two models that had been added since the preview I saw. Plus it is always great to visit with Imagineers.
A caught a couple glimpses of John Lasseter touring the Journey Into Imagineering but there were too many people around to get any usable pictures.
Next up it was time to head to the arena and the Let the Adventures Begin: Live Action at the Walt Disney Studios presentation. No cameras were allowed inside so I have no images or video of my own. I will post Disney images in the detailed posting about today later in the week. This presentation started on time unlike yesterdays and it ran slightly long but not bad. Compared to years past I thought this was just ok. There was only one performance number at the end, no live band this year, and most of the celebrities that were brought up on stage did not have the opportunity to say much at all and I am more interested in hearing people talk than just a wave of general comment. I did think the Saving Mr. Banks film looks interesting and it received quite a lot of time, which made sense. I was guessing they may have Tom Hanks show up in costume, that would have been a huge reaction, but it did not happen. If it did wonder if it would have been louder than Johnny Depp from the first Expo? Speaking of Depp no mention of the future Pirates films. Also I thought the Lucasfilm segment was really lacking. A quick run down of the films that were discussed:
Lucasfilm
They made a brief mention of Star Wars: Episode VII but no detail beyond what has been previously released.
Marvel
Thor: The Dark World – November 8, 2013
Captain America: The Winter Soldier – April 4, 2014
Guardians of the Galaxy – August 1, 2014
Avengers teaser
Disneynature Bears to be released for this earth day (April 18, 2014)
Walt Disney Studios Motion Pictures
Muppets Most Wanted – March 21, 2014
Into the Woods – December 2014
Cinderella – March 13, 2015
Maleficent – July 2, 2014
Tomorrowland – December 12, 2014
Saving Mr. Banks – December 2013
After the Studios presentation I grabbed a quick lunch and then headed for the Disney Legends Awards Ceremony. The arena was not very full this time around. I think after being in the long Studio presentation people wanted to move around and many wanted to get in line for the concert tonight. This year's class did not really lend themselves to production numbers so it was more a traditional award format. They would talk about the person, give them the award, and let them talk a bit. This year's Legends Class: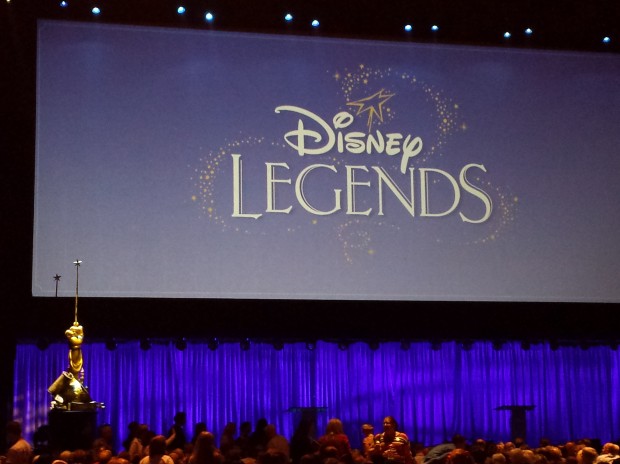 Tony Baxter
Ed Wynn
Collin Campbell
John Goodman
Billy Crystal
Dick Clark
Glen Keane
Steve Jobs
After the Legends Ceremony I had almost two hours to eat and roam the floor before the evenings event. I visited the far end of the Convention Center, which included the Collectors Forum, Dream Store, and silent auction items. The Matterhorn Bobsleds were at $14,000 when I walked by. Should be interesting what they end up at.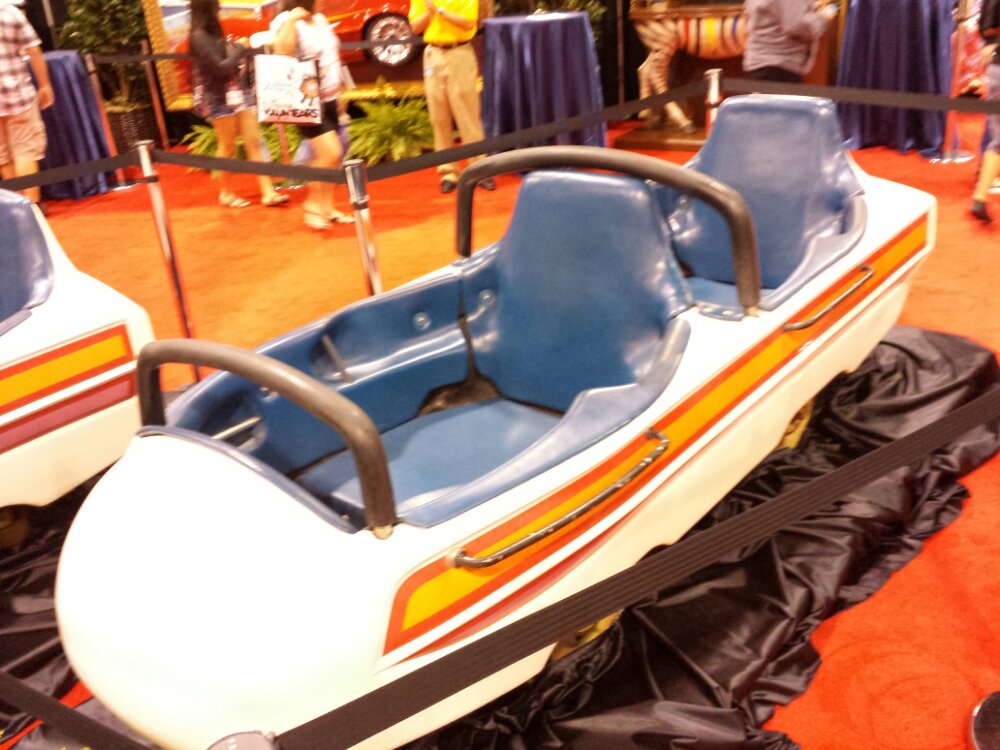 The finale to my night was the Richard M. Sherman and Alan Menken: The Disney Songbook event/concert. This concert was incredible. How can you not enjoy a couple hours of live Disney music performed by the creators? It was really two concerts in one. First up was Richard Sherman. It followed a format similar to others. Tim O'Day was on hand to MC the event and Richard would tell a story then play a song, prompted by Tim and the video images. Then Alan Menken took the stage and performed. For the finale they were both on stage and Alan sung along to Small World. I am not sure what I expected but I thought there might be more interplay between the two of them. It really felt like two concerts. I really enjoyed it but it was not what I had envisioned when I first heard about the event.
Here are three quick clips to give you a taste of the performance. First up Richard Sherman and the Tiki Tiki Tiki Room followed by One Little Spark. The second video is Alan Menken and a Beauty and the Beast Medley. The final video is the finale of the show which featured A Whole New World followed by Its a Small World.