Luigi's Rollickin' Roadsters – Cars Land (AP Preview)
Today Disney California Adventure hosted an Annual Passholder preview for Luigi's Rollickin' Roadsters in Cars Land.  This attraction official opens Monday March 7.  It replaces Luigis Flying Tires.
The line stretched to the exit.
A new banner on the side of the building
From the main queue entrance it had a posted wait of 60 min
Inside the queue is the same with most of the posters and props remaining untouched.
There are a couple changes to support the new storyline.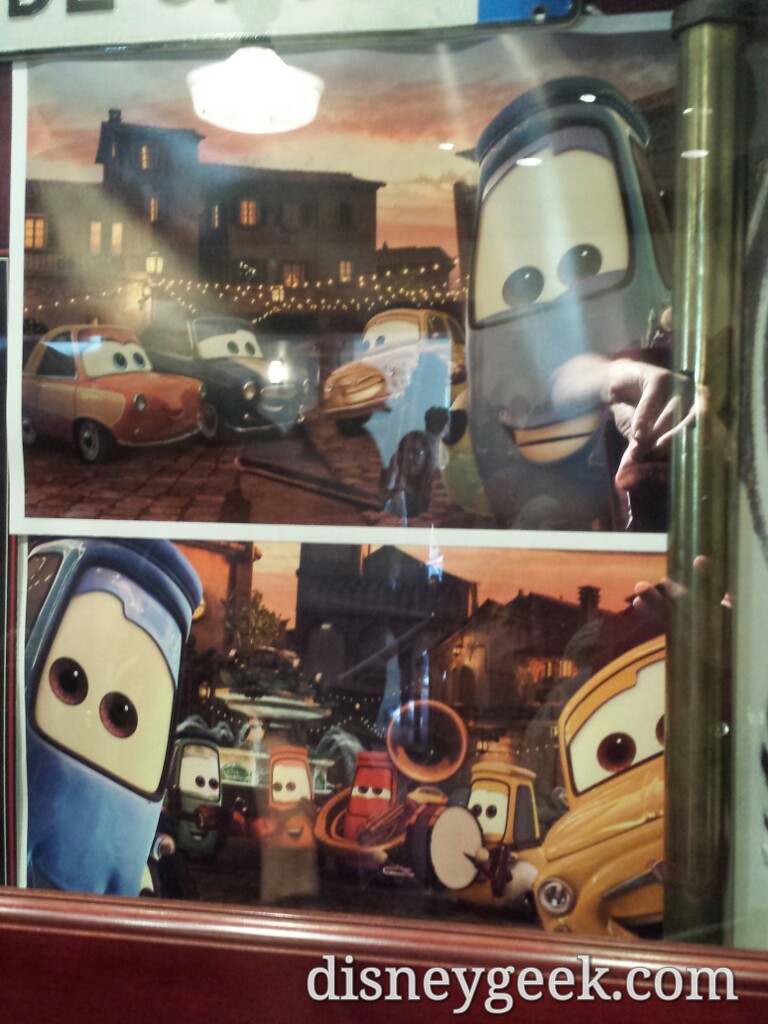 It took just under an hour from when I entered the line until this photo.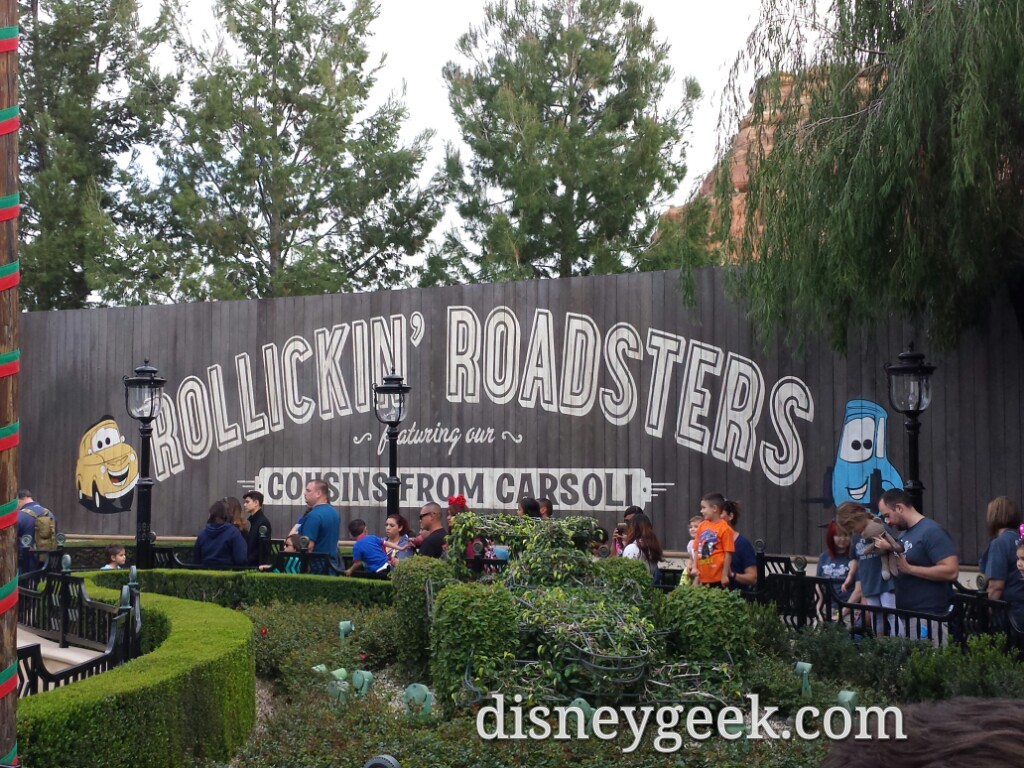 My car
The view from inside
A check of some merchandise available in Ramones


I had hoped for an afterdark ride but it was very busy in the evening.


Posted wait of 2 hours.

The queue wrapped through the stroller parking and back on itself to the entrance.

It was down when I first showed up. They were moving a car offline.

After 10 minutes or so it reopened.
---
My first impressions:
Luigi's Rollickin' Roadsters officially opens on Monday March 7, 2016 and replaces Luigi's Flying Tires in Cars Land. This is the first trackless ride system to be rolled out at the Disneyland Resort. The attraction features Luigi's cugini (cousins) who visiting from Carsoli, Italy for race day in Radiator Springs. You board a two person roadster, buckle your seat belt and wait for one of five songs to start and the cousins to dance.

On Friday the attraction was open for Disneyland Annual Passholders to experience. No reservations or fees. You just had to wait in line and have your pass scanned. The wait times were long all day long. Averaging well over an hour throughout the afternoon and over two hours in the evening. You were also given a commemorative key chain which I thought was a nice touch. Having an Annual Passholder soft opening is great and much appreciated. I would have liked to have seen them run it more than one day.. maybe all weekend. There was plenty of signage about the event and a fair number of cast members on hand to assist.
Thanks to the long wait time (I waited about 80 minutes) I got to experience the queue and really look around. Most of the queue is unchanged from the original. Inside there are a couple new posters highlighting dancing tires vs flying tires. Stepping outside the signage has changed but the garden and area around the dance floor looks the same.
I really enjoyed watching the cars. After watching a couple cycles you can really see some of the variation which is interesting. The ride system allows them to do quite a bit and it looks impressive. Two minor issues though. One is the cars mostly seem to face the queue and those next in line. So if you are waiting or watching you are looking at the back or side of the cars a long time. Also seems a Bruin picked the color palette.. there are quite a few more bluish cars than reddish ones… almost three times the number I counted. At night the cars head and tail lights add to the scene and it looks great. I would lave liked to have seen some other lighting effects since it is a dance but for a first version it looks good.
The ride experience is very passive. Many guests did get into the dance routine and throw their arms up on the spin, etc.. but more or less you just sit there and enjoy the ride. It is a bit awkward with no hand bar so you are just sort of sitting on a bench as the car moves. The movements are a little hard to see what is going on while you are onboard for most of the ride. The overall experience is ok but I enjoyed the original Flying Tires attraction more because you had some control.
I thought the Imagineers did well with the very small dance footprint of the attraction. Nothing changed so it is the original approx 125 ft by 70 ft surface. They did not add or change anything from that respect. I would have liked to have seen them move to a continuous load like the Aquatopia in Tokyo. That way the area does not have these large lulls. Having cars seemlessly join in and rotate out of the dance would have been interesting to see. Also it would have kept the line moving more consistently. The hourly capacity of this attraction is very low, I counted 16 or 17 cars out at once, two people per car and each cycle was taking 5 minutes or so. It was about a 90 second ride then load and unload time plus safety check.
For a brief history and some thoughts on Disney Trackless attractions here is a previous post.
Disney Press Release – Luigi's Rollickin' Roadsters at Cars Land