Disney's "Moana" – Maggie's Review
Disney's "Moana" comes to theaters November 23, introducing the newest "princess" in a movie as fresh as it is sentimental. "Moana" is truly magical, a jubilant, heartfelt and funny coming-of-age story unique from any Disney has made before.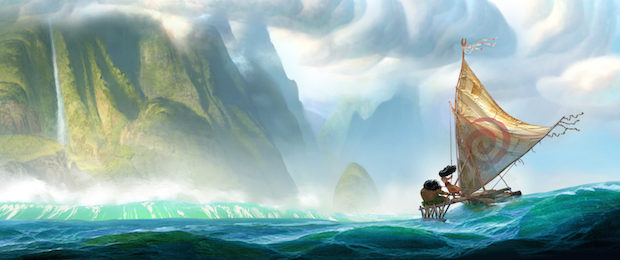 "Moana" opens on the legend of Maui and Te Fiti, the mother island. Moana (Auli'i Cravalho), a self-described non-princess and future chief of her island, longs to explore the ocean, but is bound to the land by her people's fear of what lies beyond the reef. When the island's resources start to die off, Moana is sent by her grandmother a boat of their ancestors to find the demi-god Maui (Dwayne Johnson) in order to restore the heart of Te Fiti and save her village.
The film's directors, Ron Clements and John Musker, worked previously on "The Little Mermaid" and the technological journey made since that film's debut is on full display in "Moana". The CG-animated film features sweeping shots of beautiful natural landscapes, fantastical alternate dimensions and apocalyptic storms. Where the ocean would usually be a stagnant element of scenery, "Moana" makes it a main character. The ocean chooses Moana to return the heart of Te Fiti and aids her along the way (often to comedic effect). Though the screen is usually only populated by Moana and Maui, the film makes clever use of Heihei (a chicken), little Maui (a tattoo) and the ocean  to expand the character palette.
The advanced technology also allows the movie to contrast realistic island scenery with larger than life gods and creatures. Te Fiti, Tamatoa and Maui are given the visual weight to bring the gravity of their myths to life on screen.
The film's music, written by Lin-Manuel Miranda, Opetaia Foa'i and Mark Mancina, is another stand-out element. "Moana" features both classically catchy ear-worms and more contemplative overtures. "How Far I'll Go" is an anthem in the same vein as "Let It Go"; Maui's "You're Welcome" and Tamatoa's "Shiny" are manic and delightful.
The real jewel of the movie is its namesake, Moana. A 16-year-old preparing to take on leadership of her village, Moana is smart and resourceful. Throughout her journey, Moana is capable and confident. Though she faces obstacles and suffers self-doubt, her determination to save her village and her family overcomes all.
"Moana" is truly wonderful. This movie is the first true break from the Disney princess archetype, featuring a young woman in a leadership role whose self-possession and strength carry the movie from being merely beautiful and charming to empowering and heartfelt.