Disneynature's "Penguins": Maggie's Review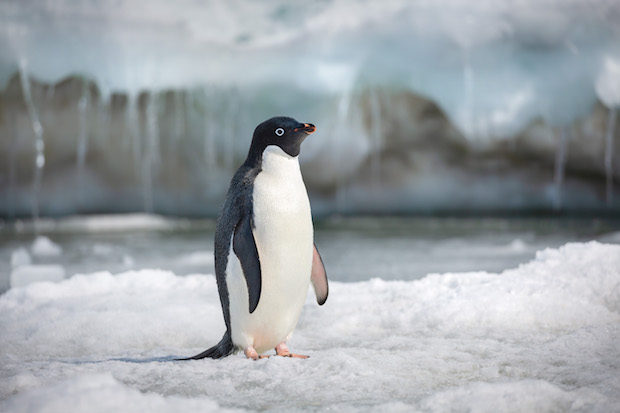 Opening today (just in time for Earth Day) is the latest documentary from Disneynature, "Penguins." The tenth film from Disney's nature unit is narrated by Ed Helms and follows the journey of Steve, an Adélie penguin making his first mating migration to the shores of Antarctica.
I walked into this movie after a long day of teaching and an agonizing drive through traffic, but "Penguins" was the perfect cure for the grumpies. From the first shot of little Steve waddling frantically across a seemingly endless frozen tundra, this documentary is pure delight. Early on, he ventures into a gaggle of Emperor penguins, highlighting how very petite Steve is–two feet tall and 15 pounds–before he embarks on his migration and many mile ventures to feed.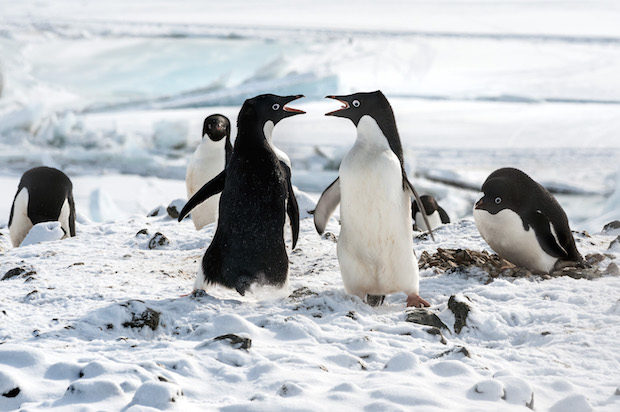 The story's narration as provided by Ed Helms lays perfectly over the events of the documentary. He transitions smoothly from providing facts and background, to setting up Steve's journey to filling in the thoughts of the birds on screen. Helms's voice over immediately binds the audience to the survival and success of Steve and his future mate, Adeline. You could take a cynical view, that human filmmakers are projecting an anthropomorphized love story onto a couple of 2-foot tall penguins. But the natural comedy peguins' big beady eyes, molting feather mohawks and squabbles over the perfect pebbles make Helms's narration feel like you are really getting a portal into the minds of Steve and Adeline.
The second booster for the film is its soundtrack. It does feature soaring instrumentals and occasionally foreboding strings, but the musical tone of the movie is set by Patti Labelle, REO Speedwagon and Whitesnake. Moments of the documentary that could have been played with tension, foreshadowing or stoic silence are instead injected with a refreshing humor and lightheartedness.
These two elements make "Penguins" an enjoyable movie, even for those who are not usually lovers of nature documentaries. It is also very low threat. While there are scenes of the penguins diving and jumping to escape orca whales and leopard seals, they do not carry the threat of carnage that usually hangs over a film like this. This also makes "Penguins" a safe and educational choice for kids without the worry of traumatizing them with a surprise penguin buffet.
But, of course, the greatest strength of the movie is the cinematography. From sweeping shots of the Antarctic coast to the intimate footage of Steve and Adeline's new chicks, every moment of the movie is visually beautiful. As the documentary stretches across seasons, the penguins are seen in incredible detail as the swim, dive and jump through the water, huddle under layers of snow and traverse treacherous ice sheets. The moments when I was most removed from the action of the documentary were when I marveled at how filmmakers tracked penguins through winds of a hundred miles per hour, or in frigid waters beneath solid layers of ice. The end credits include some snippets of the making of the documentary, which give a small picture to the lengths gone to to record Steve's journey to fatherhood.
"Penguins" is a joyous watch for adults and children, nature documentary lovers and their friends. With a delightful narrative, peppy soundtrack and a compact runtime, this movie checks off all its boxes.