Book Review: The Muppet Christmas Carol: The Illustrated Holiday Classic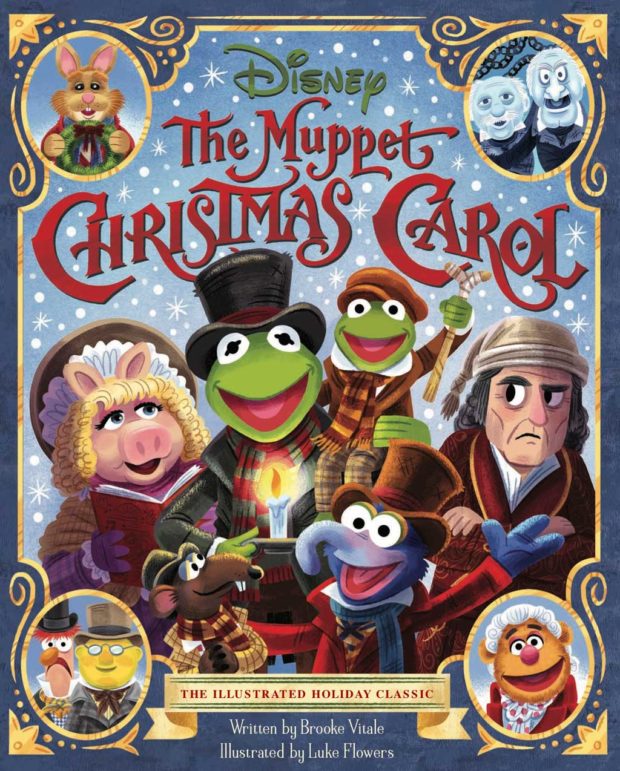 The Muppet Christmas Carol: The Illustrated Holiday Classic combines the Charles Dickens story with the Muppet Christmas Carol film and presents it in an illustrated storybook format.  The book follows the 1992 The Muppet Christmas Carol with the Great Gonzo portraying Charles Dickens and narrating the story with help from Rizzo the Rat.    Kermit the Frog and Miss Piggy are the Cratchits.     The plot is the classic story of Ebenezer Scrooge being visited by three ghosts on Christmas Eve who show him the error of his ways and the importance of spreading love and kindness to others.
I was sent a review copy from Insight Editions and enjoyed reading through it and taking a look at the fun artwork throughout.   Luke Flowers illustrations feature some fun Muppet jokes and references in addition to hitting the key plot points of the tale.  The style of the art is bright and colorful with nearly full page spreads utilizing the 9"x11" format.  Brooke Vitale's text tells the basic story and keeps the story moving along at a fast pace.  The book is a quick read at 40 pages.   I enjoyed the banter, done with dialog bubbles, between Gonzo and Rizzo as they told the story.
The book is written for ages 4-8 with reading level of grade 1-2.  After reading through the book I found it a little too advanced of a story for my nephew who just turned three.  He recognized many of the Muppets, since he watched Muppet Babies, but the story was too much for him.
If you are a fan of the Muppets and especially the Muppet Christmas Carol you will want to consider adding The Muppet Christmas Carol: The Illustrated Holiday Classic to your library.  It is a great way to get yourself into the holiday mood and share a classic story with your family.
---
*This post contains affiliate links, as an Amazon Associate the site earns from qualifying purchases.