Star Wars: Rise of the Resistance – Boarding Group Experiences @ Disney's Hollywood Studios
Star Wars: The Rise of the Resistance opened on Thursday December 5th in Star Wars: Galaxy's Edge at Disney's Hollywood Studios.    I arrived Tuesday the 10th and was able to experience the attraction three times over the course of my week at Walt Disney World.    I will have a separate post with my thoughts on the attraction itself. This post is about the boarding group process since I received several questions about it.
Disney is utilizing a virtual boarding group system to manage the crowds and wait times for this new attraction.  This system is beneficial to Disney & guests as it allows for downtime and other delays and minimizes the amount of time someone has to spend in line.   Rise of the Resistance utilizes a lot of technology to deliver its experience including a new ride system and a lot of special effects.   There was no period of soft opening or previews.  The attraction opened the day before for media and had some limited testing before but no large scale cast member or guest previews.   So it is still in a "shake down" mode as the operating team learns to work with the system and the systems themselves get broken in.   This has led to some major down times and minor stoppages throughout most days.      Below is a description of the system as well as my experience.  Note the operational details are still a work in progress and Disney is adjusting them so be sure to check the app or Disney World website for the latest process.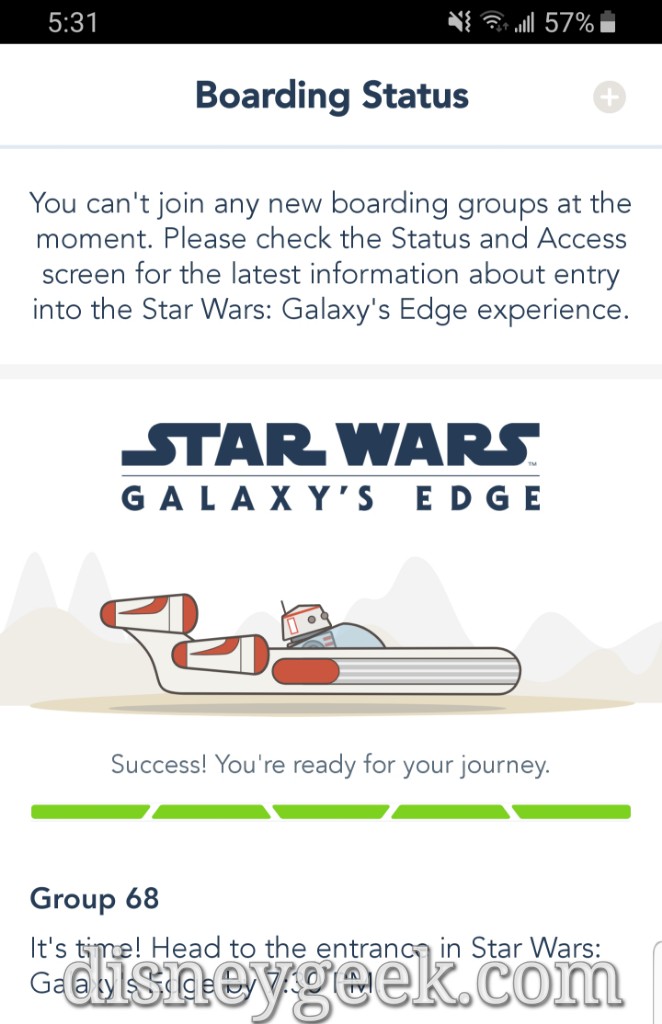 Boarding Group System Basics:
The Boarding Group System is a virtual queue where you join a boarding group using an app on your mobile device or a kiosk in the park.   Groups are called throughout the day.  You can monitor the current groups on the app.    Once your group is called you will receive a push notification and have two hours to show up at the attraction to experience it.     In order to join a boarding group you and all members of your party have to have already entered the park.     The process in the app to join a group is very similar to FastPass+.  You select the people in your party then click next then confirm and a group number is assigned to you.  At this point you are done until your group is called.
You do not have to stay in the park and can leave if you choose.   If you check your status throughout the day the app has some animations/graphics to show the progress.  There are no time estimates since that can vary based on down time, etc..   Once you return to the attraction a cast member will ask your group number then if you are in the correct range allow you to move on to a second cast member that scans your Magic Band/Ticket.  If you are good to go you enter the standby queue.  Wait times averaged about 30 minutes for the three times I went through.     Disney is limited you to a single boarding group in a day.    The distribution was modified slightly to allow for guests to join stand by boarding groups after the regular boarding groups are gone due to less down time allowing for more groups in a single day.     Another change Disney made is distribution does not started until posted park opening.   For the first week+ distribution started as guests were being let in or at some point soon after.
---
To give a sampling of the experience here are my three visits:
Tuesday, December 10th
I arrived at the studios after 8:30am due to a later flight arrival, travel to WDW, etc..   A frame signs were up as you approached the park and once inside saying all groups were gone for the day and to check the app for more details.  I checked the app after entering and to my surprise I could join a group. I did and got group 116.  The rest of my party had to stop at the ticket booth to redeem an AP voucher and by the time they entered, about 10 minutes later, the groups were gone for the day so they were out of luck.    Throughout the day I monitored the app watching the numbers creep up then stop for long periods of time then move again.   Around 4:30pm I received a push notification from Disney saying my group was not going to ride and they were giving me a FastPass+ valid for tomorrow as well as a 1-day park hopper ticket.  They were only on group 60 at this point.  So my first attempt to visit the attraction did not succeed.  I thought it was helpful that they told me fairly early in the day that my group was not going to make the cut today (the park was open until 9pm).  The FastPass+ and 1-day park hopper ticket both showed up in myDisneyExperience.  The FastPass+ was like a golden ticket.  It was good on any attraction in any park on the 11th.  The Park Hopper had an expiration date of 2030 but I checked later in the week and it was gone so I am assuming it was meant to expire the next day too.  So the free ticket will not help most people since you have a multi day ticket already or an annual pass.
Wednesday, December 11th
The next morning I returned to Disney's Hollywood Studios, arriving about an hour early, 7:30am.   This time my entire group was together as we entered the park and I called up the app to get us a boarding group.  One member of our group was not registering as being in the park.  We found a guest relations cast member and they said it can take up to 5 minutes for the system to register you are in.  But since most of us were in they had me get a boarding pass then they manually added the last person to our group.    We received group 68.
I walked out to the attraction to use my FastPass+ from yesterday.  I walked up to the first line of Cast Members and they directed me around to a second group on the other side.  Once there they scanned my MagicBand and guided me into the Standby queue.  This group of cast members were sending guests like me to the standby line and if you returned with a paper FastPass meaning you were in line or on the ride yesterday when it went down they sent those guests to the FastPass entrance to bypass most of the queue.    I entered the queue at 7:36am.  Reached the first preshow room at 8:04am with only a couple pauses in the queue movement.  I exited the attraction at 8:39am so just over an hour total experience time.
At 5:30pm my phone vibrated and it was a message from myDisneyExperience that our boarding group was now able to experience the attraction.  So we headed for Batuu and to ride (we were close since I saw the group numbers were getting close).   Told the first line of cast members our group number then the second line scanned our MagicBands and sent us to the standby queue.  We entered the queue at 5:33pm and reached the pre-show room at 6:08pm, so a little longer wait this evening.  I exited at 6:43pm so 70 minute total time for this pass through.
Friday, December 13th
Each day it seemed Boarding Pass Groups were running out earlier.  This morning I set my alarm for a pre-dawn wake up and we were up, dressed, and walking toward Hollywood Studios by 6:00am.  Since our room was on the far end of the Boardwalk Villas it was a short walk to the studios along the waterway.  Arrived at security around 6:20am and queued up with the masses.  The security lines were not bad but to enter the park queue filled most of the courtyard already backing up almost to the security checkpoints.   Around 6:45am they opened the gates and we did a slow shuffle with the mob toward the entrance.  Finally entered the park around 7:10am.  Opened the app and picked up a boarding group as soon as we were all in the park. This time getting group 66.  Then promptly turned around and worked my way to a cast member to exit (there was none set up yet).  The lines to get in still stretched beyond the ticket booths but were quickly shrinking.
Today my boarding group was called at 2:55pm.  Interesting my app did not vibrate today.  I may have been doing something and just did not notice it though.   We made our way to the attraction and entered the queue at 3:30pm.  Arrived at the first pre-show room at 4:00pm then exited the attraction at 4:22pm.  So our quickest experience of the three.
---
My Thoughts on the Experiences:
The Boarding Group system seemed to work fairly well all things considered.  There were challenges and it was not perfect but it seemed a very good option to give flexibility to accommodate downtime and other challenges and minimize guests wait in line.  Disney is still adjusting the system as they learn from its usage.  Overall it seemed to be a fair system allowing guests an opportunity to experience the new attraction.   Boarding groups were gone early in the day every day we were there, many days before 7am.  Queues were formed and filled in the early pre-dawn hours.  There was some confusion early on with the park opening for all hours before the posted time and boarding groups gone by posted park opening time.   Disney reacted to this by moving posted park opening times earlier and changing distribution not to start until park opening.     I was pleased with my experiences and was happy to be able to visit the attraction without having to spend most of my day standing in a queue for it.
Recommendations:
If you are visiting Walt Disney World I would recommend making an effort to get to the park at least 30 minutes prior to posted park opening time to pick  up a boarding pass and assume this will be for later in the day. Be sure to have the official Disney World app installed and working prior to arrival and that all members of your party are linked/friends so you can book with a single app, this will save time and frustration.   I would also say try to go early in your trip.  This will give you backup days if something happens as well as a chance for a repeat experience.
If you have any questions on the boarding group experience that I did not address feel free to leave a comment or send me an email or Tweet and I will be more than  happy to share my two cents.
---
Related Posts: