Disneyland Paris Halloween & Christmas 2021
Dreams, thrills and chills: Halloween and Christmas seasons return to Disneyland® Paris!
What better place than Disneyland® Paris to celebrate the end of the year together? Now more than ever we all need to dream, and what better way than with a spellbinding program full of surprises for the holidays, including the return of exclusive Halloween Night and New Year's Eve parties!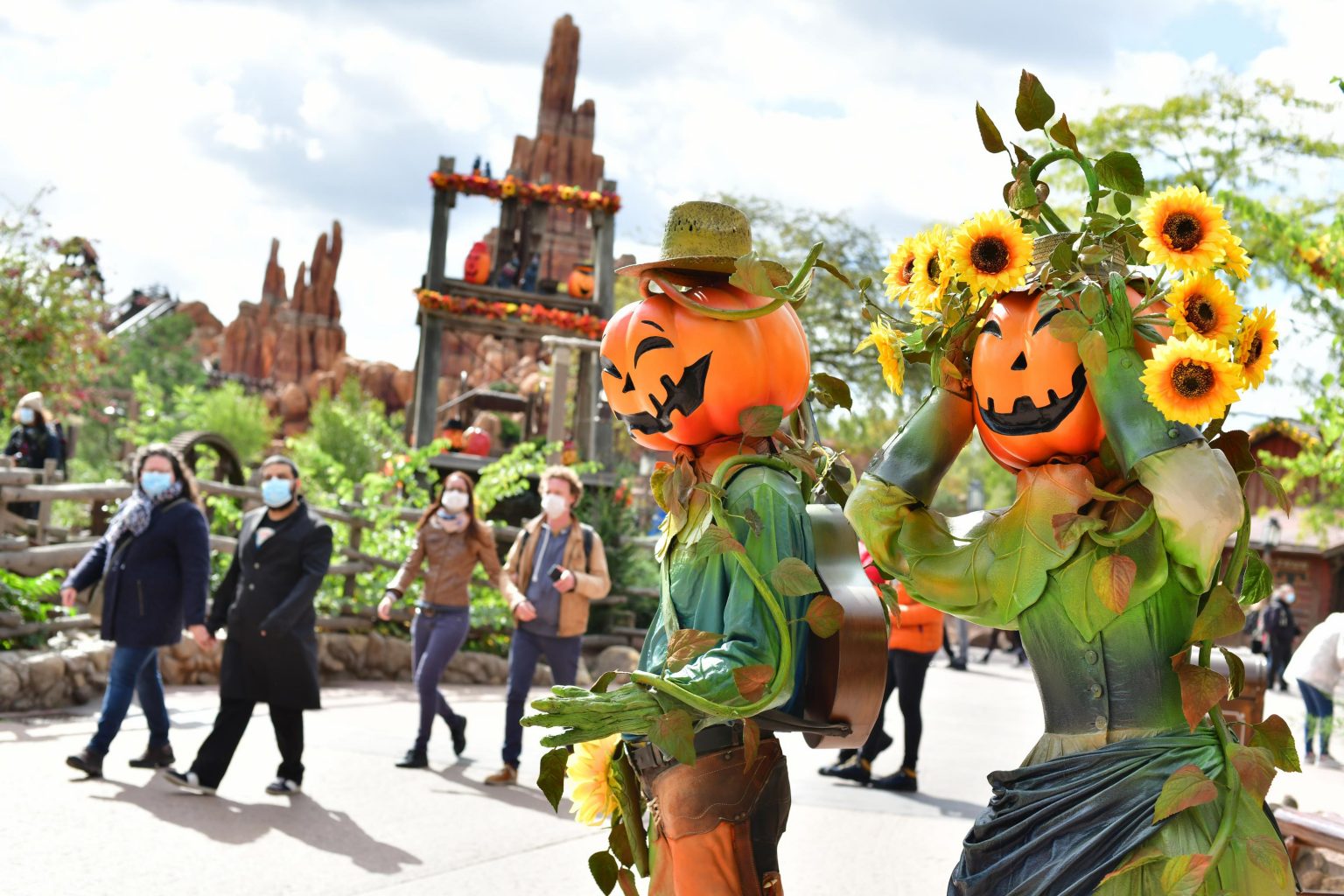 Disney's Halloween Festival, October 1 to November 7, 2021
Disney's Halloween Festival promises some wicked fun when it returns on October 1. Disneyland Park will be decked out in seasonal décor to entertain Guests with a unique Halloween ambiance, among them pumpkins, colorful autumn garlands and friendly ghosts.
Disneyland Park and Walt Disney Studios Park will be full of Disney Villains like Maleficent, Captain Hook, Jafar and Cruella, as well as Disney Characters dressed in their most mischievous Halloween costumes.
This will be the perfect opportunity for Guests to discover – or rediscover – the resort's most spellbinding attractions, be it the head-spinning fall on The Twilight Zone Tower of Terror or the mysterious journey filled with ghostly spirits in Phantom Manor.
Disney's Halloween Festival has plenty more surprises in store! More details coming soon on disneylandparis.com.
This year also marks the return of the iconic Disney's Halloween Party*! This unique evening at Disneyland Park on October 31 will feature a selection of attractions open late, plus many surprises and wickedly funny events concocted by Disney Villains… chills, thrills and fun guaranteed! Everything Guests need to know will soon be available on disneylandparis.com.
Tickets for Disney Halloween Party are already available for purchase! Tickets for Disney Halloween Night as an add-on to a package (including Hotel + Disney Parks Tickets) will be available soon.
---
Disney's Enchanted Christmas, from November 13, 2021 to January 9, 2022
Guests can finally get together and celebrate the season, as Disneyland Paris wraps itself in the magic of Christmas starting November 13! Guests of all ages can dream once again and celebrate Christmas as it should be. At Disneyland Park, a thousand lights will brighten the magnificent Christmas tree welcoming Guests as they arrive, and the illuminations on Main Street, U.S.A. will guide them to Sleeping Beauty Castle. The frosting on the cake? You might even see frosty snowflakes falling from the sky from time to time on Main Street, U.S.A.!
For this special and long-awaited Christmas, many iconic Disney Characters like Mickey, Minnie, Donald, Goofy and Stitch – even Santa Claus himself – will be dressed in their finest holiday attire, enhancing this Winter's magic in both Disney Parks.
All of the festive details for Disney's Enchanted Christmas will be coming soon, with the promises surprises that will keep you dreaming!
And finally, to celebrate the coming of the New Year, Disneyland Paris will offer Guests an unforgettable New Year's Eve Party*, a unique evening experience with plenty of Disney Characters, a selection of attractions, exceptional menus in restaurants at both Disney Parks and many surprises for a dreamy New Year's Eve.
*Detailed program and opening of the ticket office for the New Year's Eve Party will be available soon on disneylandparis.com.
Some experiences, shows or events will not be available or may be modified depending on the evolution of the health and safety measures and recommendations from public authorities. Guests can visit disneylandparis.com for the most recent updates All the events, shows, attractions and animations mentioned might also be modified, delayed, cancelled or closed without advance notice and they are subject of climatic conditions.