Disney+ Hallowstream Outdoor Screening Experience
Following two years of drive-in style events to promote Disney+ Hallowstream, the setting of the event changed this year to the iconic Hollywood Forever Cemetery. Disney+ staged four screenings on the Fairbanks Lawn across from the memorials and mausoleums of the cemetery. "Hocus Pocus" and "Hocus Pocus 2" were shown Friday night, while Saturday featured "The Nightmare Before Christmas" and a Marvel double feature of "Werewolf by Night" and the "WandaVision" episode "All New Halloween Spooktacular."
We attended the screening of "Hocus Pocus 2," on an unusually (for Los Angeles) foggy evening, assisted by additional fog machines. The Hollywood Forever Cemetery is a bit of an unsettling space: half solemn eternal resting place, half cultural event space. The whole experience felt a bit like a garden party at the Haunted Mansion. Prior to the screening there were several activity stations, photo-ops and Smorgasburg food stands. We had time to visit an activity station for witchy makeup and hair accessories (plus light up cat ears), take some photos and get popcorn before the movie. There was also a pumpkin painting station and cauldron photo-op.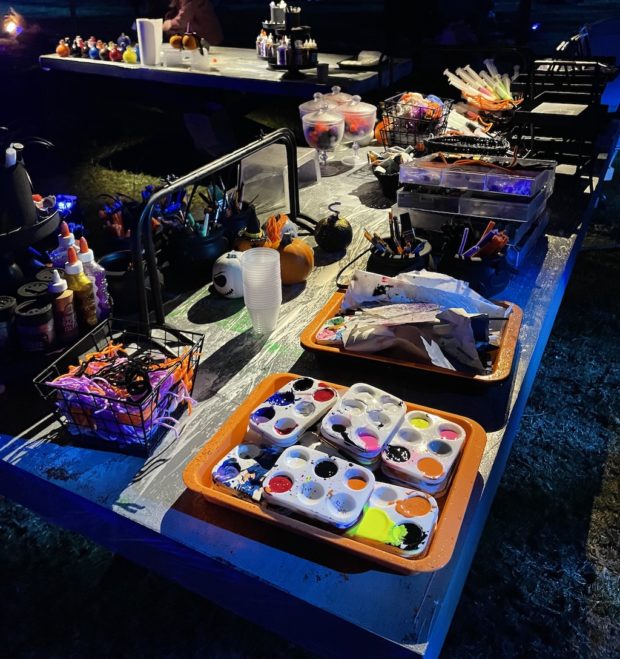 The Fairbanks Lawn had plenty of space for each group to spread out blankets, pillows and low-chairs, with a few rows of VIP stations in the front with picnic blankets, inflatable stadium seats and pillows. Overall, the atmosphere was just right for a spooky night in Hollywood: foggy, with a moon just bright enough to light up the palm trees.
The movie itself was just right for occasion: thematic, light-hearted and not too long. This event was very fun as an adult and a spooky take on an activity usually reserved for summer. This event is a perfect seasonal alternative to the horror-heavy haunted houses, hayrides, mazes, etc. that might be on the scary side for kids (or adults!). This was my third time at a Hallowstream event, and every one has been so much fun and provided great safe alternatives to pre-pandemic Halloween activities.