"Avatar: The Way of Water" – Maggie's Review
In theaters Friday is James Cameron's "Avatar: The Way of Water," a return to the moon of Pandora in the Alpha Centauri system more than a century in the future. It has been more than 13 years since the initial release of "Avatar" in 2009, and while the first film drew accolades and set numerous box office records, the landscape of how films are seen and made has changed a lot in the last decade. The film has been delayed a number of times from a planned 2014 release, in order to develop motion capture technology that could be used underwater.
While much has changed on Pandora, "Avatar: The Way of Water" focuses on the familiar protagonists of Jake Sully (Sam Worthington) and Neytiri (Zoe Saldaña). Since their courtship in "Avatar," the two have come to lead their clan and grown their family to include three of their own children, and two adopted children. After a time of relative peace, humans return to Pandora forcing Jake to lead the Na'vi in guerilla warfare to defend their home planet. As the family evades old enemies and reaches out for new allies, they must learn how to adapt and survive as individuals and one unit.
It is hard to assess this film without considering the cultural phenomenon of its predecessor. For some context of what was going on when we first me the Na'vi in 2009, the Marvel Cinematic Universe essentially didn't exist, Barack Obama won the Nobel Peace Prize in his first year in office, and we dealt with the (comparatively quaint) H1N1 flu pandemic. There was not much mainstream conversation around cultural appropriation, race or colonialism on film (at the Academy Awards earlier that year Robert Downey Jr. was nominated for an Academy Award for "Tropic Thunder," in which he performed the majority of the film in Black-face). All of this is to say, that things are really, really different 2022.
"Avatar: The Way of Water" falls victim to two dueling issues: the first is that "Avatar" was truly innovative and influential in its motion capture and CGI, certainly contributing to the high quality graphics we have come to expect from every big budget film. The second is its status as a "Forgotbuster," an inescapable moment in pop culture at the time that was virtually never revisited by viewers. As a result, the once lauded visuals of Pandora feel no more mystifying than those of "Jurassic World" or any Marvel movie.
The most consistent emotion I had throughout this film was discomfort, for a variety of reasons. The filming of the teenage children in the film, particularly that of Kiri had an uncomfortably sexual lens, which isn't helped by her speaking with the very recognizably adult voice of Sigourney Weaver. Another source of discomfort throughout the film is the feeling of "Hey … is that racist?" that pops up every 15 to 20 minutes. "Avatar" was criticized upon its initial release for its handling of race from the clear White Savior trope to the archetype of the Noble Savage, but those critiques were drowned out by the wave of praise for the innovative visuals of the film. In its sequel,  these themes persist, and a number of white actors are putting on accents that mimic various communities of color, from indigenous populations to Maori and Pacific Islanders.  I haven't seen "Avatar" since it was in theaters (and I was 14), but after 13 years and a number of movements for representation, diversity and accountability in front of and behind the camera, "Avatar: The Way of Water" just misses the mark.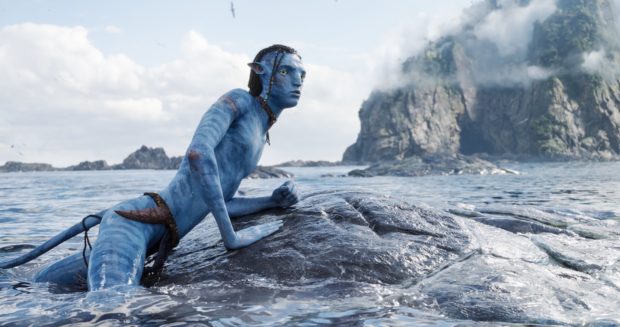 "Avatar: The Way of Water" is so so long, more than three hours, and yet still leaves a lot of loose ends. Presumably they will be addressed in one of the three more sequels expected before the end of this decade, but it's hard to believe 190 minutes of film could contain so few answers. That being said, I didn't necessarily expect a dense story, and was prepared to just enjoy the visuals of the film. Unfortunately, even the CGI of the movie read on screen very strangely, looking more like video game graphics, or the 3D gimbal rides at a theme park.
I hoped to be pleasantly surprised or even just neutrally entertained by "Avatar: The Way of Water," but instead found it to be a bit of a slog. With the runtime and cost of tickets, I'd advise waiting for its streaming release.