Disneyland & Walt Disney World Monorail Wraps/Ads
The Disneyland Resort and Walt Disney World Resort Monorails have sported several wraps/ads over the years.  Below are a majority of them over the last decade plus.    What do you all think? Are these good marketing? Bad show? Annoying? Clever? Which were your favorites/least favorite?
---
Tokyo Disney Resort Line Monorails also feature overlays for seasons and events.  Here are some pictures from my trips to Tokyo:
---
In 2006 many (maybe all I cannot remember) of the Walt Disney World Monorails received a partial wrap for the Year of a Million Dreams.
---
Disneyland joined the act in the summer of 2007 to celebrate the opening of the Finding Nemo Submarines.
Come fall the Nemo wrap was retired and the monorail re-skinned for the year of a Million Dreams.  Monorail Red was in use with the partial Year of a Million Dreams wrap.
---
---
---
No major wraps/ads for the next several years then at Walt Disney World in 2010 the Tron-O-Rail debuted on the EPCOT line for the upcoming TRON Legacy release.
---
Walt Disney World April 2012 – The Avengers Monorail
Here is a Disney Parks YouTube video of the newest wrap featuring the Avengers:
---
On May 15, 2012 The Disneyland Monorails received a Cars inspired wrap/overlay as well as spiels to go with their personalities. The three monorails – Manny (Red), Mona (Orange) and Mandy (Blue). Here is the Disney Parks Blog Posting on it.
Mona Monorail (Orange)
Manny Monorail (Red)
Monorail Mandy (Blue)
---
Walt Disney World April 2013 – Iron Man 3 Monorail
---
Walt Disney World April 2013 – Monsters University Monorail
A video from Disney Parks showcasing the Monsters University Monorail wrap
---
Disneyland 2015 – Tomorrowland Movie
---
Walt Disney World December 2015 – Star Wars: The Force Awakens
A full post of more pictures & video of Monorail Black as the Star Wars Monorail
---
For the release of Zootopia in 2016 Monorail Orange became part of the Zootopia Monorail System
---
2018 – Disneyland – Pixar Fest
For Pixar Fest at Disneyland the Monorails received Pixar Graphics.  Blue received Finding Nemo/Finding Dory, Red Toy Story and Orange the Incredibles.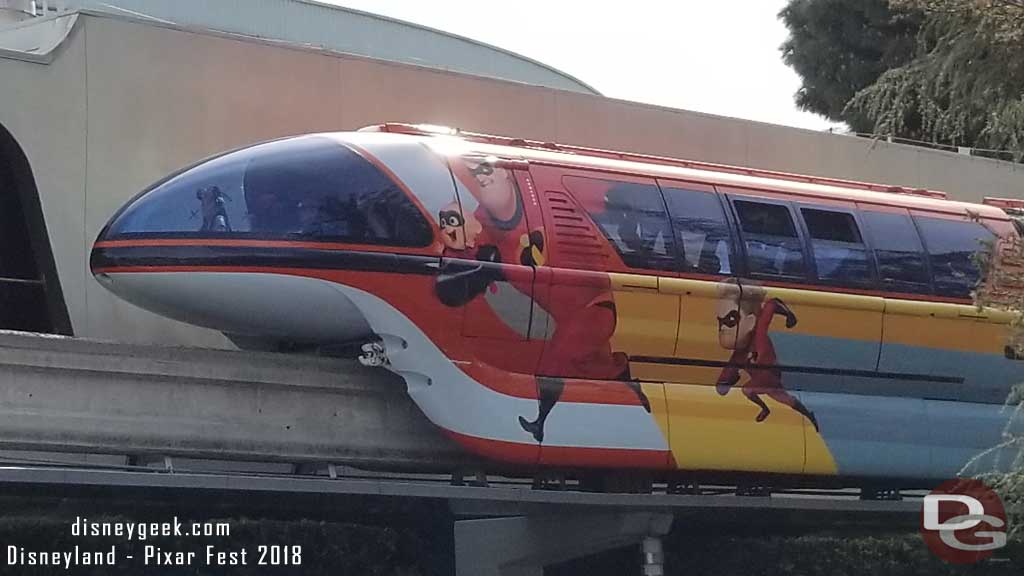 ---
2019 – Disneyland – Mickey Mouse's 90th Birthday – Get Your Ears On Celebration

To celebrate Mickey Mouse's 90th birthday in 2019 the Disneyland Monorail received Mickey Mouse graphics.  The Disney Parks Blog ran a post on these new wraps.  Below are pictures and videos of all three Disneyland Monorails sporting their Mickey Mouse graphics.
---
2021 – Walt Disney World – 50th Anniversary
To celebrate the 50th Anniversary of Walt Disney World Monorail Gold received a special wrap for 2021-2023.
---
To celebrate the Walt Disney Companies 100th anniversary Disneyland's Monorail Blue received a Disney100 wrap in January 2023.