Sophia the First: The Enchanted Feast now on DVD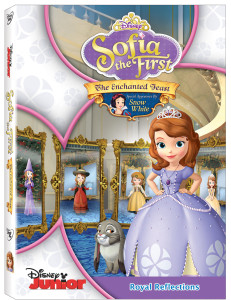 If you know a little girl who loves princesses, then you probably already heard of Sophia the First! And for those of you who haven't, it's about the adventures of a young girl who becomes a princess when her mother marries the king of Enchancia.
Sophia the First: The Enchanted Feast is another installation of Sophia's magical adventures, now available on DVD! The story begins with Miss Nettle, the wicked fairy, who disguises herself as a powerful sorceress. She attempts to steal Sofia's magical amulet during the royal feast. There's a special guest appearance with Snow White who helps Sofia learn to trust her instincts and speak up when she suspects someone is not who or what they say they are.
In addition to The Enchanted Feast episode, there are 4 extra episodes to enjoy: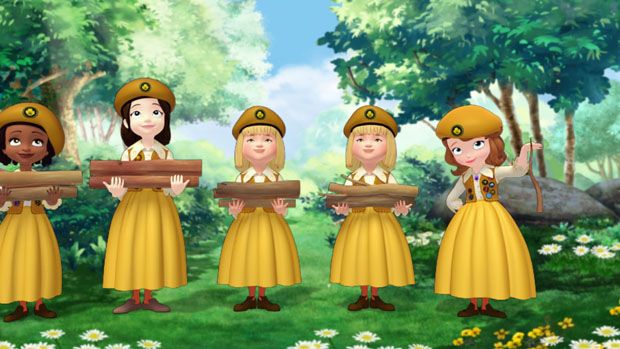 The Buttercups – Think of "The Buttercups" as a group like the Girl Scouts. They promotes character, outdoor activities, good citizenship, and earn badges for doing something new. Sophia needs to earn one more badge to get her special sunflower pin! Baileywick follows Sophia around and helps (or completes) her tasks and does not let her touch anything; afraid that she could hurt herself. But what he's hurting her growth more than helping her. See what happens when he turns out needing her help!

Tea For Too Many – If your little girl loves Tea Parties, this one a sweet one. Sophia's sister, Amber, thinks bigger is better, so they cook up an big and amazing Tea Party for their classmates. But with so many variables at play, lots of things went wrong. Sophia learns that sometimes simpler is better. See how she end up throwing the tea party she wanted.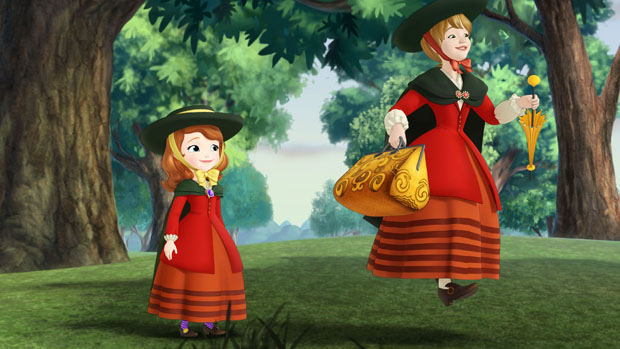 Great Aunt-Venture – Sophia's Aunt is in town and she's helping her Aunt make some apple pies. Her Aunt carries everything out a small magical bag. She teaches Sophia that things aren't always what they seem and never underestimate them. I really enjoyed this episode because it reminded me so much of Mary Poppins!
Two Princesses and a Baby – It's the twins' birthdays — Amber and James — so everyone is busily planning the birthday party. Amber wishes that she could have the whole day to herself though and asked the sorcerer to cast a spell on James to change his birthday. Something goes wrong and James is accidentally changed into a baby! See how these two princesses take care of their baby brother on this eventful day. And how Amber realizes having a twin isn't so bad.
The voice actors in Sophia the First includes great talents like Ariel Winter (ABC TV's "Modern Family") as Sofia; Sara Ramirez (ABC TVs "Grey's Anatomy") as Queen Miranda; Wayne Brady (TV's "Let's Make A Deal") as Clover; and Tim Gunn (TV's "Project Runway") as Baileywick.
Each episode runs about 21 minutes long, with an approximate runtime for 110 minutes long. This package comes with one disc DVD and includes a free enchanted mirror.
My daughter is two and found some scenes a little bit scary. She didn't quite enjoy watching the villains in The Enchanted Forest and Great Aunt-Venture. But she enjoyed the other three episodes and liked "Tea For Too Many" the most, because she just loves playing teatime! My daughter also really loved the enchanted mirror. It's made from a safe reflective material and she enjoyed holding it while we watched the episodes.
I'd recommend getting this DVD for girls, ages 3 years and older. Overall, it's a good collection of Sophia the First episodes from Season 1 and Season 2. Each episode has a song or two and I really enjoyed listening to the familiar voices from some of my favorite shows.
About the Author:
Daynah is a webdev geekette who enjoys blogging about motherhood and crafty projects. You can find her at Scrapp'n and CoderBaby.com