Development Plans Announced for Tokyo Disneyland and Tokyo DisneySea (OLC Release)
URAYASU, CHIBA— Oriental Land Co., Ltd. announced that plans for the further development of Tokyo Disneyland® and Tokyo DisneySea® Parks have been decided. The plans, outlined in the Oriental Land Group's "2016 Medium-Term Business Plan" (for the period of March 2015 through March 2017) announced on April 28, include a 500 billion yen level of investment in the theme park business over the next ten years.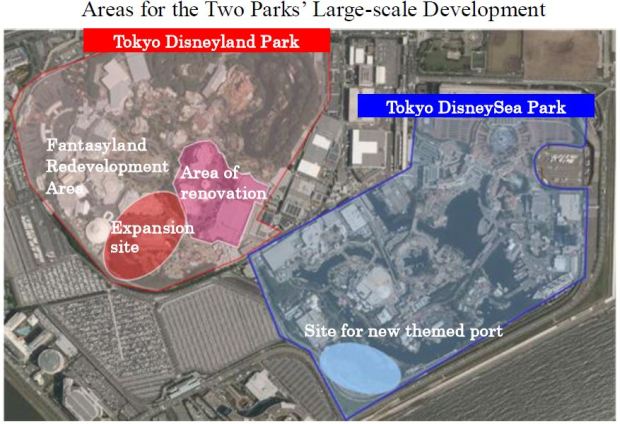 The plan for Tokyo Disneyland Park centers on the redevelopment of Fantasyland, which will nearly double the size of the themed land. Work on implementing this large-scale area development has already begun. In addition to the renovation of the existing Fantasyland, major new attractions, restaurants and shops are being considered for installation in the expansion site.
Under consideration for Tokyo DisneySea Park is the development of a new themed port in the expansion site located south of Lost River Delta. This eighth themed port will include major new attractions, restaurants and shops.
Oriental Land will also further invest in the two Parks in multiple ways: renovation or creation of attractions and entertainment programs; development of hardware that will enhance the Guest experience in the Parks; further improvement of restaurants; easing of congestion; development of measures to protect Guests from hot and cold weather; and other ways of to make a more comfortable environment for all Guests. Furthermore, investment will be made to strengthen the theme parks' "backstage" support functions and operational base.
In addition to the above investment in infrastructure, Oriental Land will continue to raise the level of hospitality provided by Cast Members, which is vital to the Disney theme parks, by strengthening human resources development and raising employee satisfaction to an even higher level.
Oriental Land's aim for the two Disney theme parks is for them to continue to be places where Guests will have unforgettable experiences that are unlike anywhere else in the world. Oriental Land will strive to make this a reality through the above investments to maximize the value of the theme parks.