Disney's Tomorrowland Press Conference & Teri's Take
Disney's Tomorrowland opens in the United States May 22, 2015

Versus rehashing the plot, here is the official boilerplate/synopsis of the film to give you an overview:
From Disney comes two-time Oscar® winner Brad Bird's riveting, mystery adventure "Tomorrowland," starring Academy Award® winner George Clooney. Bound by a shared destiny, former boy-genius Frank (Clooney), jaded by disillusionment, and Casey (Britt Robertson), a bright, optimistic teen bursting with scientific curiosity, embark on a danger-filled mission to unearth the secrets of an enigmatic place somewhere in time and space known only as "Tomorrowland." What they must do there changes the world—and them—forever.
Featuring a screenplay by "Lost" writer and co-creator Damon Lindelof and Brad Bird, from a story by Lindelof & Bird & Jeff Jensen, "Tomorrowland" promises to take audiences on a thrill ride of nonstop adventures through new dimensions that have only been dreamed of.
A panel of the creators and cast of Tomorrowland at the press conference:
It all began with a dreamer, Walt Disney who envisioned a place where inventors and intellect would meet and collaborate on a better future. Tomorrowland is the place where those visions for a better future take place and instill hope and wonder into people. Can you envision a brighter tomorrow? Are you an optimist or a pessimist? This movie will amaze and light a spark in yourself that you may not know existed.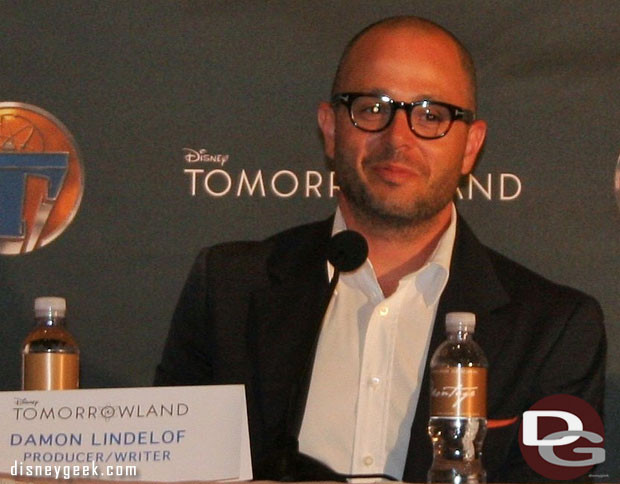 Damon Lindelof:     I was having a meeting, a lunch, with Sean Bailey, who is the president of production at Disney. We were talking about the Marvel movies, of which we're both fans. He said they had a number of fantasy princess movies in the pipeline at Disney, but just sort of wondered what else a Disney movie should be. I said to him, "I don't know what it's about, but I would see a movie called Tomorrowland." And that was the beginning of this whole adventure. I think that, for me, I've always been really interested in the future and I kind of feel like all the movies that I've been exposed to over the course of the last 20-30 years have shown me a future that I don't really want to be living in. it's cool to watch, but teenagers trying to kill other teenagers, or robots eradicating mankind, or you know, apocalyptic wastelands, albeit populated by Charlize Theron, are all great. What about that other future, and is there a way to tell that story?
So the conversation that started it all, dared to make a movie with a different approach to our future. George Clooney who plays Frank Walker in the movie also likes the positive outlook on our future.
George Clooney:     I didn't ever have that great disappointment in mankind. I always felt like it was going to work out in the end. And I still feel that way. And so what I loved about the film was that it reminds you that, you know, young people don't wake up, they're not born and start out their lives cynical, or angry, or bigoted. You have to be taught all of those things.
I've been a realist, but I've been an optimist about it. And I really related to the film because I thought, you know, Brad and Damon want to tell a story that's an entertainment, because first and foremost, it has to be an entertainment. But it is hopeful, and I've always felt that way myself.
In the movie, you may be surprised by awesomeness of Athena (Raffey Cassidy). She plays a wonderful optimistic character who has an interesting relationship with Casey (Britt Robertson) and Frank (George Clooney).
Britt Robertson:     Well, I think Raffey played Mom a lot, especially with George and I, you know? She was constantly just trying to keep us focused and funny enough, that's how she is in life too. I mean, not intentionally, but she's so professional and so focused herself, you know. I oftentimes would look over and be like, "Yeah, okay, right, this is what we're doing. This is what we're doing." But we had such fun together and we had such a great time. We spent a lot of time together, just between stunt training and then obviously filming the movie. So I think our dynamic off-screen probably helped a lot of our chemistry on-screen as well.
Raffey Cassidy:     I think the relationship between Casey and Athena is quite friendly, because Athena just wants to get Casey and Frank together, to try and save the world.
Britt Robertson:     It doesn't always work out as planned, but sometimes it does.
As the press conference ended, we were treated to a few sneak peeks surrounding the movie:
These movie posters and Shazam signs caught my eye and I was thrilled with what I learned. After seeing the film make sure to take out your phone and Shazam the Tomorrowland movie poster. It's as if you received a pin yourself and are going through the field outside of Tomorrowland. It was truly a great sneak peak at what is to come and I cannot wait until May 22nd to use it.
I closed out my afternoon spending some time with Athena (Raffey Cassidy) in an interview session.
Raffey was composed and energetic, not tired at all by the fact she had been doing interviews all day.
Teri: What is your favorite ride at Disneyland?
Raffey: In Tomorrowland – Space Mountain, if Tomorrowland didn't exist…California Screamin.
Teri: Is there a question that you were hoping someone would ask you, but hasn't?
Raffey: If I could create a Disneyland ride on Tomorrowland, how would it go?
Teri: How would it go?
Raffey: Well it would start off with Athena saying lets time travel to a different dimension and then Frank and Casey come in and sit with the riders and zoom into Tomorrowland and everyone would think the ride was going really, really slow as they are admiring all of the props and then suddenly it shoots up and starts spinning and spinning and spinning.
I think that Disney's imagineers may have the idea for their next ride!
---
Teri's Take
I was able to attend a screening of the film at the TCL Chinese Theatre in Hollywood and see the film in IMAX. This was definitely the way to see this movie, the larger format made it that more magical and immersive to me. The director, Brad Bird, was on hand and introduced the movie to the audience. Brad also worked on some previous Disney films such as Ratatouille (2007) and The Incredibles (2004) which he wrote and directed.
I went to the movie knowing very little about the film and so had no pre-conceived notions about what it was going to be about. My only exposure was to the early mysterious and intriguing trailers. I had not even made it to Disneyland to see the preview and exhibit yet. I loved the film. It was packed full of adventure, intrigue, inspiration and had a great story to tell about the possibilities of tomorrow.
Without giving too much of the film away, I will say that the film does a nice job of bringing in some of Walt Disney's ideas and concepts of what tomorrow might hold for us, while still providing the viewer with an original story. I also loved that there was a cameo by a beloved Disneyland attraction in one of the scenes, you will have to go see the film to see which one, and how they worked it into the story.
The film kept me guessing and engaged throughout, with exciting action sequences spliced with just the right amount of humor and depth. After seeing the film, I wanted to explore the stories of these characters and Tomorrowland itself even further, and I can definitely see several points they can expand upon and possibly develop a sequel. I am going to refrain from going into any more details because I want to keep this spoiler free and I think the film works best if you experience it without knowing too much about it.
Overall: I think Tomorrowland is a great movie for all age groups and has the ability to light a creative spark in you that gets you thinking about all that can be accomplished in the future. I was thoroughly entertained and enjoyed my visit to Tomorrowland. I truly hope to see more from "Tomorrowland" in the near future!
---
Related posts: