The RegalCon Experience (Daynah Discovery)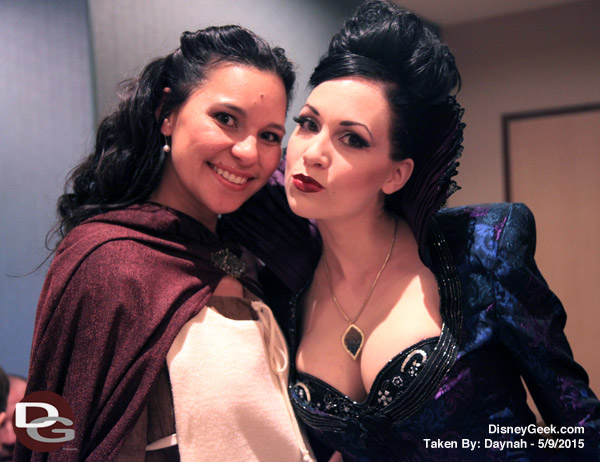 Fans of ABC's hit show, "Once Upon a Time" gathered at RegalCon May 8-10,2015 to meet the actors and actresses that bring the fairytale stories to life. RegalCon is a convention to celebrate the show "Once Upon A Time." This event was a place where fans united and got to meet some of their favorite OUAT stars! It was a convention made for the fans, by the fans. (Note: RegalCon is not a Disney or ABC event. It is a fan event.)
This conference all started as a dream Roxy Nazari had. She wanted a convention that was dedicated to her favorite actress, Lana Parrilla and her favorite show, Once Upon a Time. After 10 months of hard work and a lot of planning, her dream came true. After spending the weekend at RegalCon, I think all the fans found their happy endings.
There were so many opportunities to mix and mingle with your favorite "Once Upon a Time" celebrities, as well as connect and make new friends with other fans of the show. The highlight for many fans were the photo ops and autographs from their favorite OUAT stars. There was plenty of time to meet and greet with them.
Fans wrote out questions for the actors and they were all sorted in boxes and asked during the panels. In a panel with David Anders (Dr. Whale/Victor Frankenstein), Eion Bailey (August/Pinocchio), and Lee Arenberg (Leroy/Grumpy), the guys talked about everything from challenges as an actor, to family life, and even gave us advice about life in general.
If you could be any other character on OUAT, who would you be?
Lee Arenberg would definitely love to be Rumple because he's cool and has amazing makeup. He 'fangirls' hard on Rumple.
Eion Bailey enjoys the character he plays so he never thought of it. He enjoys every single person on the show for what their uniqueness brings to it, that he cannot imagine anyone else playing that part.
You can feel the excitement in the room as Lana Parrilla walked on stage for her panel. The highlight of her panel was definitely when she called up two cosplayers who dressed as the evil queen. They were both brought on stage to show off their amazing costumes.
If Henry (Lana's TV son) started dating, how would you react?
Lana said that should would be very protective of Henry, just like she is of her sons in real life.
What are your favorite things to do when you are not filming?
Lana enjoys outdoor activities, deep sea fishing, camping, music, reading, theatre, art shows, and pilates.
Do you have any life advice?
Do what to others what you want to do to you. Treat people how you want to be treated. There is always room for forgiveness. Be generous, kind, and understanding.
Lana also shared a sweet story about Tony Perez, the actor who played her father on Once Upon a Time. He is a poetic and he wrote a poem for 'Regina.' She thought he is such a dedicated actor to be able to immerse his work into his life like this.
In another panel, Gil McKinney sang "Part of Your World" and the fans begged for more. We need more "Prince Eric" on Once Upon a Time! Also, Emilie de Ravin (Belle) and Rebecca Mader (Zelena/Wicked Witch) joked about stealing Zelena's bras on set. See all the things you miss for not being at RegalCon?
RegalCon was a great experience for all the fans of Once Upon a Time. To be immersed in a place with true fans of the show from all over the world, along side with the actors who make the fairytales come to life is an event that should not be missed. There were many opportunities to meet and talk to your favorite actors. Events such as a VIP dinner banquet and the Happily Ever After Ball, created a unique experience for the fans. There were many different panels over the three days of RegalCon that included actors, podcasters, and artists. Other unique experiences include opportunities for meet and greets for a photo with your favorite actors as well as their autographs. There were also two concerts by 45 Spacer (Lana's step-sons' band) that opened and closed the event. Lastly, RegalCon closed with an OUAT Finale Viewing Party with all of the guest. What better way to end the conference than watching the finale with hundreds of superfans?
Special guests of RegalCon 2015 were Lana Parilla (Regina Mills/Evil Queen), Emilie De Ravin (Belle), Sean Maguire (Robinhood), Rebecca Mader (Zelena/Wicked Witch), Eion Bailey (August/Pinocchio), Lee Arenberg (Leroy/Grumpy), David Anders (Dr. Whale/Victor Frankenstein), Gil McKinney (Prince Eric), Beverley Elliott (Granny), Michael Coleman (Happy the Dwarf), and Faustino Di Bauda (Sleepy the Dwarf).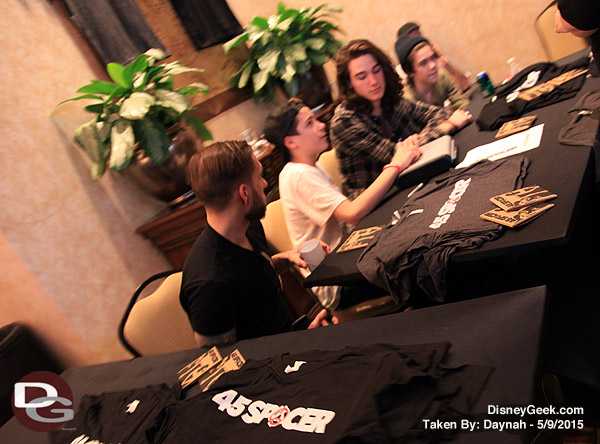 For more information about RegalCon, you can visit their website at RegalCon2015.com or follow them on Twitter @Regal_Con.
About the Author:
Daynah is a mother of one who's passionate about technology and the web. She enjoys blogging about motherhood and crafty Disney projects, as well as browsing Pinterest. You can find her at latest crafts at Scrapp'n and join her motherhood journey at CoderBaby.com. You can also follow her on Twitter.