Disney Descendants, Now Available on DVD (Daynah's Review)
A long, long time ago, heroes and villains lived among each other and drove each other crazy, as you remembered from the fairy tales you heard from your younger years. But twenty years ago, Belle and the Beast got married and became queen and king of an idyllic kingdom called "The United States of Auradon." From that point on, they banished all the villains onto the Isle of the Lost.
Prince Ben, the benevolent teenaged son of the King and Queen (Beast and Belle from "Beauty and the Beast") is about to take the throne. His first proclamation was to give the children of the villains a chance at living a normal life. He wanted to start off with just a few, namely, the offsprings of Cruella de Vil, Maleficent the Evil Queen and Jafar first. These villainous descendants (Carlos, Mal, Evie and Jay, respectively) are allowed into the kingdom to attend prep school alongside the children of heroes, including Fairy Godmother, Sleeping Beauty, Cinderella, and Mulan. But all does not go well as the evil teens faced a dilemma; should they follow their parents' footsteps and help the villains regain power or should they follow their hearts and embrace their inherent goodness and save the kingdom?
Beware forswear, there are spoilers down there! Before you read on, you may want to watch the movie first as I may give bits and pieces of the plot away.
Disney Descendants is an original contemporary story of classic Disney characters reinvented with a modern day twist. It is a comical musical about the epic adventures of relatable tweens on a journey of self-discovery.
The ending of the movie was predictable — the villains turns into a heroes, the Prince gets girl — but the musical journey to get there was a lot of fun. There is also a slight twist at the end that hints that a sequel may be in the works. I hope that is true because we need more of Evie's sense of fashion and vocals, Carlos' sarcasm and dance moves, Jay's athletic moves, Mal's vocals and facial expressions, and just more of Maleficent! It could also be a way to continue the Descendant spirit with the animated series coming this fall.
The Cast and Characters
The fabulous cast in the movie is what makes this a hit. Over 6 million households watched this movie debut on the Disney Channel when it premiered. After seeing the soundtrack hit the number one spot last week, I say Disney Descendants was a success. It was game on for the actors. Here were some of my favorites:
Maleficent is the main villain, who is played by none other than Kristin Chenoweth. We have seen her talents shined in "Wicked" and "Glee," playing her usual bubbly characters. However this is the first time we have ever seen her play an evil role, and she is amazing playing evil as she is good. "Evil Like Me" is her big musical number in the movie and her personality just eliminates in this scene. Her performance makes you wish she had another big song in the musical.
Dove Cameron did a magnificent job with Mal's character. I enjoyed watching her go through a range of emotions as she discovered her own identity and not just the one her mother wants her to have. Her charm and innocence in this movie makes her loved and relatable and teaches children that it is ok to be yourself and be different from the rest. Standing for what you believe in is tough, but will work out in the end if you follow your heart. She worked really hard in this role to take it to the next level. We already know she has an amazing voice, but she was just a beginner dancer. She was certainly not at the level of Kenny Ortega when she started, but you cannot tell from the movie. Her dance movements look fluid and flawless and she you can tell she put in a lot of effort to make it look that easy.
Evie, played by Sofia Carson, goes through a lot of situations that high school students often find themselves in. She crushes over a boy and it turns out he only wants to use her to do his homework. On the sidelines is a boy who truly cares and loves her but she was too blinded to see that. She learns that there is no reason to dumb herself down to make a boy like her. Boys (and people in general) should like her for her many talents and just her being her unique self. Sofia brings to this role her amazing voice. Originally she auditioned to play "Audrey" (Aurora's daughter) but I this role suits her much better!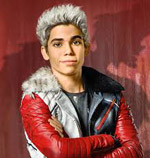 Carlos played by Carmeron Boyce from "Jessie," brings on board his many amazing dance moves that he sometimes showcases on "Jessie." He lets it all out in the movie, especially with the coaching of Kenny Ortega.
What you will love most about Carlos is how he is naturally the comic relief for all the movie. You can always count on him to deliver a dose of laughter into any intense scene. I cannot think of a better person to play the part of Cruella de Vil's son who is deathly afraid of dogs.
Jay, the son of Jafar, is played by Booboo Stewart, whose good looks and charm you will see throughout the movie. It is funny to note the similarities of Jay and Aladdin. Aladdin was involved in petty thief so he could survive. Jay on the other hand stole to restock Jafar's store.
In the movie, the scene that Jay shines most in is when he is introduced to a sport in the school. He quickly becomes the team's star player and learns about the merits of teamwork. His acrobatic athleticism is showcased through and he has grown up a lot since playing Seth in the Twilight movies.
Dance and Choreography
You have high expectation when you know that Emmy Award-winning director and choreographer, Kenny Ortega (from the "High School Musical" franchise), was involved in the movie. Sure enough, he did not let you down. There were four big dance numbers in the movie:
Rotten to the Core – The opening scene was aggressive and hard-hitting and some of the dance moves reminded me the Michael Jackson's Thriller.
Did I Mention – You just want to get up and dance in this scene. Everyone is on the field — the players, cheerleaders, and fans. How can you not want to get up and dance too?
Be Our Guest – This was suppose to be a more low-key number, but Kenny Ortega always has big ideas. The rendition of the class song is refreshing and I would love to come to any party with a welcome like this!
Set It Off – Now this was a big dance number. There were so much going on in this scene that I did not know where to look. There are a lot of characters involved and colored lights everywhere. Loved it, but it cannot be compared to Teen Beach Movie 2's last scene.
Bonus Features included on the DVD:
#Mal – This is my favorite bonus feature on the DVD. You have a view of Mal's computer desktop and she opens up a social network and starts adding comments on her friends pages. It is fun to watch because the scene is so familiar when you open up your favorite social network website.
Backstage Dance Rehearsals – Sure the cast of Descendants makes the dances in the movie look easy, but you have to see how much blood and sweat they put into making each dance scene look good! I always find it interesting to watch because I know there is a chance for me to learn all of those cool dance moves if I put in months of work as well.
Bloopers – Everyone loves a good blooper reel! You can see the cast are enjoying every minute of this project.
Sneak Peek: Descendants Wicked World – If you cannot get enough of the movie, look forward to watching the animated series!
Isle of The Lost Bracelet – Another added bonus is a lovely bracelet. It is made of four black parachute cords, each containing a charm from each of our villain descendants. In the middle is a black braided leather string. On the ends of both sides of the bracelet are bead landing clasp ribbons with lobster claw clasps to hold it together.
Overall, I really enjoyed the movie and would highly recommend it. There was great storytelling, beautiful and trendsetting wardrobes, and catchy music. I enjoyed how the characters integrated our modern day technology into their magical world. The musical dance numbers were all memorable and the crazy songs are stuck on my head.
My 3-year-old daughter loved it as well. The opening scene was a little bit too aggressive for her at first since she did not know what to expect. I mentioned Maleficent will be in the movie and she thought it may be a scary one. But all the comical scenes eased her up and she got up and danced to all the musical numbers, especially "Set it Off."
The movie is appropriate for all demographics. I would recommend this movies for children 3 and up and anyone who enjoys fairy tales. The characters all went through a journey of self-discovery and got to explored their many talents in a more positive way. They learned that being different makes you unique, and that is definitely a good thing.
The Disney Descendants movie is available to watch on the Disney Channel, Disney Channel iPhone/iPad app, and also on DVD.
About the Author:
Daynah is a mother of one who's passionate about technology and the web. She enjoys blogging about motherhood and crafty Disney projects, as well as browsing Pinterest. You can find her at latest crafts at Scrapp'n and join her motherhood journey at CoderBaby.com. You can also follow her on Twitter.

---