Disney California Adventure Food & Wine Festival (1st Look Pictures)
This week the Food and Wine Festival returns to Disney California Adventure.  It runs from April 1 to May 1.    The festival last ran in 2010 and then was shut down during the Cars Land and Buena Vista Street projects.    Here is the initial press release from Disney for the event: 03/01/16 – Disney California Adventure Food & Wine Festival Celebrates the Springtime Flavors of California  For more information you can visit the official website disneyland.com too.
Below are some cell phone pictures from my first pass/day at the festival.  Be sure to visit my full picture set for a more in depth look at the festival.
There are eight Food & Wine Festival Marketplaces that line a portion of the performance corridor stretching from Carthay Circle to Paradise Pier.
Each Marketplace has a separate line to order, registers, and serving window.  They are pre-fabricated buildings that house the appliances needed to serve the food.   Here is the LAstyle marketplace.

There is a large sign in front of each Marketplace with a menu and other information (at the end of this post I have added all the menus).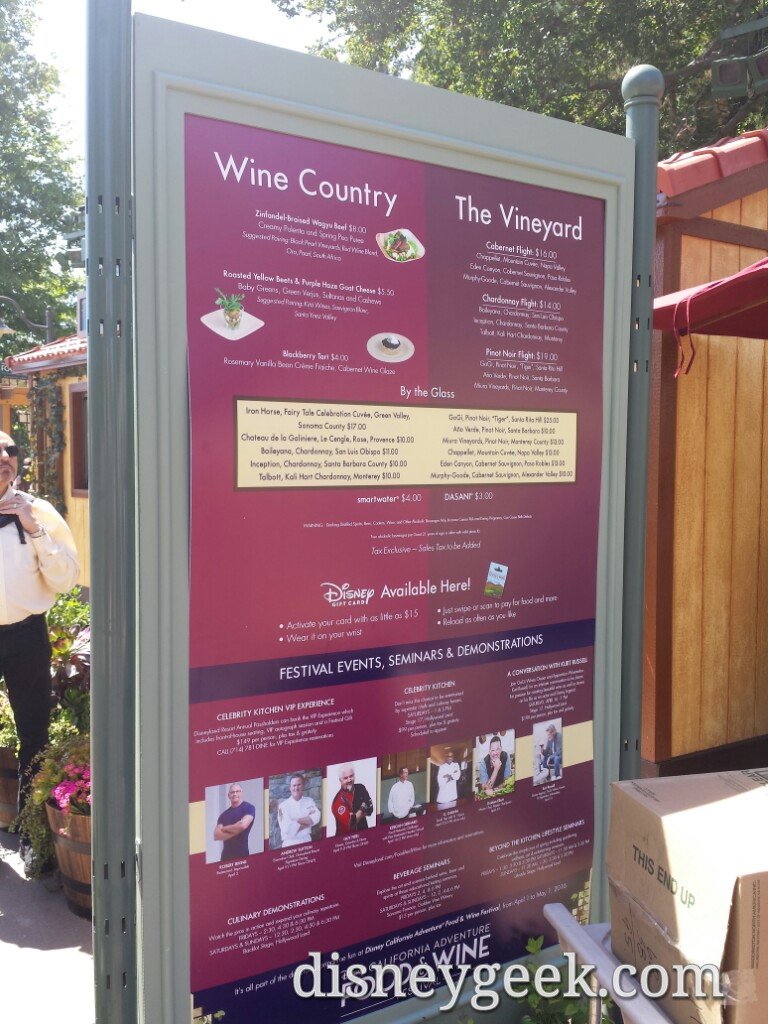 The Blue Sky Cellar is open as a lounge for Disneyland Annual Passholders


For $45 Annual Passholders can purchase tasting passport entitling you to one food item from six of the marketplaces.

Seasons of the Vine has returned and is being shown inside the Blue Sky Cellar

A food and beverage display inside the cellar features prototypes of the Mickey popcorn buckets and more.

Chef Jamie Gwen
---
Here are the menus for the 8 Marketplaces: