Disney's "Moana" – Press Conference
In theaters on November 23 is Disney's "Moana." The film follows the titular character, a self-described non-princess, as she sails across the ocean to find the demi-god Maui and save her island and her people.
The team behind "Moana" gathered in Santa Monica to discuss the film's inspiration and music. The panel included directors Ron Clements and John Musker, producer Osnat Shurer, composers Lin-Manuel Miranda and Opetaia Foa'i, and stars Dwayne Johnson and Auli'i Cravalho.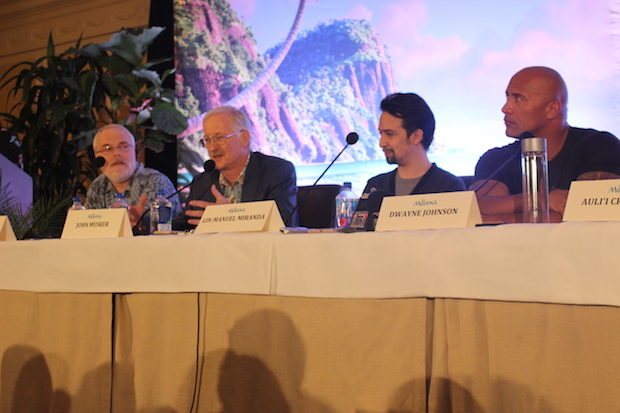 The discussion began with some background on the research and inspiration for the film:
Ron Clements:  [John Musker] wanted to do a movie based on the world of the Pacific Islands and the mythology. That led to about five years ago we took a trip to Fiji, Samoa and Tahiti, which really, it was the basis of the movie in terms of the connection to navigation, to people's connection to their ancestry, respect for nature, a lot of those ideas came from that first research trip and the movie was heavily inspired by that and people that we met have stayed involved with the movie throughout its production process to try to capture as much as we could of all the wondrous things we learned and the wonderful people that we met.
Lin-Manuel Miranda: I got the job the week before and with my job offer came a plane ticket to New Zealand where everyone was already there [at] the Pacifica Music Festival… and then Opetaia, Mark [Mancina] and I jumped into a studio and just started banging on drums and started really trying to find, find the pulse of this thing in a way that honored the unique musical heritage and incredible rhythms that come out of this part of the world.
Osnah Shurer: Well, one of the great things that happened when we went on these research trips is we met incredible people, people with knowledge in areas of the navigations of master tattoo artists, weavers, people and anthropologists and archeologists as well and they became kind of what we loosely called "Our Oceanic Story Trust," we decided that we wanted to make this flm together and so we would keep checking in our Trust team.
Dwayne, Auli'i and Opetaia discussed how their own experiences with Polynesian culture are incorporated into the film:
Auli'i Cravalho: I am deeply rooted to my culture. I actually go to an all-Hawaiian school where the mythology and the folklore of Maui is in our curriculum and I've listened to his stories as bedtime, you know, stories and I've grown up with the Aloha spirit just around me and I'm sure Dwayne can second that. 
Dwayne Johnson: Yes, you know, what Auli'i just said, she mentioned a term, its called "Aloha Spirit" and it's something that is very special, it's very meaningful to us and our Polynesian culture…. It's an intangible, that when you get off the plane and you have your feet on the ground there, energetically it takes you to a different place. That's Aloha Spirit. And you know, the opportunity that we had, just as Polynesians to be part of a story and to bring to life a story of our Polynesian culture in this capacity with our great partners at Disney, musically with these masters, was just a really, really special opportunity for us. 
Opetaia Foa'i: Well, for me personally, you know, my journey has been from the village to the city. Now, this movie, you know, I said it earlier on, I can vouch for it that our ancestors are happy with this movie, you know, culturally speaking. So there are many other cultures that will see this movie and be interested in the movie. But also there will be Polynesians who were born in the cities who will then start the journey back to the roots. That's what I'm thrilled about.
The panel also spoke on what being part of the movie meant for them:
Lin-Manuel Miranda: If I was sick of the founders rapping I would go sail across the sea with Maui and Moana, so it actually was the opposing muscle group, it was the counterweight to the Hamilton phenomenon and it was also sort of an island of peace when the Hamilton stuff started getting crazy in terms of crowds and in terms of attention, so I, you know, I'm really grateful for Moana, because it kept me grounded and it kept me writing at a time when, you know, the world was really paying attention.
Dwayne Johnson: And I think that, you know, when I saw it in a theater, in a very little theater, with a group of people, what I noticed and I've used this term earlier, is, there was just, they were floating when they walked out of the theater and it was such a cool thing to be a part of and to watch them come out and energetically they're floating and also, too, I, in my entire career, I've never cried consistently through a movie. 
Check back later this week for my review of "Moana."