Bambi Walt Disney Signature Collection Release on Digital 5/23 & Blu-ray 6/6
ADORED ANIMATED CLASSIC "BAMBI" JOINS THE HIGHLY COVETED WALT DISNEY SIGNATURE COLLECTION
"Bambi" arrives home on May 23 with new bonus features, including recordings of Walt Disney!
NEW YORK, April 29, 2017 — Today at the 2017 Tribeca Film Festival®, presented by AT&T, Walt Disney Studios announced the addition of "Bambi," the endearing, timeless tale of a wide-eyed fawn, to the celebrated Walt Disney Signature Collection.
"Bambi," which celebrates its 75th anniversary this year, joins the Collection on Digital HD and Disney Movies Anywhere on May 23, and on Blu-ray™, DVD and On-Demand on June 6.  The Collection release includes a variety of new bonus material, including recordings of Walt Disney discussing the challenges and triumphs during the production of "Bambi;" deleted scenes and characters; stories and effects that "Bambi" had on the Studio, other films and artists; and much, much more. Additionally, the Digital HD release includes an exclusive, heartfelt feature on the incredible artist, Tyrus Wong, who inspired the film's soft watercolor backgrounds and beautiful palette.
Designed to bring together visionaries across industries and diverse audiences to celebrate the power of storytelling, it is only fitting that the Tribeca Film Festival serves as the setting for this year's announcement of upcoming additions to the Walt Disney Signature Collection. This collection includes groundbreaking films created or inspired by the imagination and legacy of Walt Disney, one of the great visionaries of the 20th century. This summer, "Bambi" will take its place in the collection alongside three other great achievements in storytelling, "Snow White and the Seven Dwarfs," "Beauty and the Beast" and "Pinocchio."
"Bambi" was released in 1942 during World War II and took over five years to make due to its exquisite hand-drawn artwork and attention to detail. Beloved by generations, "Bambi" holds the No. 3 spot on the American Film Institute's "10 Top 10," honoring the 10 greatest animated films of all time. The timeless tale features an adorable young deer named Bambi who explores the wonders and challenges of the woods with his playful pal Thumper, the lovable skunk Flower, and wise Friend Owl – and ultimately fulfills his destiny as prince of the forest.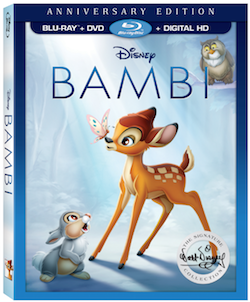 BONUS MATERIAL (BLU-RAY & DIGITAL* HD) INCLUDES:
 BRAND NEW:
THE BAMBI EFFECT – "Bambi" was full of innovations for its time. Let's take a look at how those past innovations affected future Disney animated titles all the way up to today.
STUDIO STORIES: "BAMBI" – Recordings of Walt Disney. Listen in on intimate moments where he discusses the challenges, pitfalls and triumphs during the production of "Bambi."
DELETED SCENE: BAMBI'S ICE AND SNOW – Bambi coaxes Thumper and his brothers and sisters to come play on the ice during the first snow.
DELETED SCENE: THE GRASSHOPPER – A grasshopper confronts Bambi and Thumper and finds himself in quite a predicament.
BAMBI FAWN FACTS – Think you know everything there is to know about Bambi and his forest companions? Well, it's time to discover some fun real-life facts about the creatures that live in the forest he calls home.
OSWALD THE LUCKY RABBIT: "AFRICA BEFORE DARK" – Oswald Short.
CELEBRATING TYRUS WONG (DIGITAL EXCLUSIVE) – A heartfelt look at the man who played a key role in the success of "Bambi." Much like Mary Blair and Eyvind Earle, Tyrus Wong had a unique signature style all to his own. The soft water-colored backgrounds and beautiful palettes in "Bambi" were inspired by Tyrus' concept art paintings.
CLASSIC:
DELETED SCENES – Two Leaves, Bambi Stuck on a Reed, Winter Grass, Twitterpated
THE MAKING OF BAMBI: A PRINCE IS BORN

o STORY: TELLING THE TALE
o CHARACTERS: DRAWN TO NATURE
o ACTORS: GIVING VOICE TO ANIMALS
o ART DESIGN: IMPRESSIONS OF THE FOREST
o MUSIC: NATURE'S SYMPHONY
o HISTORY: BACK TO THE BEGINNING

TRICK OF THE TRADE (Excerpt)
INSIDE THE DISNEY ARCHIVES
THE OLD MILL: ANIMATED SHORT
ORIGINAL THEATRICAL TRAILER
THE GOLDEN AGE
*Digital bonus offerings may vary by retailer               

DISC SPECIFICATIONS:
RELEASE DATES
On Digital HD and Disney Movies Anywhere (DMA) on May 23, 2017
On Blu-ray, DVD, Digital SD and On-Demand on June 6, 2017            
FEATURE RUN TIME:
Approximately 70 min.
RATING:
Feature Film: G in U.S.; G in CE; G in CF (Bonus Material Not Rated)
ASPECT RATIO:
Blu-ray = 1.33:1, 16×9
DVD Feature Film = 1.33:1, 4×3
AUDIO:
Blu-ray = English 7.1 DTS-HDHR, English 2.0 Dolby Digital
DVD = English 5.1 Dolby, English 2.0 Dolby
LANGUAGES:              
English, French & Spanish
SUBTITLES:
English SDH, French & Spanish
SOCIAL MEDIA:
FACEBOOK:
Facebook.com/DisneyBambi              
INSTAGRAM:
Instagream.com/disneyanimation
TWITTER:
@DisneyAnimation
WEBSITE:
Movies.Disney.com/Bambi                                           
---
---
ABOUT THE WALT DISNEY SIGNATURE COLLECTION:
The Walt Disney Signature Collection includes groundbreaking films created or inspired by the imagination and legacy of Walt Disney, featuring timeless stories and characters that have touched generations. Each release will offer special features for every member of your family plus a unique digital experience. To date, the collection includes "Snow White and the Seven Dwarfs," "Beauty and the Beast" and "Pinocchio."
ABOUT DISNEY MOVIES ANYWHERE (DMA):
Disney Movies Anywhere (DMA) is an engaging and family-friendly cloud-based digital movie service that makes it easy to buy Disney, Pixar, Marvel and Star Wars movies once and watch them anywhere. Viewers can enjoy their digital movies from the comfort of their living room and across multiple mobile platforms by simply adding the free DMA app or channel to their devices, such as iPhone, iPad, iPod Touch, Android mobile phones and tablets, Android TV, Amazon's Fire tablets, Fire TV and Fire TV Stick, Roku, and Xbox 360, and connecting to their DMA account with participating providers including iTunes, Amazon Video, VUDU, Google Play, Microsoft Movies & TV and Fios by Verizon. DMA users can explore Disney's library of over 450 digital movies, discover hours of new and exclusive short-form content, redeem Digital Movie codes found in eligible Disney, Pixar, Marvel, and Star Wars product, and earn Disney Movie Rewards points with every digital purchase.
ABOUT THE WALT DISNEY STUDIOS:
For over 90 years, The Walt Disney Studios has been the foundation on which The Walt Disney Company was built. Today, the Studio brings quality movies, music and stage plays to consumers throughout the world. Feature films are released under the following banners: Disney, including Walt Disney Animation Studios and Pixar Animation Studios; Disneynature; Marvel Studios; Lucasfilm; and Touchstone Pictures. The Disney Music Group encompasses the Walt Disney Records and Hollywood Records labels, as well as Disney Music Publishing. The Disney Theatrical Group produces and licenses live events, including Disney on Broadway, Disney On Ice and Disney Live!