Disneyland Railroad Conducting Test Runs (Pictures & Video)
Friday evening the Disneyland Railroad was conducting test runs around the park with the C.K. Holliday and the Ward Kimball as it prepares to resume normal operation on July 29th.  From what I have heard these tests will occur nightly after the construction crews are done for the day.  Here is a look at the C.K. Holliday pulling into New Orleans Square Station.  For a more in depth look be sure to view my full Disneyland picture set from the trip.  For a look at the Star Wars themed land & Rivers of America Construction be sure to view my in park posts from Friday.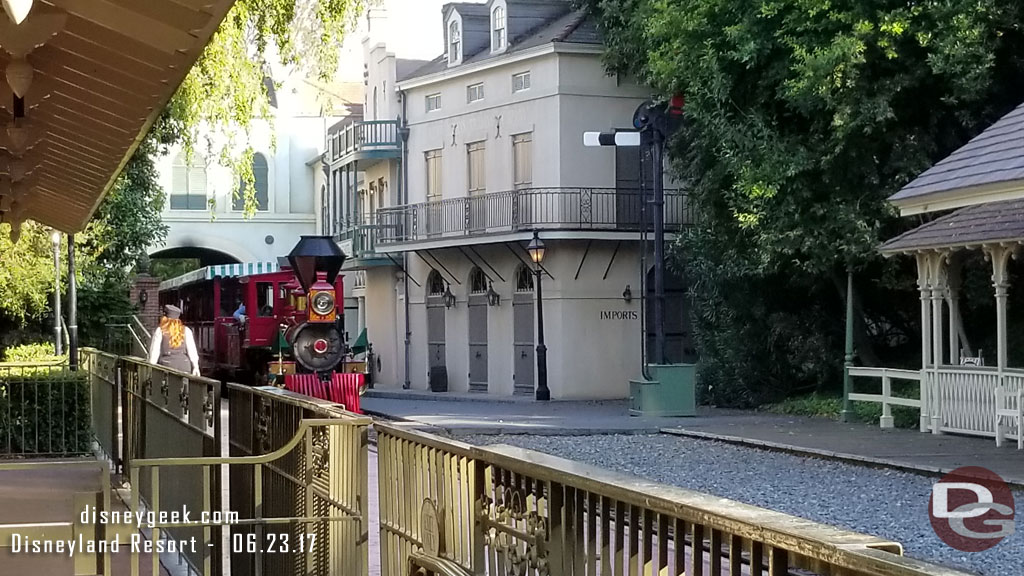 At the New Orleans Square Station entrance is a sign announcing the return and teasing some of the changes that are in store.
I stopped by the Big Thunder Trail and watched a couple of trains pass through the area.   What promises to be a better view is still blocked off due to the construction fences.  The train does add energy to the area.  I look forward to seeing the view from on board of Big Thunder and the Rivers of America.  As the trains passed by guests stopped and many cheered and waved to the cast members on board.  There were also several cast members that came out and watched along the trail too.
I also spotted the Ward Kimball making the rounds:

Not all cars were show ready yet –