Year of the Dog celebrations at Hong Kong Disneyland Resort usher in a spectacular year of non-stop Disney magic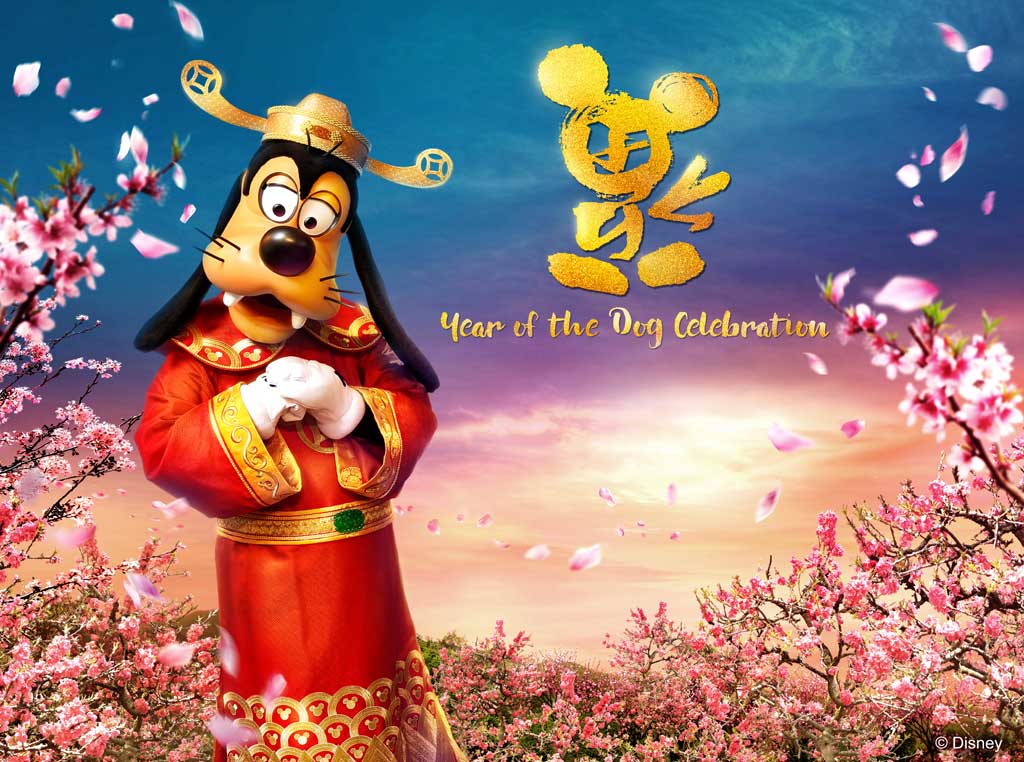 Authentic Hong Kong-style Chinese New Year Night Market to debut
(Hong Kong, January 18, 2018) Hong Kong Disneyland Resort (HKDL) is ringing in 2018 with new excitement from day to night in every season this year, starting with a festive celebration for Chinese New Year. From today to March 4, God of Fortune Goofy and playful Pluto will take center stage, showering blessings on guests for the Year of the Dog. Main Street, U.S.A. will be decorated with festive Lunar New Year adornments while Pluto-themed decorations can be found. Also, a brand-new Chinese New Year Night Market will be inaugurated in the park in the evening to immerse guests in authentic Hong Kong-style festivities!

Authentic celebrations with first-ever Chinese New Year Night Market 
Discover magical fortune by taking an evening walk to the Chinese New Year Night Market! As night falls, Main Street, U.S.A. and the Plaza will be transformed into a special Night Market for Chinese New Year. Like Hong Kong's unique Lunar New Year fairs, this is a special market filled with mobile stalls that offer festive delicacies and specialties. Indulge in local Hong Kong snacks with a Disney theme, like Mickey-shaped Maltose Toast, Mickey-shaped Red Bean Pudding and Egg Puffs. Take home some New Year's luck and joy by purchasing exclusive merchandise items such as a Disney Greeting Windmill, Disney Blessing Ornaments and goodie bags, available in limited quantities. Mickey and friends will also appear at the Night Market to wish everyone Kung Hey Fat Choi, and there will even be atmosphere entertainment to drum up the festive spirit for families enjoying the market together.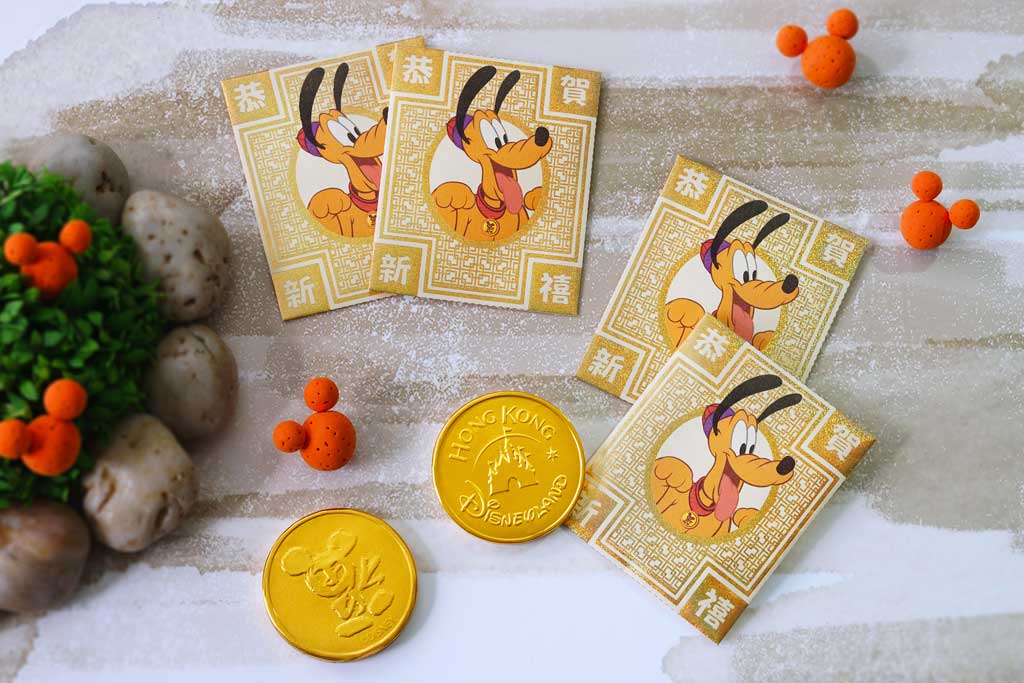 From the first to the fifth day of the Lunar New Year (February 16-20), the park will be presenting guests with a newly designed Year of the Dog-themed lai see packet (while supplies last)! It contains a chocolate gold coin and a merchandise coupon, giving guests more reasons to shop for the new year and share good fortune.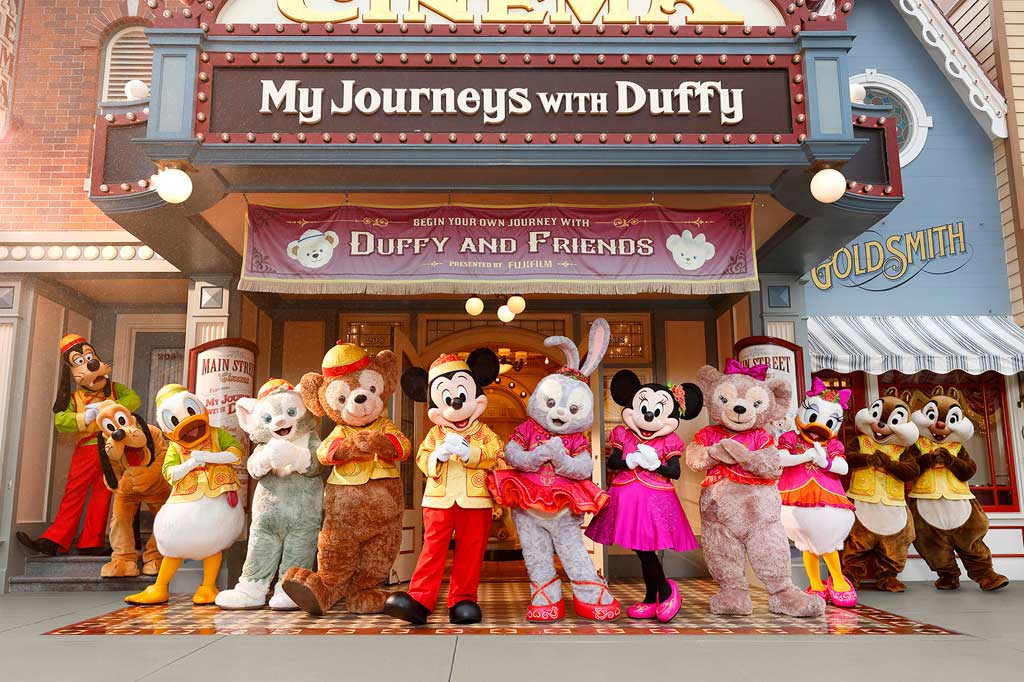 God of Fortune Goofy will greet guests at The Annex on Main Street, U.S.A. to share blessings with guests. Disney friends will appear in different festive outfits day and night to offer their best wishes, including StellaLou, who will be celebrating her first Chinese New Year at HKDL. Be sure to take photos with all the Disney pals for the family photo album!
A plethora of festive delights for a fulfilling start to the year
For a fulfilling start to the year, the park and three hotels will present nearly 70 festive delights, including Chinese New Year sets and snacks. Feast on the Chinese New Year Set Menu at Main Street Corner Cafe Hosted by Coca-Cola®, or a more formal celebration with the New Year Special Set 2018 at Plaza Inn. There's also festive snacks like Wishing Fish at the Market House Bakery and Outdoor Vending Carts. Or, order the "Lo Hei" at Studio Lounge at Disney's Hollywood Hotel to usher in the year with extra good luck and prosperity. Lunch and dinner buffets at Chef Mickey also include a line-up of delicious choices.

Gifts of good fortune
A range of more than 40 merchandise items for the season will be available at HKDL to share blessings with friends and loved ones. New "101 Dalmatians" plush toys and Pluto in a Chinese New Year outfit are the perfect keepsakes for the Year of the Dog, while StellaLou plush toys in a traditional Chinese outfit will be available for the first time ever. Start the year by visiting friends and relatives while wearing festive Disney apparel and bearing Disney goodies, lai see packets and traditional "fai chun"!

New Year limited-time offers on hotels up to 40% off
Make any Disney vacation magical with limited-time offers for the new year by staying at Hong Kong Disneyland Hotel, Disney's Hollywood Hotel or the newly opened Disney Explorers Lodge! Guests can book a room on designated dates during January and March 20181 at one of the hotels starting at HK$1,356, representing discounts of up to 40% off. Booking for this special promotion is available from now to January 31, 2018. Stays at resort hotels during the Chinese New Year celebration come with a set of complimentary collectibles, including Chinese New Year-inspired amenities, slippers and door decorations. Young hotel guests and their families will be kept busy with a full range of recreational activities across Hong Kong Disneyland's three resort hotels, from arts and crafts to a new year market and Disney Lion Dance.
A sweet Disney rendezvous for lovebirds
On Valentine's Day, romance will fill the park as lovebirds enjoy a sweet time day and night. Dazzling park lighting at night will set the scene for great photos of every romantic moment. More than 30 Valentine's keepsakes, including Duffy and ShellieMay merchandise, will be available in the resort's merchandise outlets to help guests find the perfect gift for someone special. There are also 25 Valentine's meal items at HKDL for couples to enjoy together. Guests can make the most of a romantic evening by having a dreamy Valentine's Day dinner at a hotel restaurant and staying at a themed resort hotel at night.
New Disney-themed elements throughout the year
Throughout 2018, HKDL will introduce all kinds of themed experiences for guests to enjoy! Starting from Chinese New Year, there are even more chances to connect with beloved Disney stories and characters thanks to first-of-its kind entertainment and colorful seasonal events all year long.

Upcoming Entertainment Offerings
Meet Black Panther
In 2018, more Marvel Super Heroes will make their dramatic arrivals at HKDL, providing perfect photo opportunities. Guests should get ready to meet Marvel's newest hero, Black Panther, when he appears for the first time in Adventureland this February! This will coincide with the release of the eagerly expected live-action "Black Panther" film debuting in February in Hong Kong cinemas.
An immersive party for Mickey fans
In mid-March, Minnie and her pals will gather everyone to join a surprise party for Mickey! Every evening, guests will be dazzled by the brand new colorful "We Love Mickey!" Main Street Projection Show, which features cutting-edge visual effects and lighting at Hong Kong Disneyland. This surprise celebration will transform the buildings into a canvas of vibrant, colorful visuals that pay tribute to Mickey's major life milestones.
It's Spring carnival time!
The month of March will also see more than 100 Disney friends appear in different ways at "Disney Friends Springtime Carnival." Guests can enjoy whimsical character encounters and reconnect with new and longtime Disney friends for a vibrant springtime celebration. Moana will make her debut in Adventureland to greet guests for photo opportunities and inspire them with her adventures.
More magical experiences are lined up for the year as the park undergoes the start of its multi-year expansion. "Moana: A Homecoming Celebration," an all-new atmosphere stage show to debut in Adventureland in May, will be the first attraction of the ongoing multi-year expansion plan. In the summer, guests can have fun with The Incredibles. Guests can enjoy spooky fun at "Disney Halloween Time" as Jack Skellington of "The Nightmare Before Christmas" and other Disney Villains take over the park. At the end of 2018, guests will be immersed in Hong Kong's most authentic Christmas experience with "A Disney Christmas."
Hong Kong residents: save 15% with the Magic Access Group of 3 Special Offer
In response to popular demand, The Magic Access Group of 3 Special Offer for Hong Kong will be available until April 10, 2018. Hong Kong residents who purchase three Magic Access memberships or more at the park's Ticket Booths or the Hong Kong Disneyland Resort official website will enjoy 15% off2! Join now to enjoy an array of exclusive benefits including merchandise, dining and hotel accommodation privileges. Members may also enjoy a year-round non-stop entertainment experiences, including seasonal events and members-exclusive activities3.
1This offer is valid for check-in dates from January 3 to February 15, 2018 (except January 28-30, 2018) and March 1 to 29, 2018.The room rates are subject to 10% service charge, which is restricted by Terms and Conditions. For details, please visit the official website of Hong Kong Disneyland.

2 Magic Access Group of 3 Special Offer is applicable for purchase of 3 or more Magic Access in one transaction. For Hong Kong residents only, senior Magic Access Membership excluded.
3 Participation of Member-exclusive activities is subject to Membership tier, activity quota and/or activity's Terms and Conditions. Member-exclusive activities are for reference only and subject to change or cancelation.