Disney's Puppy Dog Pals on DVD (Teri's Review)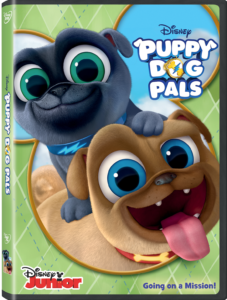 Disney's Puppy Dog Pals
Six episodes of the Disney Junior original cartoon series are coming to DVD April 10th and it is sure to be a hit with your kids. Puppy Dog Pals is about two adorable puppy brothers "Bingo" and "Rolly" and their explorations at home and around the world; as they go on thrilling missions. Surrounded by their owner/inventor "Bob", sister- kitty "Hissy", and a bunch of awesome friends, these two pups are always on an adventure. They ca not go anywhere without first singing their adorable, catchy, song, starting: "5, 4, 3, 2, 1……..Going on a Mission!" A fun-filled adventure for kid of all ages."
Voice Cast:
Issac Ryan Brown as Bingo; Sam Lavagnino as Rolly; Harland Williams as Bob; Jessica DiCicco as Hissy; and Tom Kenny as A.R.F.
Creator/Consulting Producer:
Harland Williams
Executive Producer:
Sean Coyle
Hawaii Pug-Oh/A.R.F.– Bob wants to feel the Hawaiian sand in-between his toes, so who else will bring it to him but his two pups/Bob has come up with a new invention, a new robot pal for the pups!
The French Toast Connection/Take Me Out To The Pug Game– When Bob is out of bread for his morning French Toast, someone needs to go to France to find him some/The pups play with Bob's prize baseball right out of the house, they must bring it home.
A Pyramid Scheme/Special Delivery– Bingo, Rolly and Hissy all head to Egypt to find the missing pyramids/It's Mother's Day and Bob's Mom needs her mother's day card.
The Go-Long Retriever/Pot O' Pugs– A new invention of Bob's has the pups saying "No" to fetching/When a gold piece pops out of Bob's computer Bingo and Rolly are on a mission to find the pot of gold at the end of the rainbow.
Design-A-Dog/Ice, Ice, Puggy– Bob's favorite stuffed animal is all torn up, the pups head to the Design-A-Dog store to fix it up/A glass of ice tea is all Bob wants before work, but  he's out of ice, hopefully the puppies can find some for him before he gets home from work.
Hissy's Big Day/Go, Dog, Go!– Hissy has had a rotten morning, but her two brothers Bingo and Rolly are there to cheer her up/A.R.F. has been programmed to take the pups wherever they want, but can they get back home?
Son's Reaction
This is my seventeen month old son's favorite show right now, hands down. He really enjoys the songs and missions.  His favorite character is Hissy and all of the trouble she seems to get into. If I need a distraction or a few minutes to finish up dinner, I put this on and it is by far his favorite thing to watch. "Going on a Mission" song comes on and he runs over to the TV to see Bingo and Rolly.
Overview
Our entire family enjoys the show. It is cute, funny and the storylines are interesting which gets both my husband and I watching them along with him. Harland Williams is the creator and a consulting producer whom we enjoyed growing up.   We are happy to have found something so cute that my son really likes to watch. The only disappointing thing about this release is it is a single format, DVD.  There is no digital copy available, so  I am not able to download any of the episodes onto my tablet. The Disney Now app does have some episodes, but it requires a WiFi connection to watch.
---