Big Hero 6 The Series – Back in Action! – On DVD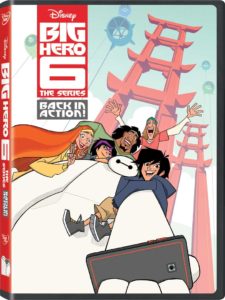 Big Hero 6 the series was introduced in November 2017 with a TV movie on Disney XD and then regular episodes started in June 2018 on the Disney Channel.  The series picks up where the movie lets off with Hiro at the San Fransokyo Institute of Technology.  He rebuilds Baymax and together they fight to protect San Fransokyo with his Big Hero 6 team.  This DVD release includes the movie, six regular episodes and six bonus shorts:
Baymax Returns (44-minute Disney Channel Television Movie)
Episodes:

Fred's Bro-tillion
Issue 188
Big Roommates 2
Failure Mode
Muirahara Woods
Food Fight

Bonus Shorts:

Baymax and Hiro
Baymax and Wasabi
Baymax and Go Go
Baymax and Fred
Baymax and Honey Lemon
Baymax and Mochi       
Voice Talent: Ryan Potter as Hiro; Scott Adsit as Baymax; Jamie Chung as Go Go; Genesis Rodriguez as Honey Lemon; Khary Payton as Wasabi; Brooks Wheelan as Fred; and Maya Rudolph as Aunt Cass
My 1st Impressions:  I was looking forward to this series.  I enjoyed Big Hero 6 on the big screen and seeing the characters back in action interested me.  This DVD collection offered a good number of pieces with the start of the series, the movie and the shorts.  This added up to a solid offering if you enjoy the series.  My problem is I am not a fan of the animation style of the series which is a stark contrast to that of the original film.  This made it tough for me to watch.    I would think most kids who are used to TV series animation in this style will not have the same issue and will enjoy seeing their favorite characters from the film back in action.   The release only features a DVD version, no digital or Blu-ray.   Also there are no traditional bonus features.   If you are fan of television animation,  having the origins of this series will be a solid addition to your library. If you are a fan of Big Hero 6 and have not seen the series I would recommend watching at least an episode before deciding to add this to your collection.
---