Toy Story Mania! Adds Colorful New Entrance as Curtain Rises on Toy Story Land at Disney's Hollywood Studios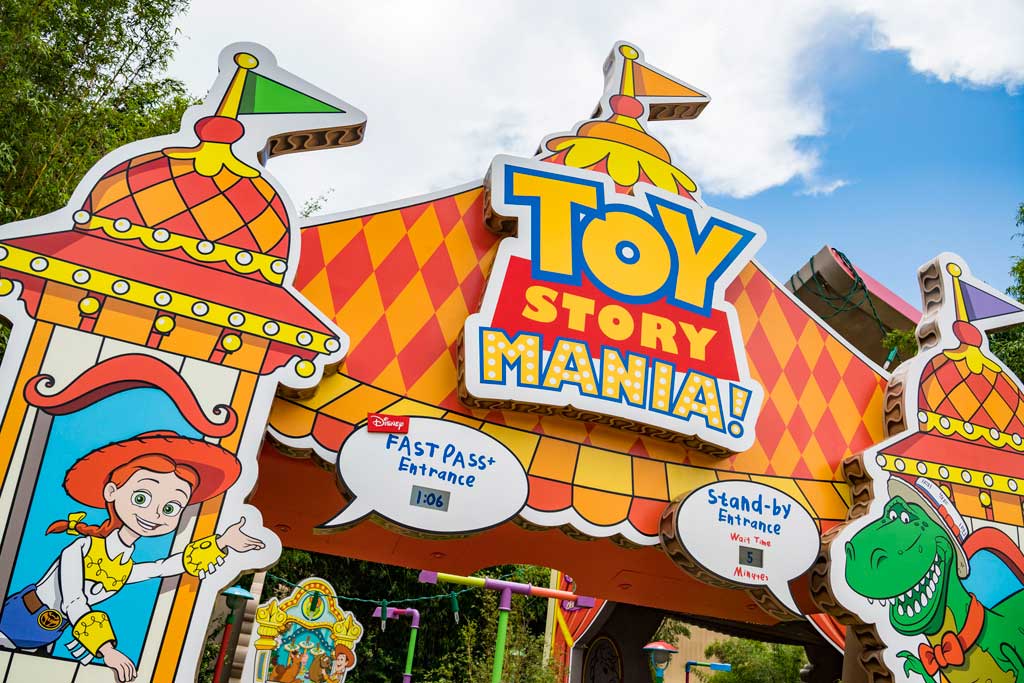 Toy Story Mania! Adds Colorful New Entrance as Curtain Rises on Toy Story Land at Disney's Hollywood Studios
Popular attraction also recently expanded to add a third track
LAKE BUENA VISTA, Fla. (June 28, 2018) – One of the most popular attractions in the history of Disney's Hollywood Studios receives a new entrance to welcome guests when Toy Story Land opens June 30.
Since its 2008 debut, Toy Story Mania! has been a blockbuster hit with families, combining the fun of a video game, 4D technology and interactions with favorite Pixar stars, including Woody, Jessie, Buzz Lightyear, Hamm, Buttercup, Rex and Trixie.
Andy of Pixar Animation Studios' Toy Story fame laid out Toy Story Mania! as a playset in his room. It's rootin' tootin' fun as guests take aim at moving objects in a variety of scenes based on classic carnival midway games.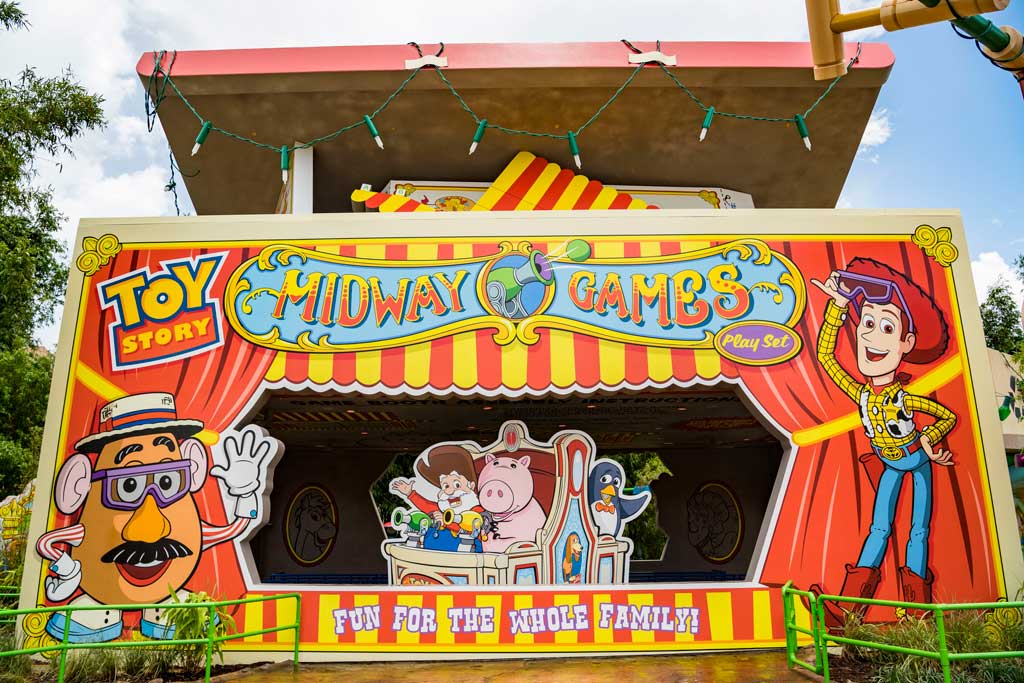 As the all-new gateway to the ride-through action inside, the carnival-style entrance with its candy-striped marquee is, in fact, the box Andy's Toy Story Mania! Midway Games Playset came in. Looking out over the rest of Toy Story Land, the entrance welcomes stand-by and FastPass+ guests to fun and fast-paced games of skill.
"Toy Story Mania! is such a guest favorite," said Phil Holmes, Vice President of Disney's Hollywood Studios. "With its colorful new look, bringing the entrance into Toy Story Land was a natural decision. The attraction celebrates Pixar'sToy Story franchise in a way that's fun for the entire family. And a recently added third track gets more guests to the action quicker as we bring the curtain up on this new land in Andy's backyard."
Guests queue through colorful games and game pieces, View-Master discs, Crayola crayon drawings and more. In one "box" of the queue, guests walk through a carnival midway that surrounds them on all sides. In another, they come across an Audio-Animatronics figure of Mr. Potato Head, who returns to Toy Story Mania! to serve as "Boardwalk Barker," greeting guests with wise-cracking zingers.
After a practice round of virtual pie-tossing, there are five game stops in all – plus 4D surprises like air blasts and water sprays.
Guests in moving ride vehicles maneuver their pull-string, spring-action "shooters" to lob simulated projectiles at animated targets. Gameplay includes tossing virtual baseballs at plates, virtual darts at balloons, virtual rings on Aliens and virtual hardboiled eggs at barnyard animals. Players rack up points when they nail the targets, with harder-to-hit marks notching higher values.
Scores are tallied at the end to determine the master of the midway, or at least who has bragging rights among family and friends. In the end, whether guests are experts or beginners, everyone's a winner!
Toy Story Mania!: At a Glance
Locations: Disney's Hollywood Studios (also Disney California Adventure at Disneyland Resort in California, Tokyo DisneySea at Tokyo Disney Resort).
Type of attraction: Interactive 4D dark ride
Opening date at Disney's Hollywood Studios: May 31, 2008
FastPass+: Yes
Wheelchair accessible: Yes
Height requirement: None, as long as children can sit on their own