Shanghai Disney Resort Halloween Season Oct 1 through Nov 4, 2018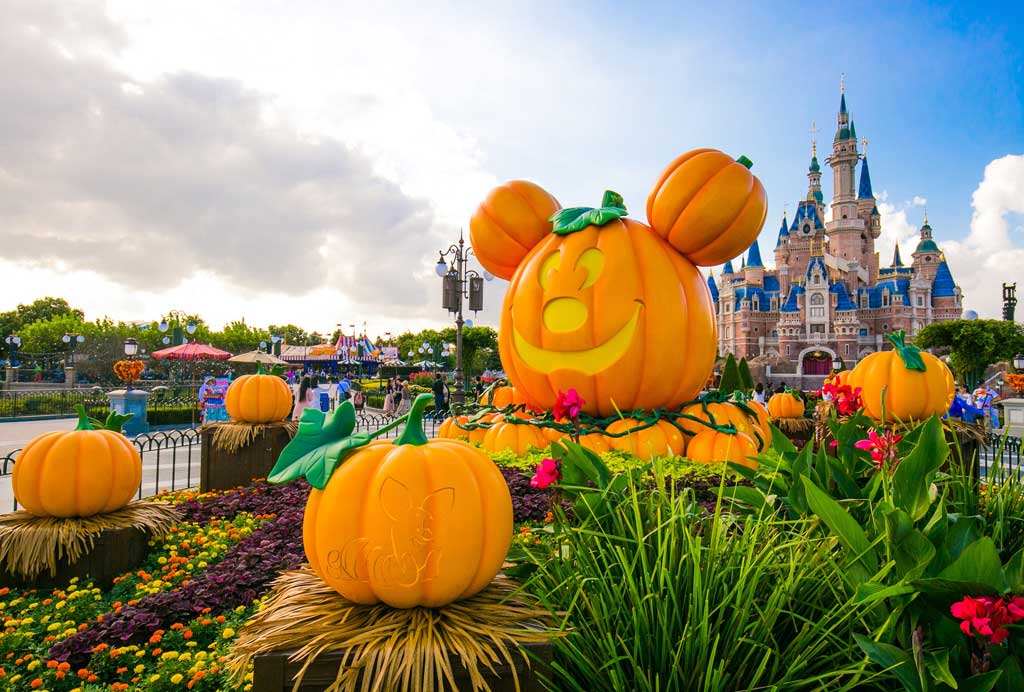 Succumb to the Spooky Fun at Shanghai Disney Resort this Halloween
Wicked villains, nighttime cavalcades, festive parties, exclusive merchandise, trick-or-treating and more await guests this Halloween season
Shanghai, October 8, 2018 – This fall, spooky fun and entertainment can be found all over Shanghai Disney Resort as the Halloween season returns in full force. From October 1 through November 4, guests can find mysterious events, special parties, Halloween-themed treats, decorations, and more, with many not-so-scary surprises designed to help guests experience the magic of the season across the entire resort. Offering an escape from the ordinary and a taste of authentic Halloween fun, Shanghai Disney Resort offers a perfect place to spend time with families and friends this autumn.
Villains, ghost pirates and spooky surprises – a perfect potion for a spectacular celebration
The resort welcomes guests this Halloween season with a bewitching array of decorations, including Disney character Jack-O-Lanterns, colorful buntings and banners, and more, delivering mysterious and delightful Disney Halloween surprises around every corner.
As dusk falls, guests can experience Mickey's Halloween Treat Cavalcade and watch as Mickey and Minnie, dressed up in their Halloween costumes, make their way across Shanghai Disneyland, followed by a gang of villainous Disney characters, including Dr. Facilier [from Disney's "The Princess and the Frog"], Maleficent [from Disney's "Sleeping Beauty"], Hades [from Disney's "Hercules"] and this year's newcomer, the Queen of Hearts [from Disney's "Alice in Wonderland"]. Duffy and his friends have also joined the nighttime cavalcade in their Halloween costumes for a fun and festive close to the nighttime action.
When sauntering around Shipwreck Shore in Treasure Cove, guests will be enveloped in spooky fog and encounter more ghost pirates than ever before. At the Pepsi E-Stage in Tomorrowland, guests can also enjoy a brand-new show – the "This Is Halloween!" Dance Party. The new interactive dance party features a DJ, music, and special appearances from Jack Skellington and Sally – the pumpkin king of Halloween Town and the humanoid ragdoll from "Tim Burton's The Nightmare Before Christmas" – who play interactive games with guests.
Get dressed up for this Halloween season
Halloween is a delightful holiday that gives people of all ages a great excuse to play dress up. This year, guests are encouraged to wear their favorite Halloween costume during their visits to the park to win a free Halloween sticker. What's more, an area near Sweethearts Confectionery on Mickey Avenue will also serve as a face-painting hub where guests can pay to receive special Halloween-themed face paints. To unlock the magic of a Disney Halloween and add an element of mystery, a full range of Halloween-themed dress up items are also available at Avenue M Arcade to help guests of all ages get immersed in the wicked atmosphere.
Guests can also enjoy trick-or-treat fun with Mickey Mouse and his pals as they dress up in their favorite Halloween costumes and take photos with guests along Mickey Avenue. Children under 16 are also welcome to join in on the trick-or-treat fun at the resort hotels from October 29 to November 2, and throughout Disneytown at the World of Disney Store, Mickey's Playground, the Walt Disney Grand Theatre and other select locations.
Festive-themed menus deliver a spooky taste of Halloween
Throughout the season, Shanghai Disney Resort will offer an extensive menu reflecting a rich diversity of authentic and savory seasonal dishes and refreshments, including Halloween Mickey blueberry muffins, Halloween Duffy pumpkin cupcakes in Remy's Patisserie and premium glittering StellaLou Halloween glowing sips in quick service restaurants and kiosks. The Royal Banquet Hall is also serving up impressive fall flavors, such as Halloween crab cakes with mango salsa, and beef cheek rendang in mini pumpkins, bringing a touch of tasty magic to the spooky season. Adorable popcorn buckets featuring the lovable StellaLou will also prove to be a popular photo-worthy item throughout the resort this fall.
Last year's popular black bun burger has made a comeback at the Stargazer Grill this fall, featuring an updated recipe designed to satisfy guests' hunger. Also back by popular demand is our Halloween cotton candy, a perfect grab-n-go treat for every sweet tooth. Starting from October 13, guests can even enjoy a Halloween-themed buffet with family and friends at Lumiére's Kitchen where they'll be immersed in an enchanting Halloween dining environment.
Stylish products help guests enjoy the spirit of Halloween
Guests of all ages can enjoy a wide range of Halloween-themed merchandise offerings – from pumpkins to spooky bats, spider webs and other classic Halloween decorations. This Halloween season, plush toys, mugs and pins featuring Jack and Sally also have made their debut in the park alongside a popular Halloween Mickey and Minnie collection that features a stylish Minnie Mouse in a witch's hat embellished with an orange bow and purple ribbons. Guests can also discover this year's all-new Halloween Duffy and Friends collection, featuring StellaLou Halloween headbands, Duffy and Friends plush and key chains, and limited-edition pins developed exclusively for Shanghai Disney Resort.
A wicked celebration that whirls its way into Disneytown and the resort hotels
This year, Disney's Halloween magic has made its way through the park to Disneytown and the two resort hotels – Shanghai Disneyland Hotel and Toy Story Hotel. Every weekend from October 1 through November 4, as well as on October 30 and 31, guests can join a series of wicked weekend dance parties with surprise appearances from Mickey and Minnie. Surrounding the parties will be delightful Halloween DIY workshops and tasty treats, as well as a whole host of fun Halloween surprise around every corner.
From October 1, every weekend brunch at Lumiére's Kitchen, and dinner in Sunnyside Café, will give children dining with their families the opportunity to dress like junior chefs and make Halloween-themed cupcakes guided by hotel chefs as part of a unique and immersive Halloween experience.
This autumn, guests of all ages are welcome to enjoy the spooky fun of Halloween at Shanghai Disney Resort.