"Mary Poppins Returns" to Home Video
To celebrate the home video release of the Academy Award nominated "Mary Poppins Returns," Disney In-Home Media held a Q & A at the Walt Disney Studios with director Rob Marshall and his very special guest, Disney Legend Angela Lansbury to talk about revisiting everyone's favorite magical nanny.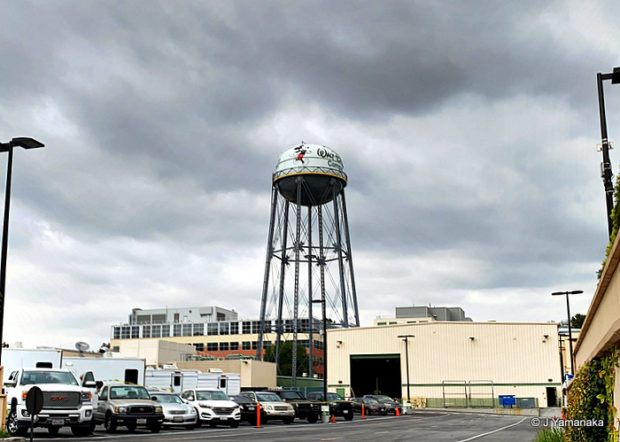 ---
Some of the highlights:
Marshall on the time period of "Mary Poppins Returns:"  "I wanted to set the film in the 30s when the original books were written.  The first book was written in 1934, the second one in 1935…and when you read the books, you feel…you feel the depression era.  They talk about the bank being broken, or that 17 Cherry Tree Lane was the shabbiest house on the street, and that Mrs. Banks had a choice between fixing up the house or having children.
"So I wanted to set the film in the depression era of the books.  And the first one was set in 1910, so here we were 24-25 years later."
Marshall on flying: "When Emily Blunt makes her first appearance…that's her coming in.  And, I remember I asked her to do it–she was literally above the trees–and she thought do you really need me to do this and I said "you know, we've waited 54 years, you've gotta make a grand entrance and it has to be you.
"A little side note…that's not Julie Andrews coming in, in the first film.  Up and over and then landing?  It's not her.  Because they wouldn't let her–they were too nervous about…I didn't care.  I thought well, let's just kill Emily.  [Laughs]  But I just wanted it to be her."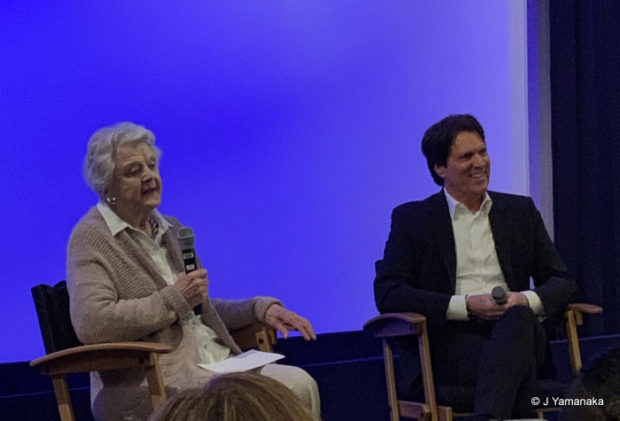 Lansbury on working for Disney: "To play a role in which I'm working with children or for children to make them feel comfortable and happy…certainly as a mother and as a woman I'm anxious to do.  And in some instances I've had an opportunity–a couple of opportunities, and mainly through Disney, and I'm so thankful for that.  Because otherwise, if you think of my career, what I've done in the past and who I've played and what I've been asked to do as an actress on screen…'Manchurian Candidate' for instance…"
Marshall:  "That needs a round of applause…"
Lansbury:  "Well listen, what am I?  I am an actress.  You can't believe a word I'm saying. [laughs]  I'm called upon to play such a variety of roles…but that's what I do.  I have a God-given talent as an actress–I'm not saying I don't because I really do and I know that–not with any sense of accomplishment necessarily.  It was just something I was born with and I'm forever thankful and I thank God every night for it, and for an extraordinary and fruitful career playing so many different things.
"But working in a Disney film is something totally apart and different from any other roles I have ever played.  Because it requires a simplicity and a warmth and a humanity that doesn't really exist in most shows that I have done over the years (and there have been a lot of them, as you know.)  So it's a rarity to have the opportunity as an actress to be in a Disney film.  And I'll play anything.  Just call me up, ask me, I'll be there."
Lansbury on whether she would want to see a CGI remake of "Bedknobs and Broomsticks:"  "No.  Absolutely not."
---
"Mary Poppins Returns" will be available on Digital 4K Ultra HD/HD and Movies Anywhere on March 12, and on 4K Ultra HD, Blu-ray and DVD March 19.  The different formats ultimately available include Digital UHD, HD, and SD, or physical copies in the Ultimate Collector's Edition (4K UHD, Blu-ray and Digital Code,) Multi-Screen Edition (Blu-ray, DVD and Digital Code,) a single DVD, or a Digital Bundle with both "Mary Poppins Returns" and the 1964 classic "Mary Poppins."  For full specifications & details here is the original press release.
Bonus features include:
Blu-Ray & 4K Ultra HD:
Deleted Song–"The Anthropomorphic Zoo"
The Practically Perfect Making of "Mary Poppins Returns"

Introduction
"(Underneath the) Lovely London Sky"
"Can You Imagine That?"
"Nowhere to Go but Up"

Seeing Things From a Different Point of View: The Musical Numbers of "Mary Poppins Returns"

"Trip a Little Light Fantastic"
"The Royal Doulton Music Hall"/ "A Cover Is Not the Book"
"Turning Turtle"
"Can You Imagine That?"

Back to Cherry Tree Lane:  Dick Van Dyke Returns
Practically Perfect Bloopers
Deleted Scenes

Leaving Topsy's
"Trip a Little Light Fantastic"

Play Movie in Sing-Along Mode
Digital Exclusive:
Play Movie with Audio Commentary–director Rob Marshall and producer John DeLuca
---