Press Conference: "Aladdin"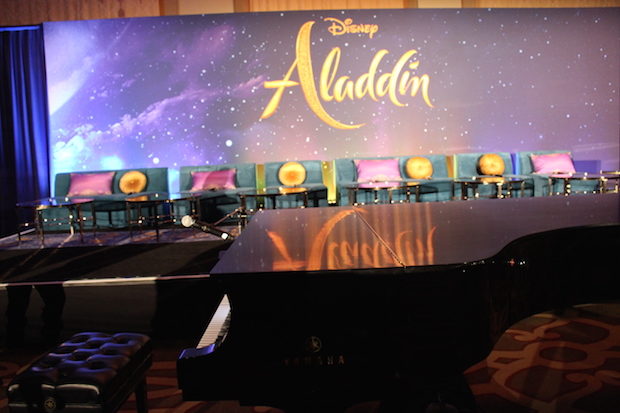 More than 25 years after the release of the original animated tale, "Aladdin" returns to theaters this Friday. Prior to the film's release, the cast, director and composer gathered in Beverly Hills to talk about creating a fresh spin on the music, characters and world of the classic film.
The event started with Alan Menken performing a 10 minute medley of his most iconic Disney anthems.
On the panel was director Guy Ritchie, composer Alan Menken, production designer Gemma Jackson, Mena Massoud (Aladdin), Naomi Scott (Jasmine), Will Smith (Genie), Nasim Pedrad (Dahlia) and Navid Negahban (Sultan).
The panel discussed the feelings the movie inspire and the impact of bringing beloved characters back to the big screen.
Guy Ritchie: It's hard to be specific about exactly what it is that you're supposed to derive from it other than a sensation which can only really be encapsulated by a very positive version of being un-cynical. That we want people to leave with a sense of positivity and hopefully a sense of freshness and all that sort of stuff.
Mena Massoud: It's not often you can go to a movie theater and see all people of color represented like this. It's certainly something that I was missing in my childhood. So I'm proud of the cast and the casting that Guy and Disney put together. So I'm excited for little boys and girls to go see people that look like them on screen, man. That's what I'm proud of.
Nasim Pedrad: It was so fun, because I think all the joy of creating something from scratch, but then watching that intersect with this story we all know and love. Which I had so much respect for coming into it. I'm a 90s kid. So for me, Aladdin was like golden age Disney. And to echo what Mena said, I'm so proud to be part of the most diversely cast Disney movie of all time I think. And it really, that film resonated with me as a child because it was the first time I saw a Middle Eastern protagonist in a major motion picture.
Another theme of the discussion was the invigorated and expanded role of Princess Jasmine, including a new song, "Speechless."
Naomi Scott: The idea that Jasmine needed even more of a challenge in this movie as well. As I said, it's a natural progression. The fact that she wants to become the leader. I kind of just want people to walk out and go, oh yeah, that makes sense, right?
She should be the leader. And as opposed to, it's not this thing that's been shoe horned in. It just makes sense. And she's a human. For me as an actor, my main thing is, how do I humanize her, how do I give her depth.
Guy Ritchie: I mean, Aladdin has been given enough challenges to get on with. Genie had his hands full. And the most conspicuous character thereafter was Jasmine, who was arguably a tad bit passive in the original. And it just felt like there was an obvious space there that we could have worked on. It was about equality of challenge. Because there's no point banging on about something unless you can back it up. … They can articulate that point. And they have the breadth and personality to do that.
Finally, Will Smith talked about the weight of taking on Robin William's role, and the joy of making Disney magic.
Will Smith: I was saying Disney Magic is real. This is my first Disney movie. And there's something that Walt Disney did in the design of these stories that at the core of these stories is something that shocks the inner child within you and forces it to come alive and smile and appreciate the moment. So for me, coming into this, first starting with fear, it definitely started with fear, what Robin Williams did with his character was, he just didn't leave a lot of room to add to the genie. So I started off fearful. But then when I got with the music, it just started waking up that fun childlike silly part of me. And like Guy was saying. This was the most joyful experience of my career.