#D23Expo Pictures & Video – The Music & Sounds of Star Wars: Galaxy's Edge
At 12:30 the D23 Arena hosted a presentation looking at the Music & Sound of Star Wars: Galaxy's Edge.  The panel consisted of three segments featuring Imagineers and musicians that worked on the project.  The first was the music/score of the land.  The second the sound effects/background sound.  And the third Olga's Cantina.
This presentation was moderated by Matt Walker, the vice president of Walt Disney Imagineering Music Studio.  The first panelists were John Dennis, executive music producer Walt Disney Imagineering Music Studio, and William Ross Arranger & Producer.  They discussed what it was like to work with John Williams and his music for the park.  John Williams was not in attendance but there were two video segments with messages from him sharing his experience.    As an example they discussed some of the sound work for Savi's Workshop.    Next up was John "JK" Kestler, Principal audio media designer Walt Disney Imagineering Show Studio.   He talked about the sound effects and ambient sounds of Galaxy's Edge.  He said there are over 2,900 sound files for Black Spire Outpost.   These range from the ships coming and going to creatures in the woods to Wookie apartment and a radio program.  He discussed how sounds can change throughout the day.  Next up another panel that started with Yaron Spiwak, senior music producer Walt Disney Imagineering Music Studio.  He was joined by Judith Hill, Jason Mater, Matt Wood and Adam Dorn to talk about some of the music in the land, in particular Oga's Cantina.   The presentation wrapped up with a live performacnce of "Oola Shuka" by Gaya.    It was also announced that there is a Spotify and Apple Playlist from Oga's Cantina now available.
Below are some pictures and video clips from the panel –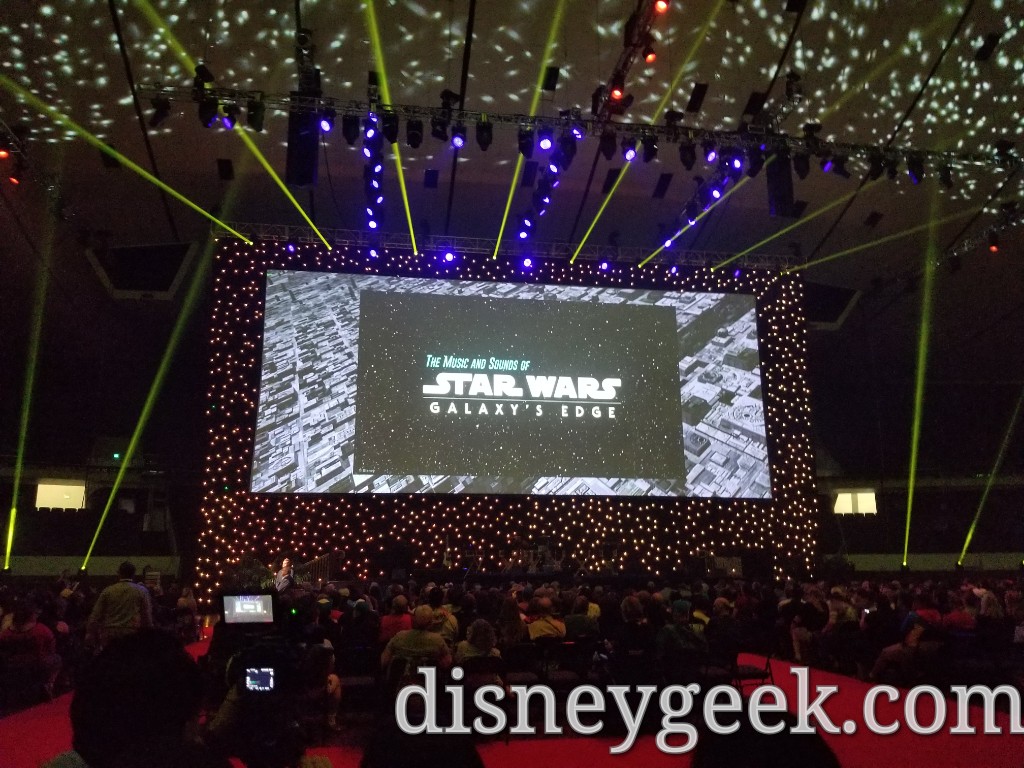 John Williams sharing some thoughts on Star Wars: Galaxy's Edge.