Disneyland Resort Halloween Time Food Listing & Photos
Disneyland Resort Serves Spooky Treats and Frightfully Festive Foods During Halloween Time
ANAHEIM, Calif. (Sept. 13, 2019) –During Halloween Time at the Disneyland Resort, Halloween-themed food and beverage is a part of the spooky storytelling and "fang-tastic" fun. From new items such as the vampire alien macaron, to returning favorites like the graveyard cupcake and pumpkin spice beignets, there is something dreadfully delicious for everyone to enjoy during the Halloween season, which runs through Oct. 31.
Guests visiting Disneyland and Disney California Adventure parks may also choose to order some of the festive Halloween treats including the new boogie man sundae from Clarabelle's Hand-Scooped Ice Cream or the new blackberry midnight julep from Mint Julep Bar using the mobile ordering feature on the Disneyland app.
All around the resort, guests will find special sweet and savory Halloween-themed menu items inspired by beloved characters, stories and even famous Disney villains.
Disneyland Park Churros
Maleficent churro (near Town Square and Sleeping Beauty Castle) – churro covered with chocolate cookie crumbles blended with colored sugar with marshmallow dipping sauce add-on
Pumpkin spice churro (near Buzz Lightyear Astro Blasters) – churro rolled in pumpkin spice sugar with caramel dipping sauce add-on
Coco churro (near Big Thunder Mountain Railroad) – cinnamon-dusted churro with a spicy cocoa dipping sauce
Bride churro (near Haunted Mansion) – elegantly-dressed churro in a bouquet of vanilla and sugar
Groom Churro (near Critter Country) – classic churro dressed in a duo of dark and milk chocolate
Disney California Adventure Park Churros
Pumpkin spice churro (Willie's Churros near Buena Vista Street) – churro rolled in pumpkin spice sugar with caramel dipping sauce add-on
S'mores churro (near Redwood Creek Challenge Trail) – churro rolled in graham cracker crumbs topped with chocolate chips and a marshmallow drizzle
Caramel apple churro (near Hyperion Theater)
Haul-O-ween churro (Cozy Cone Motel) – churro rolled in chocolate cream-filled cookies with green icing, gummy worms and candies
Horchata churro (near Goofy's Sky School) – horchata churro with condensed milk
Halloween Candy at Disneyland Resort
Apples – Minnie witch, poison skull, Jack Skellington, Evil Queen, Maleficent (available Oct. 18-31) and Minnie Mouse Day of the Dead (available Oct. 31-Nov. 2)
Cake pops – Jack Skellington (vanilla), bat (red velvet), cauldron (chocolate), pumpkin (pumpkin spice, available Oct. 1-31), and Oogie Boogie (vanilla)
Crispy treats – Minnie Witch, Mickey-shaped spider web, Haunted Mansion, Maleficent (available Oct. 18-31) and Minnie Mouse Day of the Dead (available Oct. 31 – Nov. 2)
Other treats – pumpkin fudge, pumpkin brittle, cookies and cream ghost chocolate cupcake, pumpkin vanilla cupcake, red velvet Minnie witch cupcake (available Oct. 1-31)
Disneyland Park
Carnation Café
Spicy fried chicken sandwich – sriracha-glazed fried chicken breast on a brioche bun with spicy sandwich spread, pepper Jack cheese, creamy mustard slaw and cilantro served with fries
Gibson Girl Ice Cream Parlor*
Trick-or-treat sundae duo – Two sundaes in one: sour gummy ice cream with raspberry sauce, gummy treats, and fruit candies; and chocolate ice cream with hot fudge and pieces of chocolate candy bars
Jolly Holiday Bakery Café*
Toasted salsa roja chicken sandwich combo –salsa roja shredded chicken on rustic bread with Jack and cotija cheeses served with tortilla soup
Sweet potato hand pie – filled with sweet potato pie filling and topped with orange white chocolate glaze and toasted mini marshmallows
Cruella de Vil brownie – brownie with dark chocolate and white chocolate mousse and a Cruella de Vil chocolate piece
Graveyard cupcake – chocolate cupcake with cherry filling, dark chocolate mousse, Halloween sprinkles, and a tombstone chocolate piece
Spiced bundt cake
Layered pumpkin cheesecake
Pumpkin muffin
Mummy macaron
Refreshment Corner*
Hades dog – foot-long all-beef hot dog with harissa aïoli, lemon-pickled cucumbers, oven-dried tomatoes, sautéed peppers and feta
Market House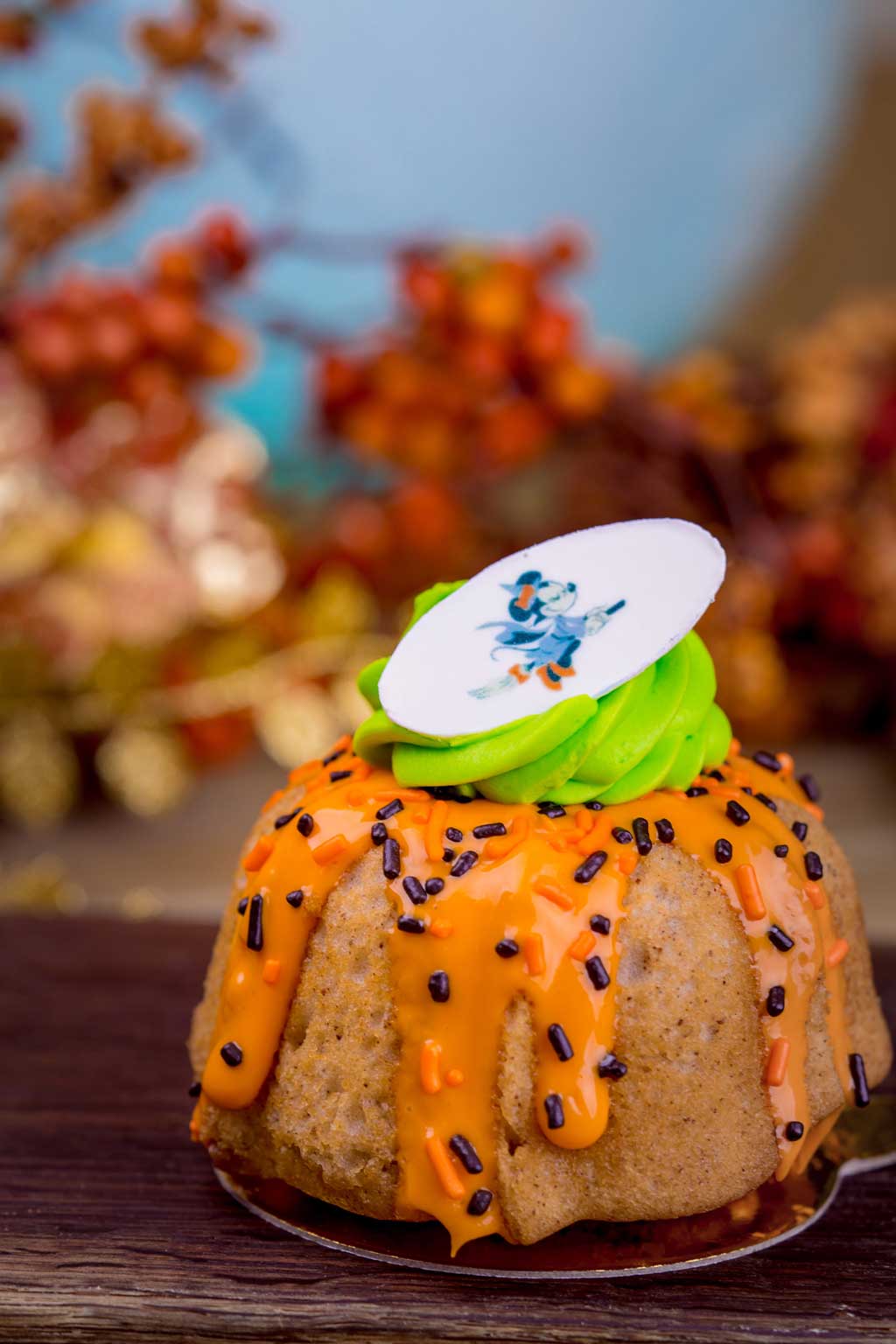 Plaza Inn
Monster Halloween cake – chocolate cake with multi-colored chocolate mousse, green buttercream, royal icing eyes and Halloween sprinkles
Chocolate-coffee yule log – chocolate sponge cake wrapped around coffee-flavored chocolate buttercream with chocolate crispy pearls, chocolate drizzle, and multicolored crispy pearls
Halloween Minnie Mouse cake – cinnamon cake filled with praline and crispy cookies finished with orange-colored glaze, sprinkles, and a witch Minnie Mouse chocolate piece
Red Rose Taverne*
Black rose dessert – black truffle mousse with raspberry compote and crunchy center topped with edible glitter
Pumpkin spice shake – frozen blend of white chocolate and pumpkin spice with salted caramel and whipped cream
Galactic Grill*
Darth by chocolate parfait – layers of red velvet cake, ganache, cookies, dark chocolate mousse, and chocolate cake topped with chocolate flakes, a chocolate Darth Vader helmet and a mini chocolate lightsaber
Blood orange slush – blood orange slush with a swirl of raspberry sauce
Loaded fleet fries – loaded waffle fries topped with slow-cooked BBQ, pulled pork, cheese, chipotle ranch and cream cilantro-lime coleslaw
Alien Pizza Planet
Supernova special: delicium 639 pizza – spiced marinara sauce topped with sausage, salami, assorted cheeses, onions, olives and tomatoes drizzled with pesto
Flavus tropicus parfait – layers of pound cake, caramel pot de crème butter streusel, and pineapple mousse finished with a drizzle of raspberry sauce, pineapple topping and gold crispy pearls
Vampire alien macaron -with lemon filling
Rancho del Zocalo
Mexican hot chocolate
Pan dulce ice cream sandwich – colorful shell-like Mexican sweet bread with dulce de leche ice cream, cajeta and churro streusel
The long-forgotten dueling tacos – two fry bread tacos featuring grilled fajita beef and braised butter chicken served with Mexican rice and pickled vegetables
Frozen abuelita horchata – layered frozen Mexican hot chocolate and frozen horchata topped with spiced whipped cream
Orange sugar skull pot de crème 
Golden Horseshoe*
Churro sundae – cookie dough ice cream garnished with a churro, cajeta and whipped cream
Stage Door Café*
Apple pie funnel cake – funnel cake with cajeta whipped cream and streusel topping
Hungry Bear Restaurant (mobile ordering available)
Dead-cadent funnel cake – house funnel cake with decadent brownie, white chocolate raspberry ice cream and chocolate crispy pearls
Blue Bayou Restaurant
We've BEAN dying to MEAT you! Red beans and rice soup – spiced stew of pork sausage, oxtails and kidney beans with Louisiana popcorn rice
Dynamite seafood hush puppies – spicy hush puppies with shrimp, tasso ham, corn, Bloody Mary aïoli and greens
Opera singer cake – almond sponge cake with coffee, chocolate ganache and glaze, coffee buttercream, Chantilly cream and raspberry sauce
Café Orleans
Sarah 'Sally' Slater's swamp fries – crawfish étouffée atop sweet potato fries with chorizo, clams, tomatoes, sweet corn and green onion
Swinging wake cake – layered chocolate and vanilla sponge cake, caramel-banana filling, caramel buttercream frosting and sugar candle
Harbour Galley*
13th-hour brew – iced coffee with vanilla cream
The ghost mariner's seafood boil – cajun buttered shrimp, red potatoes, corn and andouille sausage
French Market
The wedding cake – cake with buttercream frosting, cherries, cream cheese filling and a splatter of cherry sauce
Mint Julep Bar*
Blackberry midnight julep – blackberry, citrus and mint flavors with lychee "moon"
Pumpkin spice beignets – Mickey-shaped beignets dusted with pumpkin spice-flavored sugar
Royal Street Veranda*
Pickwick ghost punch – lively concoction of fruit, citrus juices and sherbet
Professor Phineas Plump's cure-all fritters – pimento cheese fritters with ghost pepper ranch dressing
Bengal Barbecue*
Lamp kofta – lamb with tzatziki sauce, spinach and pickled onions on grilled pita bread
Disney California Adventure Park
Mortimer's Market
Vampire Mickey sourdough bread
Green apple spell lemonade – lemonade with sour green apple syrup, cherry pearls and raspberry sauce
Carthay Circle Restaurant and Lounge
Poison apple-tini – apple whiskey, apple pucker schnapps and cranberry juice
Clarabelle's Hand-Scooped Ice Cream*
Spider silk macaron sandwich – black macaron with charcoal-tart cherry ice cream topped with popping candy and a drizzle of raspberry sauce
Minnie witch ice cream bar – ice cream bar dipped in chocolate with chocolate accents and sprinkles
Vampire Mickey ice cream bar –ice cream bar dipped in chocolate with shortbread cookie
Spiked hard apple float –hard apple cider and apple sorbet drizzled with caramel sauce
Boogie man sundae –scoops of mint chocolate chip ice cream, hot fudge, chocolate cookie crumbles and gummy candies in a chocolate-dipped waffle bowl
Award Wieners*
Oogie's worms & dirt funnel fries – dusted in crushed chocolate cream-filled cookies with cream cheese sauce, cookie pieces, gummy candies, chocolate-coated candies and whipped cream
Rest in peace-strami fries – filmstrip fries topped with thinly-sliced pastrami, caramelized onions, pickles and mustard sauce
Schmoozies*
Mummy donut – donut filled with peanut butter and jelly
Minnie witch shake – mint chocolate chip shake with whipped cream and chocolate cream-filled cookie ears
Caramel apple smoothie – apples, ice cream, caramel sauce and a caramel apple lollipop
Hollywood Lounge*
Honest Abe Apple Pie Cider (draft beer)
Stone Ghost Hammer (draft beer)
Elysian Night Owl Pumpkin Ale (draft beer)
Left Coast Voodoo (draft beer)
Howl-O-Ween concoction – vodka and Honest Abe Apple Pie Cider
My bugs! My bugs!  – limeade slush with grenadine and gummy worms
Worms, dice & everything nice – Midori-limeade slush and gummy worms
Ghoulish delight – cotton candy lemonade
Supernatural spirit – cotton candy vodka and cotton candy lemonade
Monster 129 tacos – pork belly tacos with kimchi slaw, Korean BBQ sauce and Sriracha crema
Studio Catering Truck
Monster 129 tacos – pork belly tacos with kimchi slaw, Korean BBQ sauce and Sriracha crema
Eerie elixir – green apple slush
Flo's V-8 Café*
Cozy Cone Motel
Slow-burnin' mac 'n' cheese cone – pasta with spicy red pepper-cheese sauce topped with crushed chile-cheese puffs served in a bread cone
"Spoke-y" cone macaron – cone Macaron filled with marshmallow buttercream and candy corn
Sonoma Terrace
Snake eyes sludge – edamame hummus dip with olive tapenade "bugs" and dragon fruit "dice" served with grilled flatbread triangles
De Vil-ishly delectable wings – chicken wings tossed in tangy, mildly spicy white sauce, parmesan and black sesame seeds
Cocina Cucamonga*
Pacific Wharf Café*
Maple-bacon bread pudding – bread pudding topped with whipped cream, maple glaze and candied bacon
Anaheim Brewery Oktoberfest
Vampire mickey sourdough bread
Bacon cheddar ale soup – bacon, cheddar cheese and ale soup served in a freshly-baked sourdough bread bowl
Gourmet Coffee on Pacific Wharf
Frog's breath – frozen lime and coconut cocktail with raspberry swirl and candy topping
Pacific Wharf Distribution Co. Beer Truck
Karl Strauss Oktoberfest Beer
Boudin Bakery Bread Cart
Vampire mickey sourdough bread
Corn Dog Castle*
Spicy pepper jack cheese stick – batter-dipped and drizzled with blackberry sauce topped with sweet pineapple salsa, pickled serranos and crushed cheese puffs
Paradise Garden Grill*
Mexican hot chocolate – cinnamon-spiced hot chocolate topped with whipped cream
Agua de jamaica slush – sweet hibiscus tea slush
Pollo verde wet burrito – chicken cooked in grilled salsa verde, golden rice, black beans and crema
Traditional tamale plate – red chile pork tamales with golden rice and black beans
Tacos de estillo callejero – trio of sirloin beef tacos with pickled vegetables, golden rice and black beans
Tortitas de papa – vegan crispy potato cakes with sautéed spinach, ranchero salsa, golden rice and pickled onion salad
Ensalada de frutas – jicama, watermelon, cucumber, pineapple, and mango with chili-lime salt and chamoy
Kid's cheese quesadilla – whole wheat flour tortilla filled with Jack and cheddar cheese served with apple slices
Kid's street-style taco – one steak taco in corn tortilla served with golden rice and black beans
Kid's uncrustable sandwich – With GoGo SqueeZ applesauce and carrots
Coco cake – layers of vanilla cake filled with cinnamon "churro" flavored mousse with a sweet cream cheese frosting
Pan dulce concha
Paradise Gardens Special Event Cart
Vanilla orange Coca-Cola
Savory empanada
Sweet empanada
Boardwalk Pizza & Pasta
Pumpkin cheesecake
Anti-campire chicken pizza – roasted garlic sauce, marinated chicken, smoked gouda, mozzarella, roasted red peppers and a drizzle of tomato-harissa sauce
Bayside Brews*
ACE Pumpkin Hard Cider
Karl Strauss Oktoberfest
Lamplight Lounge
Ghost-ly pepper nachos – house-made tortilla chips topped with ghost pepper-marinated chicken, ghost pepper cheese sauce, black beans and avocado-tomatillo salsa
Hyperion Cart
ACE Hard Pumpkin Cider
Samuel Adams Oktoberfest
Disneyland Hotel
Coffee House
Pumpkin spiced latte
Pumpkin muffin
Disney's Grand Californian Hotel & Spa
Lobby Holiday Cart
Weekly rotational cookies – featuring various Disney villains
Cookie box
Poison apple cookie
Chocolate chip cookie shot glass – With choice of orange liqueur, irish cream liqueur, cinnamon liqueur, chocolate milk, 2% milk, or cotton candy milk
Oogie Boogie crispy treat
Halloween whoopie pie
Caramel apple pound cake
Disney's Paradise Pier Hotel
PCH Grill
Pumpkin Spiced Latte
Sea Witch – rum, blue curaçao, grenadine and Sprite
Surfside Lounge
Pumpkin spiced latte
Sea witch – rum, blue curaçao, grenadine and Sprite
Specialty burger – grass-fed beef patty, with melted spicy Jack cheese and chipotle sauce
Puttanesca pasta – squid ink pasta topped with seafood
Chocolate and pumpkin mousse trifle with cookies and cream crumble
Mickey crispy treat
The Sand Bar
Sea witch – rum, blue curaçao, grenadine and Sprite
*Items from these locations are available via mobile ordering on the Disneyland App.