Frozen II, the follow-up to the highest grossing animated movie of all time "Frozen" is coming to theaters November 22nd.  Almost 6 years to-the-date the first one was introduced.
Frozen II returns with all of our favorite characters Elsa (Idina Menzel), Anna (Kristen Bell), Kristoff (Jonathan Groff), Olaf (Josh Gad), & Sven (also Jonathan Groff) on a quest for self-discovery, self-empowerment and doing the right thing no matter what.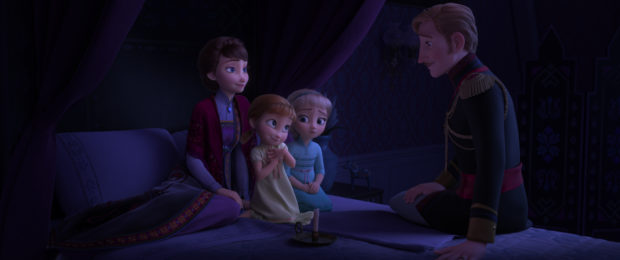 The film begins with a flashback to King Agnarr (Alfred Molina) and Queen Iduna (Evan Rachel Wood) telling Elsa & Anna a bedtime story about an Enchanted Forest and how something went wrong.  The story opens the door to the very mysterious past of Arendelle and how that past is affecting the present Arendelle along with Elsa.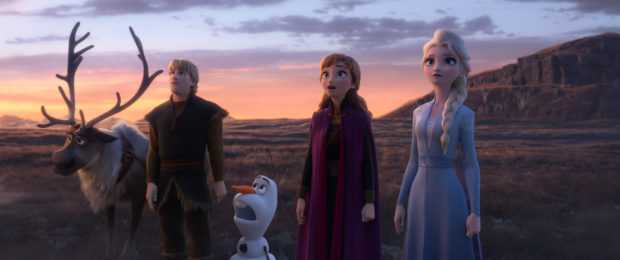 It's been three years since the Castle doors opened and Elsa and Anna reunited. In hopes to keep a simple, non-dangerous lifestyle Elsa tries to ignore the beautifully mystifying voice that seems to call for her. However she unwillingly answers it while it's keeping her up at night. Her answer puts Arendelle in danger.  To ensure the kingdom's safety, our favorite characters have to head to the North to the enchanted lands for answers.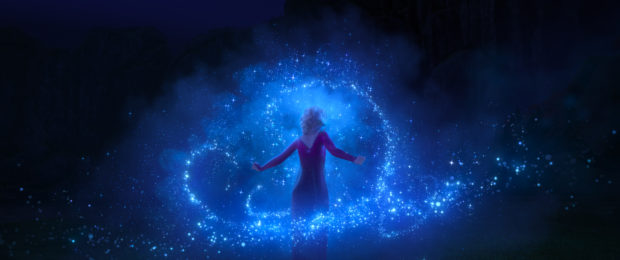 As with the first film the music plays a critical role.  The Academy Award winning songwriters Kristen Anderson-Lopez and Robert Lopez along with composer Chistophe Beck return for Frozen II and deliver another memorable set of songs. The power ballad "Into the Unknown", performed by Idina Menzel (featuring Norwegian singer AURORA) is sure to be this films "Let it Go".   The song is covered by Panic! At the Disco during the credits. Their version is a great pop/rock song that even some parents will not mind hearing in repeat.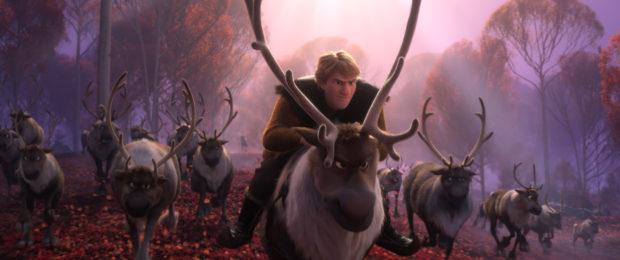 A truly enjoyable moment in the film is Kristoff's love ballad, Lost in the Woods .  Jonathan Geoff performs it perfectly.  In the movie, the song pokes fun at those 80's/90's music video ballad's some of us remember all too well.  At the screening I attended; the ladies sitting in my row definitely found the song as funny as I did and laughed out loud with tears in our eyes. It was great.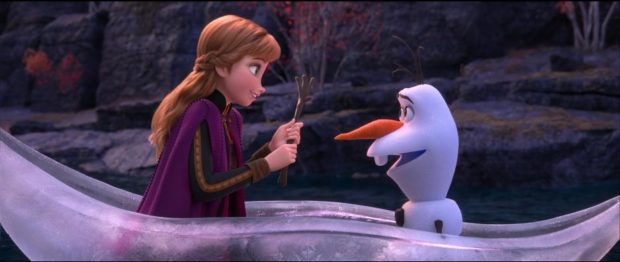 Frozen II will keeps you on the edge of your seat for the entire movie. The story moved along at a good pace. Not once did I look at my watch or wonder how much longer we had to go.  While the path was kind of chilling and creepy in parts, there were well-placed and delivered one-liners (usually from Olaf) to lighten things up.
I found the entire tone of the movie to be kind of dark and a little scary for an animated movie with children being a primary audience. I jumped at a few parts and wanted to close my eyes a time or two, then thought to myself it's Disney what is going to happen? The eerie feeling stayed for the majority of the movie, which I found surprising despite the funny one-liners and beautiful songs. After the screening I talked with some other parents and they thought the darkness would probably go over their kid's heads, but could see their kids jumping at a few parts that they deemed scary.  So you may want to take that into account if you plan to take your children, you may want to view it first and prepare them.
As with any sequel you never know what you are going to get, will it live up to the original?  I found this to be a great follow-up.
Leah, my guest at the screening, summarized her review as: "Frozen II has an excellent story line which is a wonderful compliment to the first movie. It seemed a bit darker that the original which made sense once the entire story was told. I found it to be funny and dramatic. I was on the edge of my seat until the very last scene and thoroughly enjoyed the movie."