Star Wars: The Rise of Skywalker – Lee's Review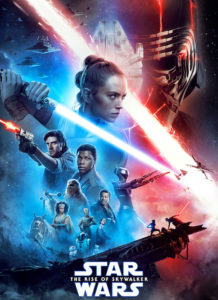 Per Disney's request and my personal beliefs, this review will be spoiler free.
You will not be disappointed….there may be tears….there will be cheers…and you will need to see it more than once.
When I walked out I was thinking "best movie ever". Now that I have had a while to consider and let the initial euphoria wear off, that still may be true. It was a great mix of action, emotion, comic relief, and storytelling in a universe that many of us care deeply about. There are critical questions that are answered, a satisfying conclusion to the whole Skywalker saga and a bunch of call outs to fans that are fun (and will take multiple viewings to catch them all).
This movie is big and it is long – clocking in at roughly 2 hours and 10 minutes of almost non-stop action from the opening title crawl to the start of the end credits. There were a couple of brief periods where you could catch your breath, but this film is jam-packed. There are lots of significant events that take place – it's not all just action for action's sake. If I had a complaint it would be that some of those events happen so quickly, and then the story moves on, that it almost does them a disservice. However, I can see with all they packed into a long movie that there just was not time to linger. A worthy debate would be if this should have been two movies…but then we would have had to wait even longer to get the answers we wanted.
A few observations on the quality of the movie. As would be expected from Lucasfilm and Disney it has amazing production values. The digital effects, practical effects, puppetry, and character design all blend seamlessly to create a rich fantasy world while staying out of the way, as they should. Of particular note is the integration of Carrie Fisher's previously shot footage, which is also seamless. Her role was necessarily limited, but made sense in the context of the story.
The music is awesome, as would be expected with John Williams. So many of us first discovered that movie scores were even a thing with the score to the first Star Wars movie. I especially liked the end credit music with its call backs to some of the earlier movies.
I have a hard time judging acting when it is actors I know, playing characters I love, but I would say the acting was excellent. As I mentioned in the press conference blog, Daisy Ridley has a lot of emotional scenes and she carried them well. The combination of her acting, the writing and the direction made Rey a complex character with moments where you really weren't sure which direction she was going and what she was going to do next. The next most challenging role was Ben/Kylo Ren and Adam Driver executed that equally well. The only other character with much character development in this episode was Oscar Isaac's Poe Dameron, which was limited but well done.
The story and direction well conveyed the traditional Star Wars themes of hope, friendship, and overcoming incredible odds with a diverse group of misfits and underdogs. This episode also had an extra large helping of the Force – both the psychological and physical aspects – and introduced several new Force powers.
Finally, most of the "big" questions get answered. Without giving too much away I can say that:
We find out if the Emperor is still alive
We learn more about Rey's parents
Rey and Kylo's relationship eventually gets resolved
The title eventually makes sense
At least one Force ghost makes an appearance
To keep the mood from getting completely maudlin, in addition to C-3PO, R2-D2 and BB-8 we get a cute new droid and a cute new alien…but no Baby Yoda (sorry).
There is so much content in this movie that there will be lots of debates among the Star Wars geeks for months, if not years, to come. As a serious Star Wars geek, nothing bothered me or seemed likely to generate huge controversy. Quite the contrary, 'The Rise of Skywalker' was a very satisfactory way to wrap up the Skywalker saga. The writers, director, cast and crew deserve accolades for meeting, if not exceeding, expectations in bringing to a close a story that took nine movies over more than forty years.