Disney Collector's Edition Puzzles Help Pass the Time During "Lockdown"
If you are like me, these long days of social-distancing and self-isolation have you looking for more and different ways to entertain yourself and the rest of the family.
In fact, this time of "lockdown" has actually enabled me to rediscover some long-lost hobbies that I had put aside in favor of more adult responsibilities.
One of the happiest of my rediscoveries is jigsaw puzzles. From the time I can remember, my family and I enjoyed working jigsaw puzzles — the dining room table was nearly always covered with some panoramic scene or other in various stages of completion. But as I got older and got a job, then married, and became a mom, I had less and less time for this absorbing and relaxing pastime.
But with this enforced downtime I have been able to "pick up the pieces" again!
Lucky for me, and all of us Disney fans, Ravensburger, a German-based company that has been making high-quality puzzles using custom die molds since 1964, has a special line of eight deluxe Disney-themed "Collector's Edition" puzzles.
These 1000-piece puzzles feature iconic scenes from some of the most popular Disney films ever made: Snow White, Cinderella, Fantasia, Peter Pan, Sleeping Beauty, Dumbo, Bambi, and The Jungle Book. Once completed, you will have a gorgeous Disney movie memory that measures 27″ x 20″ (70cm x 50cm), suitable for framing.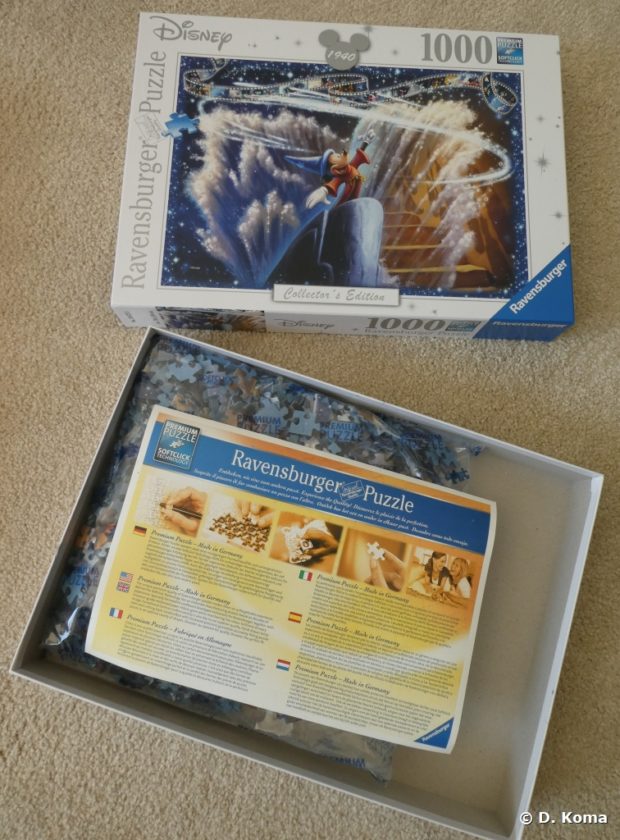 I have been working on the Fantasia puzzle – Sorcerer Mickey is a personal favorite of mine – and am really impressed with its quality.
The surface of the pieces is glare-free, which is so useful when trying to distinguish colors and patterns.
I also appreciate Ravensburger's "soft-click" technology –– because each piece is totally unique, you know for sure when you have placed it correctly and you hear a quiet little "snap".
This series of puzzles is rated for ages 14+ and I find that is probably about right. The Fantasia puzzle for example, is fairly challenging, with rich colors and lots of details that can trick you into thinking you have the right piece… but you do not!
Most of these puzzles are usually available on Amazon, but with the current self-isolation that's been required, many are sold out. Check other online retailers, like Barnes & Noble and Target, which also carry the Ravensburger brand. If you can not find these particular puzzles, Ravensburger has many other designs that will appeal to young and old alike — and many more Disney themes, like this great scene from Moana, below.
I highly recommend getting your hands on one of these Ravensburger Collector's Edition puzzles of the Disney classics, or one of their other Disney-themed jigsaws, and get the whole family involved! It's a great way to pass the time while we all have to be "alone together."
---
---
(Disclaimer: The Fantasia puzzle was provided to me free of charge by Ravensburger for the purposes of this review. This did not influence my opinion; my opinions are my own.)
*This post contains affiliate links, as an Amazon Associate the site earns from qualifying purchases.