Book Review: Polishing the Dragons: Making EPCOT's "Wonders Of China"
Polishing the Dragons: Making EPCOT's "Wonders of China"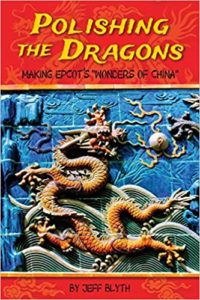 by Jeff Blyth is a first-hand account of the creation of the original film that premiered in China at World Showcase in Epcot at Walt Disney World.  The film ran from October 1, 1982 through March 25. 2003 when it was replaced with "Reflections of China".  "Wonders of China" also ran at Disneyland  from 1984 through 1996 .  The book is based on a personal journal that Jeff kept throughout the film making process spanning 1980 through the film's premiere in 1982.  He chronicles his survey excursions, filming trips and post production.  He also has a chapter on the updated "Reflections of China" film that replaced it which he also worked on.
The book contains over 400 color photos from the author's personal collection that he took on the various trips to China.  The narrative details his travels, interactions with people and the partnership with China.  He shows the amount of effort, time, and people needed to create the 20 minute film we were able to enjoy to the parks.  He also shares some insight into the give and take of dealing with China.  The book offers a view of a country that was very different than it is now.  Forty years is a long time, but these forty years in parts of China could be light years.
I found this book really interesting to read.  I always enjoy taking a look behind the curtain at what it takes to bring something to the parks and this book gives you an in depth look at the process.  I really enjoyed the detailed descriptions of what went into creating several of the memorable shots from the film.  Jeff goes into great detail on his travels sharing his various trips and locations as well as the modes of travel, accommodations and dining.  He also discusses the interactions with his American & Chinese teams.
The large number of color photographs was great to see, especially the "behind the scenes" look at the camera set ups.  The nine camera circle vision rig was very large and they took it to quite a few remote locations.    I only wish the images were larger.  Many are thumbnail size of only a couple of square inches.  The decision for the small pictures and paperback printing did help to keep the price of the book down and the number of images high, which was great, but I would really like to see larger prints of many of them.   The 254 pages fill the rather small six by nine inches paperback book.
Me being the geek that I am as I read through this book two other things jumped to mind that would have been really helpful.  First up some maps.   He travels to a lot of locations and along various routes and having some geographical reference without needing to call up Google would have been nice.  I would have really liked to have seen a shot list of the film with locations and even page references to cross identify everything.   And secondly a summary of some of the stats.  The team logged a lot of miles, time and filming and seeing some totals would have been a great set of stats.
If you have seen a circle vision film in the Disney Parks in the last 40 years there is a good chance you have seen one of Jeff's.  He worked on five other circle vision films for Disney Parks –
The Eternal Sea (Tokyo Disneyland)
Portraits of Canada (Epcot)
American Journeys (Disneyland, Magic Kingdom & Tokyo Disneyland)
From Time to Time / Un Voyage à Travers le Temps (Disneyland Paris renamed to "The Timekeeper" for the Magic Kingdom & Tokyo Disneyland)
Reflections of China (Epcot)
Being the disneygeek that I am and an Epcot nerd I found Polishing the Dragons: Making EPCOT's "Wonders of China"  a great read and would recommend it to anyone wanting to take a deep dive into one of the park's opening day films.  If you are interested in learning more about the "Wonders of China" locations or what it takes to create a film like this the book will not disappoint.     After reading it though be warned you are going to want to see the film again in Circle Vision.
---
*This post contains affiliate links, as an Amazon Associate the site earns from qualifying purchases.