"Secrets of the Whales" Preview: A Whale of a Tale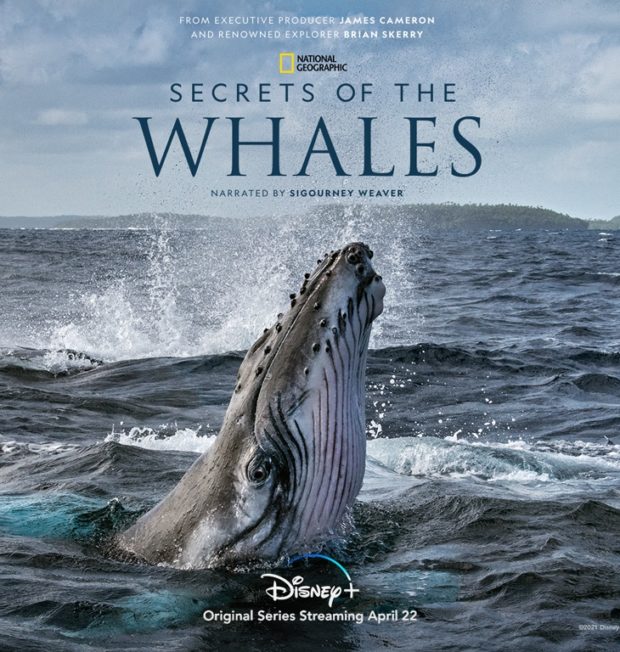 When Kirk Douglas sang about the "Whale of a Tale" he had to tell in the Disney classic film "20,000 Leagues Under the Sea," he could have been referring to the fascinating stories behind these giant mammals of the sea. Luckily for us, National Geographic photographer Brian Skeery and his team have now filled in the details with the new series "Secrets of the Whales," debuting this Thursday, April 22 — Earth Day! — streaming exclusively on Disney+.
The four-part series was filmed over the course of three years (243 days at sea) and spanned 24 countries, from New Zealand to Canada, from Dominica in the Caribbean to Sitka, Alaska. According to Skeery, he and his team, including 20 camera operators, collected 180 TERABYTES of footage and spent 105 days at the polar caps alone. They have distilled all of that down to four engrossing hours that reveal something that may be surprising to many: whales are more like humans than we could have ever imagined.
Narrated by the silk-smooth voice of Sigourney Weaver, and executive-produced by James Cameron (he of "Titanic" and "Avatar" fame), the series features five different whale species: orcas, humpbacks, belugas, narwhals and sperm whales.
Scene after gorgeously shot scene illustrates the intricacies of "whale culture." We see whales teaching their young, performing courtship rituals, and using rings of bubbles to create "nets" in which to catch fish. We are even treated to things never seen before, such as a baby sperm whale nursing. Scenes like this do a fantastic job of reminding us of something that's easy to forget — that whales, like humans, are also mammals.
In one of the most fascinating encounters, a mama orca appears to offer photographer Skeery her ray dinner, as if she sees him as an undernourished young whale in need of a good meal. In another visually stunning scene, Skeery swims alongside humpback whales, dwarfed by their enormous scale.
These touching moments are offset by other dramatic scenes, including one in which human intervention saves the life of a whale entangled in commercial fishing lines. All of these moments are enhanced by the hauntingly beautiful score by composer Raphaelle Thibaut.
There's so much to absorb packed into these episodes as it demonstrates whales are social creatures who thrive as communities, rather than portraying them as the deadly killers or fictional "Monstro the Whale" monsters we may have presumed them to be. As Skeery noted in a recent interview, there were "so many breathtaking moments… and we have a lot to learn."
As the series notes, whales "love deeply… play with joy… and mourn their dead," making the message clear.  The "whale of a tale" is the tale of the whale. Whales are (almost) just like us.
The four episodes of the series — "Orca Dynasty," "Humpback Song," "Beluga Kingdom" and "Ocean Giants (Sperm Whale)" — will stream exclusively on Disney+ starting Thursday, April 22. For just a taste of this absolutely stunning series, take a look at the trailer below.
For those who want to see even more, check out the May issue of National Geographic magazine, The Ocean Issue, and Skerry's beautiful new book, Secrets of the Whales.