Free Guy Home Video Release (Digital 9/28 & Disc 10/12)
'Free Guy' Arrives on Digital, Sept. 28, and on
4K Ultra HD™, Blu-ray™ and DVD, Oct. 12
20th Century Studios' action-comedy "Free Guy" debuts on all major digital platforms on Sept. 28 and on 4K Ultra HD, Blu-ray and DVD on Oct. 12. Consumers can enjoy never-before-seen bonus material including two deleted scenes, an extended scene, bloopers and making-of featurettes.
Film Synopsis
A bank teller (Ryan Reynolds) who discovers he is actually a background player in an open-world video game decides to become the hero of his own story – one he rewrites himself. Now, in a world where there are no limits, he is determined to be the guy who saves his world his way … before it's too late.
20th Century Studios' "Free Guy" Bonus Features*
Deleted and Extended Scenes

Guy and Buddy Hit the Beach
Hot Nuts Gets Blown
NPC Rally (Extended)

Gag Reel
Dude vs. Guy – Join Ryan Reynolds, director Shawn Levy and the creative and stunt teams as they reveal the innovative process of creating "Free Guy"'s ultimate showdown between Guy and the wildly amped-up, spray-tanned, frosted-tipped version of himself known as Dude.
Creating Molotovgirl – Jodie Comer transforms from a brilliant programmer to her fierce avatar in "Free Guy." Watch as the award-winning action star and filmmakers deconstruct the conceptualization, evolution and execution of bringing Molotovgirl to life.
It's Taika's World – "Free Guy"'s outrageous action may exist in a virtual world, but Taika Waititi makes the real world just as crazy with the over-the-top Antwan. See him at work in this entertaining showcase of a genuinely talented and hilarious performer.
Welcome to Free City – Delve into the reality-skewing universe that is Free City, as revealed by director Shawn Levy, the cast, and its inventive creative teams. Find out how they transformed a real metropolis into a virtual playground where anything is possible.
*bonus features vary by product and retailer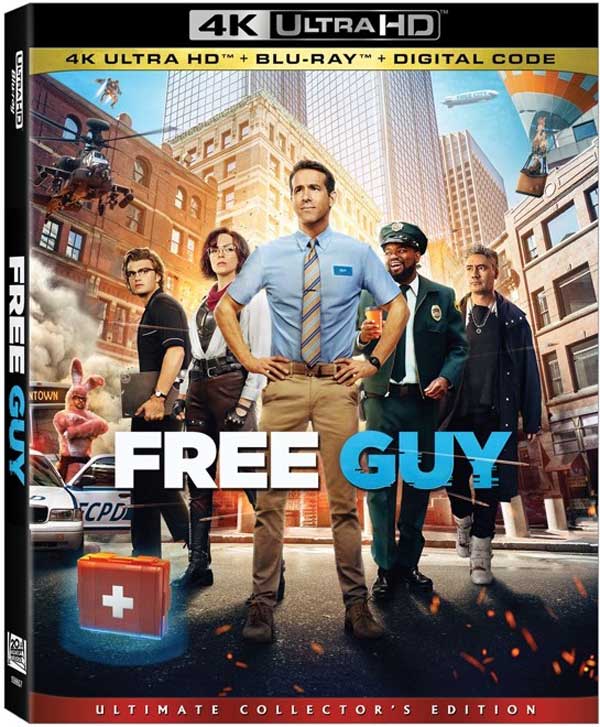 Cast:

Ryan Reynolds as Guy
Jodie Comer as Millie / Molotovgirl
Lil Rel Howery as Buddy
Joe Keery as Keys
Utkarsh Ambudkar as Mouser
and Taika Waititi as Antwan

Directed by:
Shawn Levy
Produced by:

Ryan Reynolds, p.g.a.
Shawn Levy, p.g.a.
Sarah Schechter
Greg Berlanti
Adam Kolbrenner

Executive Producers:

Mary McLaglen
Josh McLaglen
George Dewey
Dan Levine
Michael Riley McGrath

Screenplay by:
Matt Lieberman and Zak Penn
Story by:
Matt Lieberman
Music by:
Christophe Beck
20th Century Studios' "Free Guy" Product Specifications
Street Date:   

Digital: Sept. 28
Physical: Oct. 12

Product SKUs:

Digital: 4K UHD, HD, SD
Physical: 4K Ultra HD Combo Pack (4K UHD + Blu-ray + Digital Code), Blu-ray Combo Pack (Blu-ray + Digital Code) & DVD

Feature Run Time:
Approx. 115 minutes
Rating:

U.S. Rated PG-13
Bonus material not rated

Aspect Ratio:

Digital: 2.39
Physical: 2.39:1

U.S. Audio:

4K Ultra HD:  English DVS 2.0 Dolby Digital, English 7.1.4 Dolby
Atmos, French 7.1 Dolby Digital Plus, French 5.1 Dolby Digital,
Spanish 7.1 Dolby Digital Plus
Blu-ray: English 7.1 DTS-HDMA, English DVS 2.0 Dolby Digital,
French 5.1 Dolby Digital, Spanish 5.1 Dolby Digital
DVD: English 5.1 Dolby, English DVS 2.0 Dolby, French 5.1 Dolby,
Spanish 5.1 Dolby
Digital: English Dolby Atmos (UHD only, some platforms), English
5.1 & 2.0 Dolby Digital, Spanish 5.1 & 2.0 Dolby Digital, French 5.1 &
2.0 Dolby Digital, English Descriptive Audio 2.0 Dolby Digital (some platforms)

U.S. Subtitles:

4K Ultra HD: English SDH, Spanish, French
Blu-ray: English SDH, Spanish, French
DVD: English SDH, Spanish, French
Digital: English SDH, French, Spanish (some platforms)