Preview: "Dug Days", Debuting on Disney+ September 1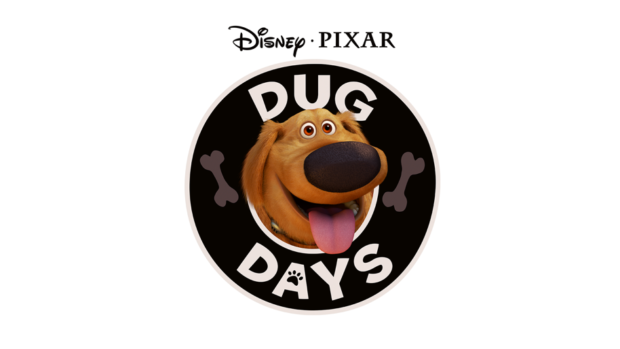 This year the dog days of summer start a little later than usual — on September 1! That's when Pixar Animation Studios is releasing "Dug Days," a new series of five shorts following the misadventures of the lovable dog from the Oscar®-winning feature film "Up."
Picking up where the film leaves off, the shorts show how Dug, whose high-tech collar converts his thoughts into human speech, copes with his new life in suburbia. Along with his owner, Up's cranky Carl Fredricksen, Dug has a number of first-time experiences right in his backyard, ranging from hilarious encounters with a sly squirrel and a batch of rambunctious puppies to a scary night of ear-splitting fireworks and much more.
The shorts were written and directed by Bob Peterson, who worked as a screenwriter and co-director on "Up," and who once again supplies the voice of Dug.
"We pitched to Pixar a series of shorts which showed the facets in a dog's life," Peterson says, explaining how the new show originated. "Territoriality, nurturing, protection, fears, and especially a dog's super senses like smell… This then gave focus to a dog's feelings, which can be intense."
Peterson notes that Dug is essentially like a 4-year-old, in that his emotions are huge. "If you look at all the shorts," he adds, "each has its own personality, but it mimics Dug's overblown emotions that are going on at the moment."
The five new episodes are being released simultaneously, a conscious decision based partly on the fact that each is rather short — under 10 minutes in length. The timing of the release turns out to be rather poignant, as Ed Asner, who voiced Carl Fredricksen both in the movie and this series, passed away on August 29 at the age of 91.

"Carl really is a role he was born to play," producer Kim Collins said in an interview the week before Asner's passing. "We are very lucky to have cast Ed, as he truly is our Carl Fredricksen."
The new series' episode lineup includes:
SQUIRREL! (9:21) – Dug spends an afternoon "helping" Carl with a backyard project, which soon devolves into a confrontation with Dug's new nemesis — the squirrel.

PUPPIES (9:14) – Dug discovers that babysitting a litter of adorable puppies has a dark side.

FLOWERS (6:36) – Dug's first-ever fireworks turn out to be far more terrifying than the "flowers in the sky" that Carl promises.

SMELL (7:12) – A smell that Dug has never experienced before reveals the true "superhero" potential of a pet.

SCIENCE (8:16) – Russell, from "Up", rejoins his friends Dug and Carl, and conducts some wild experiments.

Peterson, a self-proclaimed "dog person" who bases Dug's voice on how he talks to his own dogs, says that coming up with these themes was relatively easy.
"It's no accident that dogs make their way into our entertainment because they're just so connected to us," he states.  "They're family members… I've had so many great moments: dogs sitting next to me, just leaning on me, watching TV, and… you know, dogs are the best.  So, we're thrilled that we can put a dog on screen."
"When it really comes down to it," Collins adds, "these are stories about how Carl and Dug take care of each other."
You can catch how that symbiotic relationship develops when "Dug Days" premieres on Disney+ on Wednesday, September 1.
Check out the official trailer for "Dug Days" from Pixar below: