Disney+ Hallowstream Drive-In: "Muppets Haunted Mansion" Triple Feature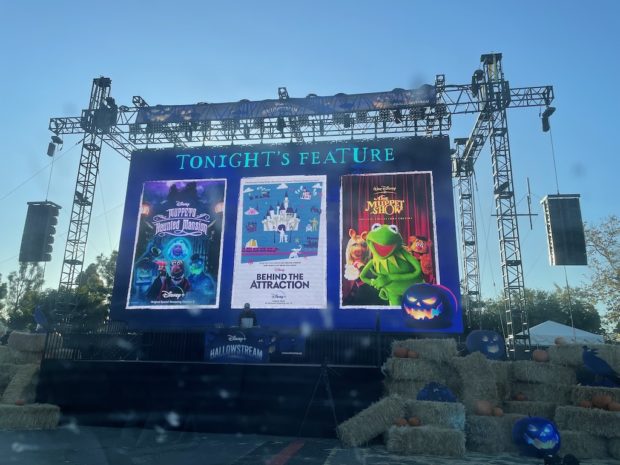 Following the success of last year's Disney+ Drive-In Festival, the event returns this year with a strictly Halloween theme. Running from October 7 to 13, the Disney+ Hallowstream Drive-In features new releases such as "Just Beyond", "LEGO Star Wars Terrifying Tales" and "Under Wraps," along side classics "Hocus Pocus", "The Nightmare Before Christmas" and "Halloweentown." The line-up on the night I attended was a Halloween Muppets triple feature: the new "Muppets Haunted Mansion" special, "Behind the Attraction: The Haunted Mansion" and "The Muppet Show" featuring Vincent Price (1977).
"Muppets Haunted Mansion" takes you on a slightly storified journey through the classic Disneyland attraction with plenty of celebrity cameos. Gonzo the Great and Pepe the King Prawn are invited to the Haunted Mansion on the 100th anniversary of the disappearance of Gonzo's favorite magician, The Great MacGuffin. They are dropped off by limo driver Yvette Nicole Brown (who marvels at never seeming to pick up the guests she drops off) and greeted by their Ghost Host, Will Arnett. Told that they will confront their greatest fears, Gonzo and Pepe encounter the floating head of Madam Pigota (Miss Piggy), the deadly bride Constance Hatchaway (Taraji P. Henson) and 999 ghosts along the way.
The Muppets special is a honed art form, almost always guaranteed to please. Familiar characters execute cheesy pratfalls, wry asides and an emotional journey, all in a tight 49 minute run time, with plenty of celebrity cameos. "Muppets Haunted Mansion" doesn't disappoint on any of these fronts, and also delivers highlights from the beloved attraction, a small consolation prize for Disneyland lovers missing a second Halloween season at the park.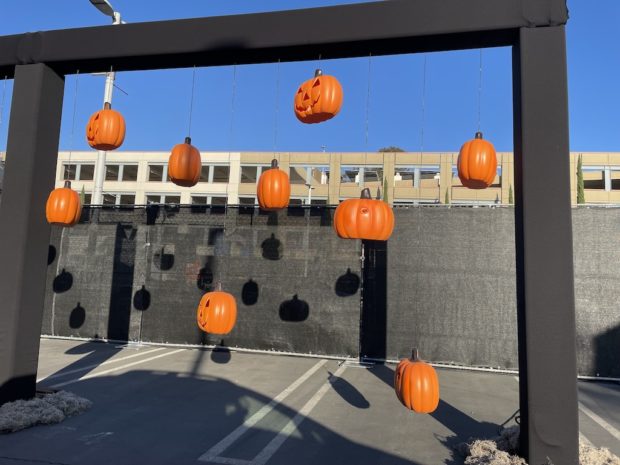 The Hallowstream Drive-In itself, free with an extremely limited reservation, was a great event that improved on last year's launch. This year's screenings were held at West La College, a bit more central than the Santa Monica Airport, and featured a more elaborate Hallowstream Town drive-thru set. This area incorporated the big scenes and set pieces that typically greet Disneyland visitors on the tram ride into the park, such as racks of floating jack-o-lanterns, hay sculptures of the Oogie Boogie and Ursula, and Haunted Mansion back drops.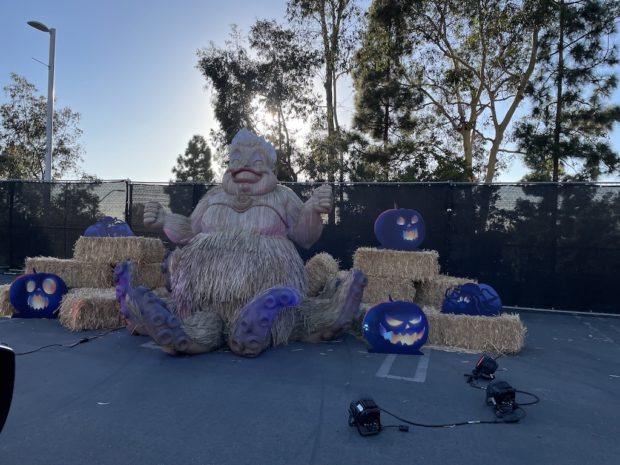 With admission, each member of the car gets a Hallowstream goody bag with some concessions, merch, buttons for "Muppets Haunted Mansion" and art cards for "LEGO Star Wars Terrifying Tales." While gathering and congregating outside of cars was still not allowed, this year's event featured two local food trucks that guests could order from their cars and pick up when ready.
The Hallowstream Drive-In and programming lineup on Disney+ feature a great variety of new Halloween special and beloved classics. I've loved these Disney+ Drive-Ins during the pandemic. They have been the closest I've gotten to a movie theater, and the Hallowstream Drive-In definitely helped to satisfy the craving for Halloween Disneyland.