Disney's "Strange World" – Maggie's Review
In theaters now is Disney's "Strange World," a family adventure comedy starring Jake Gyllenhaal, Gabrielle Union, Jaboukie Young-White, Dennis Quaid and Lucy Liu. The animated film follows a multigenerational, multiracial family into a new environment to discover secrets about the world below them and themselves.
"Strange World" opens on the antiquated land of Avalonia where explorer, Jaeger Clade (Quaid), maps the uncharted mountains that surround them, with the help of his teenage son, Searcher (Gyllenhaal). After parting ways on a mission, Jaeger disappears while Searcher returns to Avalonia with a miraculous discovery that brings his home into the modern age. In the future, Searcher is a hero to the people and running his farm with his wife, Meridian (Union), and their 15-year-old son, Ethan (Young-White). When Avalonia's president (Liu) asks for Searcher's help, the whole family embarks into the mountains to uncover the mysteries of the world below their feet.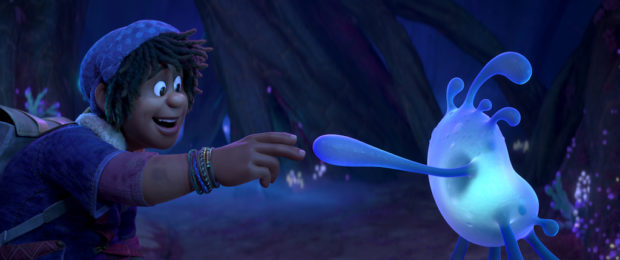 "Strange World" is both refreshing and familiar. The father and son frame of the movie rings of "Indiana Jones." The ragtag group of explorers venturing below the surface speaks to 2001's "Atlantis: The Lost Empire." Even the comic relief character of Splat is like a more flexible and amorphous BB-8. Though it has a familiar structure of a father and son working together despite their differences and an exploration party in an unfamiliar land full of wondrous and hostile creatures, the family dynamics and communication are more modern. "Strange World" is a rare animated movie to focus on a mixed race family, and is the first Disney film to feature an out queer character in Searcher's teenage son Ethan. Small details make this representation authentic: from the care with which Ethan's locs and Meridian's two-strand twists are animated to the levity of Ethan's flirtation with his crush.
I found "Strange World" to be highly entertaining, visually interesting and far less predictable than the typical animated family comedy. The landscape and creatures within the world are beautifully animated, and each part of the world has its own unique color palette and aesthetic. The film also has a really interesting and unexpected twist that adds extra emotional stakes to the film, giving "Strange World" a refreshing commentary on family and community.
"Strange World" is an extremely fun and unique watch that will make great family viewing during this holiday weekend and beyond. "Strange World" is in theaters now.