Disneyland Paris – 30th Anniversary Grand Finale Details
Disneyland Paris Offers Magical New Experiences Ahead of the Grand Finale of its 30th Anniversary
With the first ever Marvel drone show daily performed in a Disney Park, the return of the iconic Disney Dreams®! nighttime spectacular, an exclusive new show which brings guests on a journey alongside their favorite Pixar characters, and many other surprises, the Grand Finale of this incredible anniversary is a can't-miss celebration!
As part of the resort's ambitious transformation, Disneyland Paris has been celebrating its 30th Anniversary over the course of this year, inviting guests to dream bigger and laugh louder. The resort has entered a new era of creativity and innovation, delivering a more immersive and unforgettable Guest experience than ever before.
Building on the incredible success of this celebration, which has been recognized with some of the most prestigious awards in the attractions industry, including an IAAPA Brass Ring Award* and a Park World Excellence Award** – Disneyland Paris has announced the outstanding new offerings that guests will get to enjoy as part of the Grand Finale of its 30th Anniversary celebration, which can be enjoyed until September 30th, 2023.
*On November 2022, tThe 30th Anniversarycelebration has recently been named "Most Creative Property-Wide Event at Amusement Parks and Attractions withAnnual Attendance More Than 1 million" by the International Association of Amusement Parks and Attractions (IAAPA), whichcelebrates innovation and the excellence of Disneyland Paris in the global industry.    
**Disney D-Light wasalsonamed "Best Live Entertainment 2022" during the Park World Excellence Awards ceremony in London.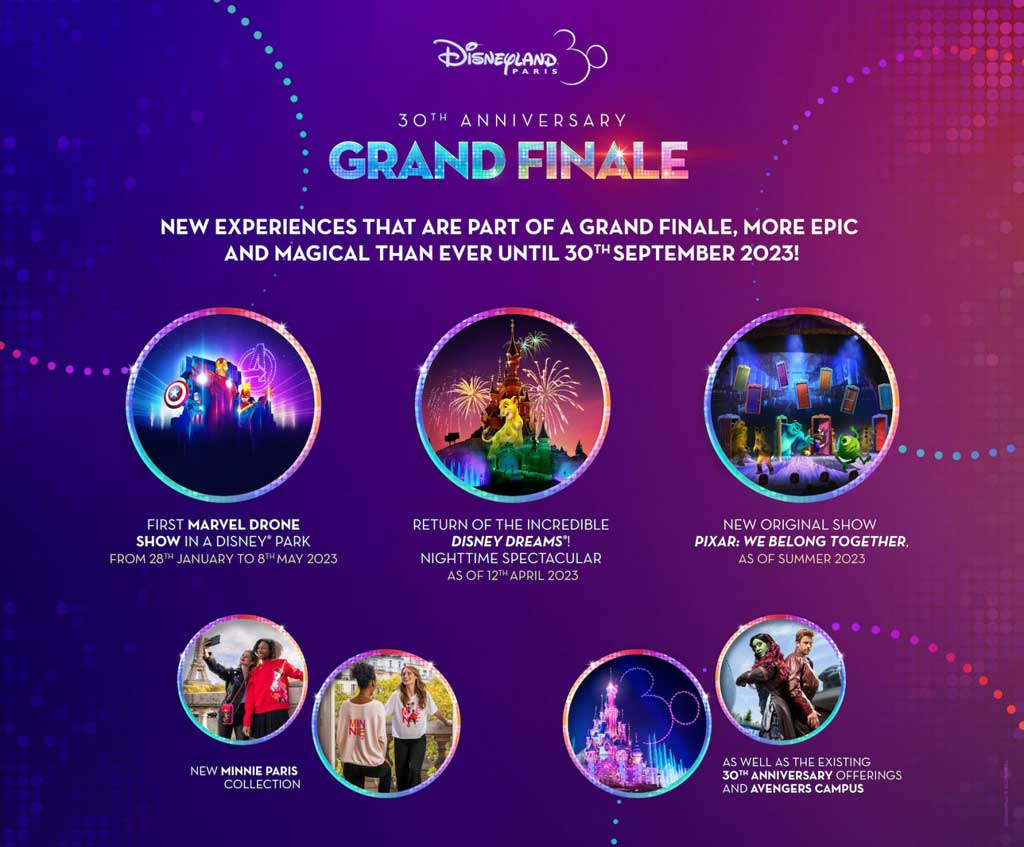 « Avengers: Power the Night* » – from January 28th to May 8th, 2023
In addition to the recent openings of Marvel Avengers Campus and the Disney Hotel New York® – The Art of Marvel, guests will be offered another breathtaking Marvel experience: "Avengers: Power the Night". This brand-new nighttime drone show will light up the sky nightly at Walt Disney Studios Park®, beginning January 28th through May 8th, 2023.
This worldwide exclusivity within the Disney Parks all around the world, the very first nighttime drone show daily performed and dedicated to Marvel Super Heroes,  in a Disney Park will combine music, lights, pyrotechnic effects, video projections and up to 500 drones that will form an awe-inspiring series of icons representing the powers of iconic Super Heroes, including Captain America, Captain Marvel, Scarlet Witch and for the first time at Disneyland Paris, Shang-Chi.
Countless Disneyland Paris Cast Members – including show directors, special effect designers, lighting and motion designers – have combined their expertise and creativity to develop this exclusive show, which will feature a soundtrack comprised of some of the most iconic Marvel scores that have been specially reorchestrated with a symphony orchestra composed of more than 70 musicians at the famous Abbey Road Studios in London.
To continually push beyond the boundaries of innovation, the laser video projectors that are used for this show boast energy-efficient technology while delivering high-quality images.
This show was yet another opportunity for Disneyland Paris to collaborate with the European leader in drone shows, Bordeaux-based company Dronisos, who were recently named as the official technology provider of the resort for the second year in a row. This collaboration has notably paved the way for the creation of the resort's 30th Anniversary's nighttime drone show "Disney D-Light," which has been dazzling guests of all ages each night since March 6th, 2022 and was even named "Best Live Entertainment 2022" during the Park World Excellence Awards Ceremony that was held in London in September 2022.
With Marvel Avengers Campus, the Disney Hotel New York® – The Art of Marvel, and "Avengers: Power the Night", Disneyland Paris has become the ULTIMATE destination in Europe for Marvel fans who want to enjoy an immersive experience alongside their favorite Super Heroes.
«DISNEY DREAMS®! » – as of April 12th, 2023   
For the Grand Finale of the resort's 30th Anniversary celebration, the incredible "Disney Dreams ®!" nighttime spectacular, which has received one of the highest satisfaction rates since the opening of the resort, will make its big comeback – giving a new generation of guests the opportunity to discover this iconic show.
Beginning April 12th, 2023, "Disney Dreams!" will once again dazzle guests each night at Disneyland Park by taking them on a magical and emotional journey following the "Disney D-Light" drone show – a powerful combination of experiences that will result in an unforgettable nighttime sequence.
Guided by Peter Pan's shadow, guests will discover or rediscover some of the greatest Disney stories projected on Sleeping Beauty Castle during an extraordinary journey featuring iconic songs from Disney and Pixar fan favorites Beauty and the Beast, The Hunchback of Notre Dame, The Lion King, Tangled,  and many others.
"Disney Dreams!," which originally debuted in 2012, offers an incredible burst of colors and light using  state-of-the-art technology, dazzling projections, spectacular lasers and fountains, and sensational pyrotechnic effects. The mapping technology used for the show also creates illusions of rotating towers and swinging motions on the walls of Sleeping Beauty Castle!
The 2023 version of "Disney Dreams!" will be even more exceptional, as Sleeping Beauty Castle's rooftops will be decked out with innovative LED technology that light up in sync with the show's nostalgic soundtrack. An additional upgrade to the show's technical equipment includes the installation of energy-efficient laser video projectors, which will make it possible to reduce energy use by 50%, while delivering a breathtaking show.
*Low-energy consumption LED lights specially developed for Disneyland Paris. 
Did you know? 
When it debuted, "Disney Dreams!" was recognized with the 2012 IAAPA Brass Ring Award for Best Production in the Live Entertainment Excellence category.
 « PIXAR: WE BELONG TOGETHER» – beginningSummer 2023  
In Summer 2023, a brand-new show called "Pixar: We Belong Together" will await Walt Disney Studios Park's guests, who will be invited to take part in a musical adventure at Studio Theater alongside their favorite Pixar pals. During this show, which will combine state-of-the-art stage technology, lighting effects, choreography and iconic songs, guests will find out how music and friendship brings us together.
Through the creation of this original show, Disneyland Paris reiterates its desire to immerse guests into memorable Pixar stories and to give them the opportunity to explore incredible paths alongside a wide variety of Disney Characters.
More information will be provided soon. 
REOPENING OF 'it's a small world' – Spring 2023   
After being closed for refurbishment, the happiest cruise that ever sailed will finally reopen in the Spring of 2023 to enchant Disneyland Paris guests. Nestled in the heart of Fantasyland since the Park's opening in 1992, this can't-miss family attraction will invite guests of all ages to go on a wonderful journey around the world to one of the most iconic Disney Parks' songs.
For almost 60 years, this beloved attraction has featured hundreds of dolls (Audio-Animatronics ®) wearing national costumes and singing an emotion-filled song called "it's a small world" to celebrate global unity.  The refurbishment work contributed to reviving the highly colorful appearance of its outdoor façade and allowed for several technical upgrades.
Did you know?
Since it was introduced at the 1964 World's Fair in New York, 'it's a small world' has enchanted more than 1 billion guests in Disney Parks in Anaheim, Orlando, Tokyo, Paris, and Hong Kong. Guests across the world have come to love and recognize this happy and catchy song
NEW PRODUCTS IN SHOPS AND RESTAURANTS  
In addition to the 30th Anniversary range of products, a brand-new collection dedicated to the Grand Finale will soon be made available in shops. This collection will notably include products featuring the colors of the "Dream… and Shine Brighter" show, including gender-neutral apparel and exclusive accessories.
On January 22, 2023, which is Polka Dot Day, fashion lovers will also be able to discover a unique capsule collection dedicated to Minnie Mouse and the capital city of France in Disneyland Paris' shops. Designed by the resort's creative merchandising studio, the stylish and modern "Minnie Paris" collection is inspired by the famous features of the fashionista's outfit.
This collection as it will offer a unique take on her iconic polka dots, which will be colored red, orange and pink. This collection will also feature different products reflecting Minnie's fun and cheerful personality, including clothing, uniquely Parisian fashion accessories, such as berets, and colorful dinnerware.
Food lovers will also be in for a treat during the resort's 30th Anniversary Grand Finale, as royal breakfasts with Disney Princesses will make a comeback at l'Auberge de Cendrillon in Fantasyland in the Spring. The restaurant menu will feature two different types of breakfast options, including an entirely vegan option of a coconut and mango chia pudding, or scrambled tofu with turmeric and onions. Chefs are busy preparing brand-new options that will be revealed shortly!
At Disney Village, an English pub-inspired restaurant will soon be available as King Ludwig's Castle will be transformed into The Royal Pub. Operated by renowned Groupe Bertrand, a resort's longtime partner that manages other locations in Disney Village and restaurants in Paris, it will serve the best of traditional English fare. The restaurant menu will include all-day breakfast, fish and chips, Guinness-braised beef, and a great selection of craft beers. Guests won't want to miss out on its warm and lively ambiance!
Rosalie, a traditional French brasserie, will also open in Disney Village at the end of 2023.
And the existing 30th Anniversary offerings will continue to be available until September 30th, 2023!  
In addition to the new offerings, guests will still be able to enjoy all of their favorite 30th Anniversary offerings until September 30th, 2023, including:
• The "Dream… and Shine Brighter!" daytime show, which features more than 30 performers and Disney Characters, colorful floats, two songs specially recorded for the occasion and a catchy mashup of Disney songs.
• The "Disney D-Light" nighttime show, which offers an unforgettable experience with its magical combination of video projections, fountains, lighting effects, fog, and lasers around Sleeping Beauty Castle – complete with the first-ever drone choreography in a Disney Park. This never-before-seen sequence was notably recognized with a Park World Excellence Award.
• The unique Gardens of Wonder displays, which invite guests to wander through nine enchanting, themed worlds featuring 30 kinetic sculptures of Disney and Pixar Characters, who "come to life" right in front of Sleeping Beauty Castle.
• Limited edition merchandising items dedicated to the 30th Anniversary celebration of Disneyland Paris
• Delightful food & beverage options prepared just for the occasion. Guests of all ages can enjoy Mickey-shaped pizzas and sandwiches, ice creams, macarons, madeleine cakes and waffles. Walt's – an American Restaurant and Toad Hall Restaurant even have brand-new menus!
Marvel Avengers Campus  
The Grand Finale of the 30th Anniversary celebration is also a great opportunity for guests to discover Marvel Avengers Campus – the brand-new immersive themed land of Walt Disney Studios Park – and dive into the heart of the action alongside Marvel Super Heroes, while experiencing epic adventures, especially in thrilling attractions such as Spider-Man WEB Adventure and Avengers Assemble: Flight Force.
Marvel Avengers Campus at Disneyland Paris was created by Tony Stark himself to discover, recruit and train the next generation of Super Heroes. Recruits are empowered to take an active role alongside Marvel Super Heroes, including Captain Marvel, Black Widow, Spider-Man and new Super Heroes such as Shuri, in her Black Panther gear. With its spectacular and unexpected encounters, themed restaurants, and shops, where recruits may gear up with high-tech accessories, Marvel Avengers Campus offers a completely immersive experience.
A boundless future for Disneyland Paris  
The Grand Finale of the 30th Anniversary celebration and the openings of Marvel Avengers Campus and the Disney Hotel New York® – The Art of Marvel are just the start of the ongoing transformation of Disneyland Paris. Other large-scale projects will soon come to life including the regal transformation of the Disneyland Hotel and the refurbishment work at Disney Village®. Additionally, a new Frozen-themed land is under construction at Walt Disney Studios Park, as part of an ambitious expansion plan that will also include a stunning lake and unique gardens, each designed around favorite Disney stories.
Did you know? 
In line with French government recommendations and as part of our companywide commitment to the environment, Disneyland Paris is gradually implementing a series of measures that seek to reduce energy consumption, such as adjusting the heating of various indoor areas to 19 degrees Celsius (*) or turning off the Parks' lights during closing hours**.
These measures supplement the long-standing initiatives that have been taken to limit energy consumption and use renewable energy, resulting in the extensive use of LED lights across the resort. For instance, 75% of the resort's hotel facilities and 70% of its attractions are equipped with LED lights in guest-facing areas. Additionally, the resort has constructed one of the largest solar canopy plants in Europe and has implemented the use of geothermal energy and the insulation of buildings as they are renovated or built. Informing and raising awareness among Disneyland Paris' 16,000 Cast Members is also a key pillar to our approach. Click here for more information.
(*) All of the indoor attractions, theaters, restaurants, bars, shops, hotel lobbies and hallways, buildings in backstage areas. 
(**) Except for maintenance, cleaning, and construction operations