Alice in Wonderland: The Official Cookbook – For Very Merry Unbirthdays and More!
Check your watch! Why? You don't want to be late for this very important date: March 28, the release date for "Alice in Wonderland: The Official Cookbook."
This new cookbook, the latest from Insight Editions, features 50 "curiouser and curiouser" recipes inspired by Alice, The Mad Hatter, the Cheshire Cat and other beloved characters from Disney's classic 1951 animated film, "Alice in Wonderland."
Tucked inside the book's 128 pages are gorgeous full-color photographs of the whimsical culinary concoctions, along with illustrations that conjure up fond memories from the film.
Authors Elena Craig and S.T. Bende have made sure to include a wide range of menu items, from the savory to the sweet, so that you can plan a full meal. Imagine starting off with White Rabbit's Garden Crudite or A-E-I-O Soup and moving on to Queen of Hearts Tomato Tart or Caterpillar Crostini, then finishing the meal with Painting the Roses Red Pavlova or Cheshire Cat Panna Cotta. You could then wash everything down with some Growth Potion!
If you're feeling really ambitious, you can even put together your own Mad Tea Party with delightful recipes for Curiosi-Tea, Dormouse Macarons and Unbirthday Par-Tea Cupcakes. (Mad Hatter's riddles not included!)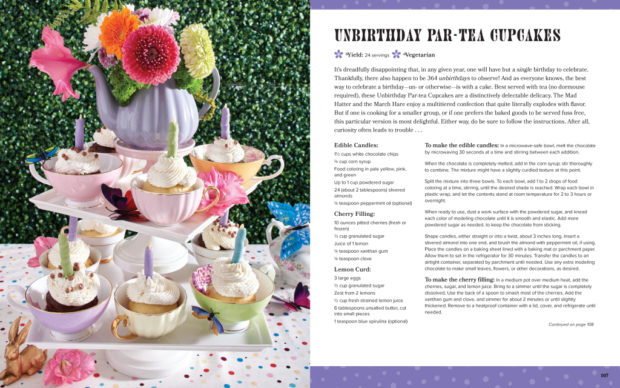 The easy-to-follow recipes mostly feature ingredients you're likely to already have in your pantry or can easily find at the grocery store. In fact, many recipes are simple enough for young chefs to understand and prepare, with some supervision, like Lemon-Strawberry Homemade Jam. Expert cooks will find some challenges here, too. Some items, the stuffed cabbage (Of Cabbage Rolls and Kings) and the Mushroom Perch Pie, for example, require some advanced know-how and skills (not to mention patience).
Helpful tips are scattered throughout, and a glossary of terms is also included. In addition, recipes are thoughtfully marked as vegan, vegetarian and gluten-free (or gluten-free adaptable) when applicable, and there's a page dedicated to "Dietary Considerations" at the back of the book.
With a foreword by Ashley Eckstein (familiar to Disney fans for her hosting work at the bi-annual D23 Expo and her fashion brand Her Universe), this new hardcover book is as interesting and fun to browse through as it is to cook with. And don't be surprised if you find yourself humming, "A Very Merry Unbirthday" as you flip through the pages, like I did!
"Alice in Wonderland: The Official Cookbook" is available to preorder on Amazon now — release date is March 28, 2023. It retails for $27.99.
---
* This post contains affiliate links, as an Amazon Associate the site earns from qualifying purchases.
** A review copy of this book was provided to us