Disneyland Paris – What's new 2023 and beyond!
Disneyland Paris presents fans with what's new for 2023 and beyond!
Right in the middle of the Grand Finale of its 30th Anniversary celebrations, Disneyland Paris has chosen April 12th, its historical anniversary, to launch the big comeback of Disney Dreams®!, a dazzling night-time show last enjoyed by guests in 2017. The resort has also revealed news of what's coming up to a large group of loyal fans gathered for the occasion. And there was lots to talk about, from the reopening of beloved refurbished attractions like "it's a small world" or Les Mystères du Nautilus, the launch of a new Pixar show, and a soon-to-be fully transformed Disneyland Hotel!
The long-awaited return of the Disney Dreams®! night-time spectacular
On this exceptional day, the incredible Disney Dreams®! night show has made its long-awaited comeback! Created in 2012 and acclaimed by Disneyland Paris guests during five years, the show is returning as part of the Grand Finale of the 30th Anniversary. Combining a wide variety of special effects (video projections, lasers, fountains, pyrotechnics), the show brings to life each evening some iconic stories on Sleeping Beauty Castle: from Beauty and the Beast to The Hunchback of Notre Dame, The Lion King, Tangled, Ratatouille and many more!
This 2023 edition is even more spectacular, in particular thanks to innovative LED-based technology installed on Sleeping Beauty Castle's turrets, which come alive to the rhythm of the show, in addition to recent technical upgrades, improving the overall visual impact of the show.
And this April 12th brings in a new surprise for all guests: the award-winning* Disney D-Light show, played as a prelude to Disney Dreams®!, unveils new drone choreographies! Created exclusively for the 30th Anniversary Grand Finale, this updated pre-show will be played every night until September 30, 2023.
* Disney D-Light voted Best Live Show in 2022 at the PARK WORLD EXCELLENCE AWARDS
A summer marked by Pixar, celebrating the Grand Finale of our 30th Anniversary in style
More than ever, Disneyland Paris is harnessing the strength and popularity of Pixar Animation Studios to reinvent the experience at its theme parks and continue to surprise guests. At Disneyland Park, Pizzeria Bella Note restaurant has recently been refurbished and expanded, with the construction of a new room inspired by the Pixar film, Luca. By the summer, Mexican-themed restaurant Fuente Del Oro, located in Frontierland, will be transformed around the theme of the Pixar animated film, Coco. The new and fully redecorated Casa de Coco – Restaurante de Familia will feature Miguel, the hero of the animated movie, and his passion for music and love for his family members.
At Walt Disney Studios Park, Worlds of Pixar will have brand new scenery for great photo opportunities. Walt Disney Imagineering Paris has worked with Pixar artists to transform the old "Toon Plaza", in order to reinforce the immersion and bring a new decor paying tribute to Pixar films. In this whimsical space, a new raised backdrop will feature numerous characters from beloved Pixar movies. The artwork will also feature Ember and Wade from the new Pixar movie Elemental, coming to cinemas this summer! And of course you will be able to meet and greet some of the most popular Pixar characters once the area reopens.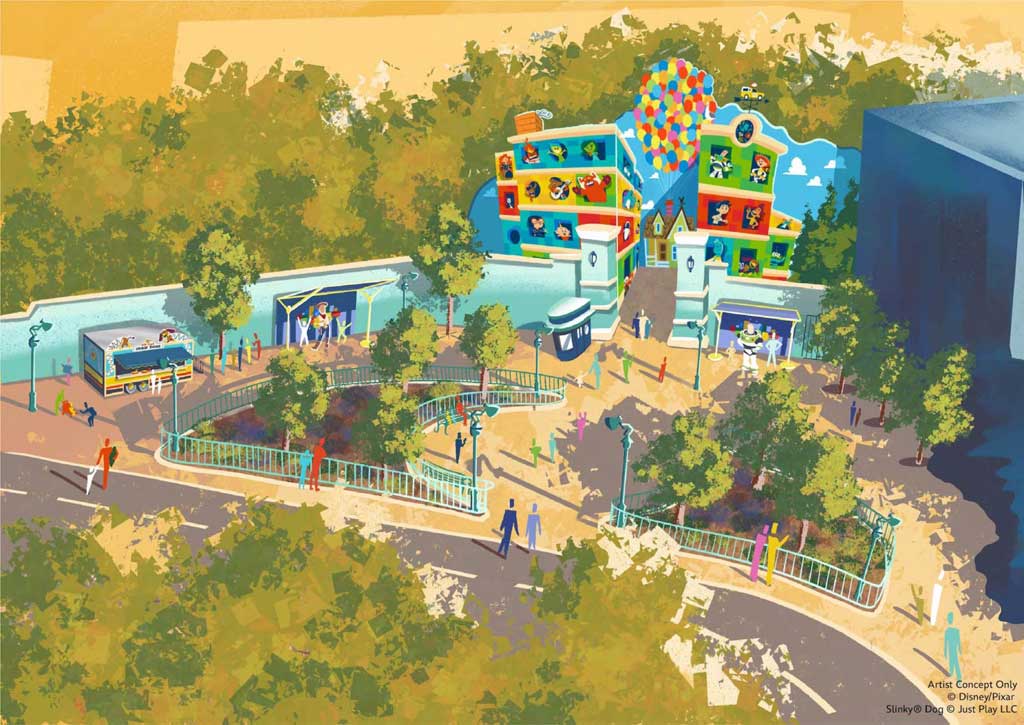 The highlight of these new additions from Pixar is the new show TOGETHER: a Pixal Musical Adventure, being staged from the summer at Studio Theater, a state-of-the-art theatre at the heart of Walt Disney Studios Park. Lasting around 30 minutes, the show tells a moving and original story, as only Pixar can, through several scenes, each as creative as the next, plunging viewers into an immersive experience through iconic Pixar worlds, from Toy Story to Monsters, Inc. and more. Besides spectacular scenic effects and innovative choreography, the music will play a very special part in the show. In addition to spectacular scenic effects, a live band of eight musicians will pay homage to the timeless beauty of Pixar's most memorable soundtracks while also performing an original score. For the show, the talented and multi-awarded* teams of Disneyland Paris Live Entertainment have collaborated with professionals in the music and dance industry with touching and unforgettable results!
*Park World Excellence Award of the Best Live Entertainment in 2022 for Disney D-Light, IAAPA Brass Ring Award 2022 of the most creative Christmas/Holiday Show for Mickey's Dazzling Christmas Parade
Iconic attractions further enhanced
Mindful of preserving and continuously improving the guest experience, Disneyland Paris has confirmed the imminent reopening of two attractions currently closed for renovation, and the update of an iconic attraction.
The "happiest cruise that ever sailed" will make its big comeback when "it's a small world" reopens its doors on May 5th, accompanied by its iconic musical anthem. A true celebration of the diverse world we live in, the attraction has been one of our guests' favourites for more than thirty years. Special care has been taken to preserve its magic and ensure that it shines as bright today as it did on day one.
Walt Disney Imagineering Paris has collaborated with the Disneyland Paris' central and maintenance workshops to maintain the attraction's unique "Disney" artistic heritage. From the craftsmanship of the dolls, the painting of their faces, to the restoration of all the costumes and accessories, a wide range of expertise has contributed to accomplishing this colossal task. In total, more than 300 dolls have been refreshed, not to mention all the animal figurines, the animated accessories, more than a hundred toys…Lighting within the attraction has also been modernised and, on the outside, the charming façade, originally designed by Imagineering legends Rolly Crump and Mary Blair for Disneyland Resort in California, has received a fresh coat of paint.
Lastly, as part of the company's diversity and inclusion focus, new dolls in wheelchairs have been added to several of the attraction's scenes. It's a new phase in Disneyland Paris' continuous efforts to create a destination that's inclusive and relevant to all.
Another attraction, Les Mystères du Nautilus, which enables guests to walk through the famous submarine, will reopen this summer at Discoveryland after a complete subsea overhaul, involving numerous sets and accessories and the improvement of the lighting and sound system. And one of its most spectacular effects has been updated: the discovery of the seabed in Captain Nemo's Grand Salon!
While we're in Discoveryland, it was recently announced that more stories and characters will be added in 2024 to the Star Tours attraction at three Disney destinations around the world, including Disneyland Paris. Since it debuted at Disneyland Resort in 1987 as the first Star Wars attraction in a Disney park, Star Tours has travelled to new places as this galaxy of stories has expanded. Disneyland Paris is looking forward to continuing that tradition next year with all new adventures.
A day of celebration on October 16, 2023 to commemorate 100 years of Disney
Over the last 100 years, Disney has featured in all our lives through timeless stories and unforgettable characters. These magical moments couldn't have existed without the generations of fans and families who have embraced the Disney magic, the work of brilliant artists whose vision, creative talents and imagination have brought these iconic characters to life.
To celebrate this historic milestone, Disneyland Paris will join the worldwide celebrations planned in all the Disney Parks.
As a climax to the festivities, an extraordinary day awaits guests on 16 October 2023, the birthday of The Walt Disney Company. Throughout the day, visitors will be treated to a dedicated program of festivities, including unique Disney experiences. More information to follow soon.
A royal transformation for the Disneyland Hotel in 2024
As part of the current transformation of the top tourist destination in Europe, the legendary five-star Disneyland Hotel is being entirely "reimagined" on the inside and completely renovated on the outside.
When it reopens in 2024, Disneyland Hotel will be the very first Disney hotel to take guests on a majestic journey celebrating Disney royalty. This ultimate experience, unique to Disneyland Paris, invites guests to discover the most iconic royal histories and characters from Disney classics, from Snow White and the Seven Dwarves, Cinderella, The Little Mermaid, Aladdin, Beauty and the Beast and The Princess and the Frog, to recent hits like Frozen, Moana and Raya and the Last Dragon, allowing each guest to be part of their favorite royal stories, to better write their own.
Under the artistic direction of Walt Disney Imagineering Paris, Disneyland Paris teams, including the Construction, Entertainment, Food & Beverage, Hotels & Resorts and many others, are currently hard at work alongside numerous local suppliers and craftspeople to create a unique immersive experience, to the last detail, that will delight even the most discerning of Disney fans. From the design and architecture, paying an impassioned tribute to the Disney royal histories and European royal monuments, to the gastronomic delights of themed restaurants, the bar and lounges, customers will be immersed in a regal atmosphere.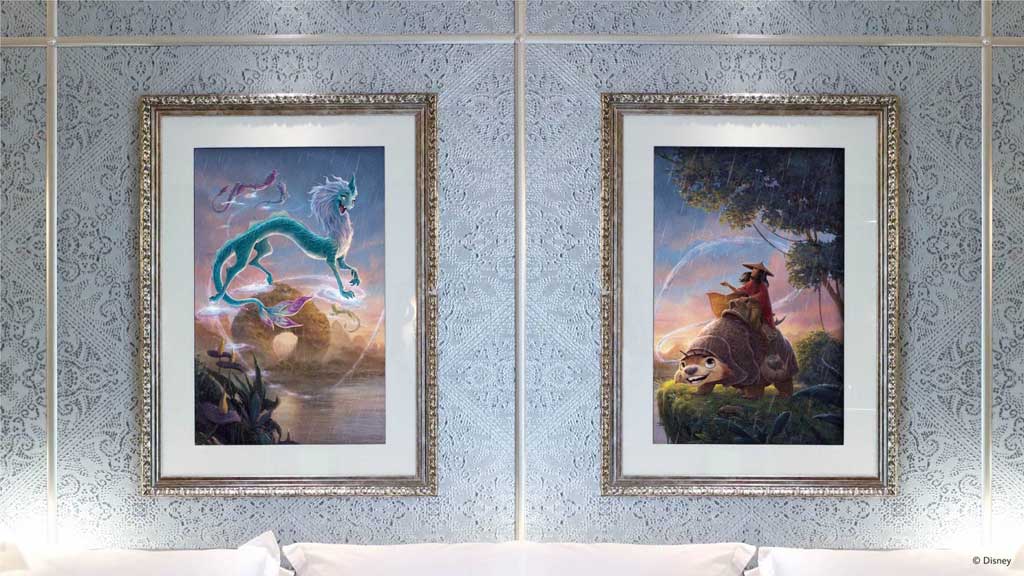 This major reconstruction project will set Disneyland Paris still further apart as a unique destination in Europe, combining the art of immersive storytelling with an unparalleled sense of hospitality, and strengthening its leadership on the market with 7 hotels and more than 5,700 rooms.