Book Review: Lilo and Stitch – The Official Cookbook
Lilo and Stitch – The Official Cookbook by Tim Rita
Aloha! Now you can create delicious Hawaiian recipes inspired by Disney's Lilo and Stitch with your ohana. The Lilo and Stitch: The Official Cookbook! is a gorgeous and picturesque book.
Written by Native Hawaiian chef Tim Rita, recipes include authentic, traditional, and local Hawaiian dishes such as Ahi Poke, Chicken Long Rice, and Lomi Salmon.  As well as original recipes based on foods featured in the film and the beloved characters who enjoy them, including Pā'ina Haupia Cake, Pelekai Sweet and Sour Pork, and David's Dawn Patrol Loco Moco.  Many of the recipes came from Tim Rita's own ohana, inspired by many luau, and get-togethers with his friends. Hawaii is known for being a melting pot of flavors, so you will see many cultures and people influences blended in the dishes, just like how the characters in Lilo and Stitch came together to bring a bit of everyone's background to the community.
The Lilo and Stitch: The Official Cookbook features more than 50 recipes, stunning full-color food photography, lovable film stills, and iconic movie quotes organized into five chapters
Chapter 1: Cosmic Pupus
This chapter has appetizer recipes that take about 10 – 30 mins to make, such as stitched popcorn, poke, and Ohana fruit salad.
Chapter 2: Main Island Main Dishes
This chapter takes you into a deep dive into the heart of Hawaiian food culture. Learn how to make a Loco Moco or deep-fried musubi in about in about 40 minutes!
Chapter 3: Multi-Galactic Pupus
This chapter has some more colorful appetizers you can create, such as a garden salad or sweet potato mush.
Chapter 4: Decadent Desserts
This is my kids' favorite chapter — the sweets! Learn how to make a cake and decorate it to look like Stitch in under 2 hours. Or how about a quick sweet and healthy acai bowl? It wouldn't be Hawaii if we didn't include any shaved ice recipes too!
Chapter 5: Sips in Paradise
No meal is complete without a colorful drink at all. There is a handful of drink recipes that include a mix of fresh tropical juices and some herbs.
Throughout the book you will find various scenes from Lilo and Stitch as well as images of Hawaii.   Each recipe conveniently displays how much prep time, cooking time, servings and ingredients needed. This is a nice feature in a cookbook as it helps you plan how much time is needed to execute and what you need to get on your shopping list beforehand.  I found the  instructions for these recipes easy to follow. My favorite part of every cookbook is seeing all the beautiful food photography and this book has so many. This cookbook will inspire the whole family to make something delicious and amazing! From appetizers to entrées and drinks to desserts, you'll want to party like Lilo and Stitch with these mouth-watering Hawaiian-inspired recipes.  Some recipes that jumped out to me were  –
Galactic Kebabs
Pudge's Peanut Butter, Jelly, and Banana Sandwich
Kaua'i Sugarloaf Pineapple Salsa
Deep-Fried Musubi
Jumba's Zapped Pūlehu Short Ribs
Lilo and Friends' Hawaiian Pizza
Po'ipū Poi Mochi
The kids and I tried the recipe for "Stitched Popcorn," which was inspired by the Hawaiian culture of the importance of family. What better way to spend time with your family than watching a movie with a big bowl of popcorn? In Hawaiian culture, lots of seasonings are added to foods. For this recipe, we added some soy sauce and furikaki seasoning to give our traditional snack a kick to it. It tasted really good and reminded us of the unusual popcorn flavors we tasted at Tokyo Disneyland! This recipe only took a few minutes to make. Most of the time was waiting for the popcorn to pop! Once that is done, adding the other ingredients is super easy and fun. We did not include any red-hot cheese puffs like the recipe asked for, but it turned out fine. Be sure to try out some recipe, experiment, and change things up a bit!
The Lilo and Stitch: The Official Cookbook has perfect recipes for everyone — from classic film stills to iconic movie quotes. Who would not want a little aloha in their home? The Lilo and Stitch: The Official Cookbook is available May 23, 2023 wherever books are sold.
Example Pages from the Lilo and Stitch: The Official Cookbook
Here are some preview pages from the cookbook.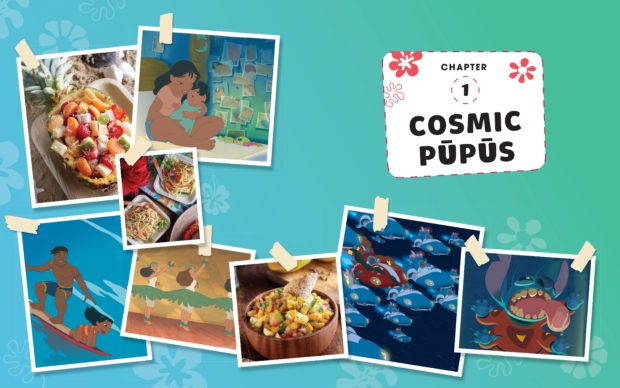 About the Author: Tim Rita is an award-winning mixologist who has spent a lot of his time in the kitchen discussing flavors and gaining culinary inspiration with his chefs. So, with no surprise cooking became a second love for him. Growing up in Hawai'i and with nearly two decades in the hospitality industry, Tim began his cocktail journey from the island paradise on the beach at Waikiki and eventually spreading the "Aloha" island-wide where he was also part of the opening team for Aulani, A Disney Resort and Spa.
---
* This post contains affiliate links, as an Amazon Associate the site earns from qualifying purchases.
** A review copy of this book was provided to us