Rogers: The Musical Original Cast Recording Digital Album Now Available
ROGERS: THE MUSICAL ORIGINAL CAST RECORDING AT DISNEY CALIFORNIA ADVENTURE® PARK  DIGITAL ALBUM AVAILABLE TODAY
BURBANK, CA –September 15, 2023 — Walt Disney Records releases Rogers: The Musical Original Cast Recording. The digital album is now available on all streaming platforms.
Listen on Spotify, Apple Music, Amazon Music, and YouTube Music.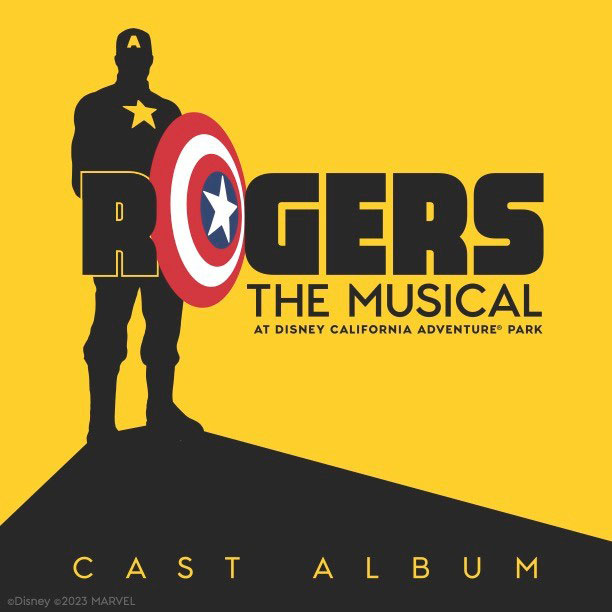 Rogers: The Musical Original Cast Recording features 12 tracks from the one-act musical theater production most recently performed at the Hyperion Theater in Disney California Adventure Park. A classic tale of heroes, time travel and romance, the approximately 30-minute show featured a talented cast of singers and dancers telling the story of Steve Rogers (Captain America), joined by Peggy Carter, Nick Fury and select members of the Avengers.
There are five all-new, original songs written specifically for this production by Grammy® Award-winning composer Christopher Lennertz and lyrics by Jordan Peterson, Christopher Lennertz, and Alex Karukas. These songs add depth and emotion to the narrative, enriching the storytelling experience for fans and newcomers alike.
Lennertz comments, "It was important to us to continue the best of both Avengers and Broadway traditions, infusing humor, heart, and heroic action into the music. The score has memorable melodies and a huge scope of instrumentation that match the iconic presence of our hero. Audiences will hear big band jazz, modern funk, classic orchestra, and more."
In addition to the original songs, the album also includes the fan favorite "Save the City" from the Disney+ series "Hawkeye," composed by Tony®, Emmy® and Grammy® Award-winning composer Marc Shaiman with lyrics by Marc Shaiman and Tony® Award-winning lyricist Scott Wittman; and the standout "Star-Spangled Man" from "Captain America," written by Academy Award®-winner Alan Menken and Tony® Award-winner David Zippel.
"Rogers: The Musical" takes its inspiration from the fictional Broadway musical theater sequence featured in the first episode of "Hawkeye." This new musical project came to life through the creativity of Disney Live Entertainment in partnership with book writer Hunter Bell, star and book writer of the Tony® Award-nominated "[title of show]."
Commenting on the show's conception, Executive Creative Director at Disney Live Entertainment Dan Fields said, "The moment we saw 'Save the City' performed in the 'Hawkeye' series on Disney+, it sparked an idea: What if we could bring 'Rogers: The Musical' to life at Disneyland Resort? I'm thrilled that audiences got to experience the humor, heroism, and heart of that show on stage at the Hyperion Theater."
The album is Produced by Matthew P. Selby, Christopher Lennertz, and Alex Karukas.
Rogers: The Musical Original Cast Recording track list:
"U.S Opening Night"
"I Want You"
"Star-Spangled Man"
"Just One Dance" (Preprise)
"Star-Spangled Man (Reprise) /"Just One Dance" (Preprise 2)
"What You Missed"
"Save the City"
"Save the City" (Playoff)
"End Of The Line"
"Just One Dance"
"Rogers: The Musical Finale" – "Save The City" (Reprise)