Marvel Studio's "The Marvels": Maggie's Review
In theaters Friday is "The Marvels," the Captain Marvel team up sequel to the 2019 film introducing Carol Danvers (Brie Larson) and Maria Rambeau (Lashana Lynch). This film also features Iman Vellani's Ms. Marvel and Teyonah Parris's Monica Rambeau from the Disney+ series "Ms. Marvel" and "WandaVision".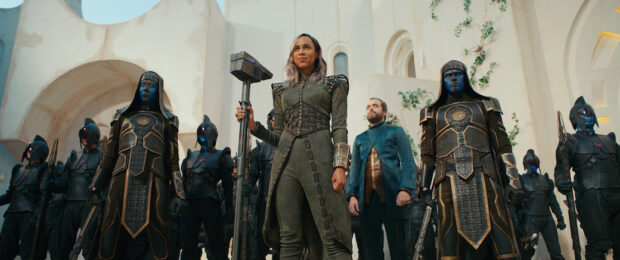 "The Marvels" finds Captain Marvel traveling through space, accompanied by the monstrous and cuddly Goose. Meanwhile, in Jersey City, Kamala Khan daydreams of meeting Captain Marvel, after whom she modeled her persona Ms. Marvel. In a series of freak events, Kamala finds herself swapping places with Captain Marvel and Monica Rambeau. After discovering a wormhole that has entangled the three's powers, it becomes clear that Rambeau can no longer avoid the history she shares with her Aunt Carol, Captain Marvel. The three must team up to defeat the Kree leader Dar-Benn (Zawe Ashton) looking for vengeance on Captain Marvel, and to restore her planet and her people.
"The Marvels" is an extremely fun movie, a welcome divergence from some of Marvel Studio's recent works. Brie Larson's Carol Danvers has a dry sense of humor and sardonic, social awkwardness that creates a delightful dynamic with Kamala. Kamala Khan's family also plays a role in the film and their interactions with Nick Fury and S.A.B.E.R. serve for a lot of laughs. The film's director, Nia DaCosta, is not only the youngest filmmaker to lead a Marvel film, but also the first Black woman, and her perspective and narrative strength shines not only through the film's humor, but also through its heart, particularly in the relationships between the three female leads.
The film opens in media res for Carol Danvers, and does not reveal until the third act why it is that Dar-Benn wants vengeance on her. Unfortunately, because the Marvel Cinematic Universe is now so sprawling, it was not immediately obvious that this was a mystery of the film. For much of the movie, I thought I had simply missed some plot point from a Disney+ series. That being said, for how many parts of the MCU this movie brings together, 2/3 of them from streaming series, the film still manages to be extremely contained and accessible. It is under two hours, and delivers a lot of action, a training montage, some slumber party energy and a chance for the heroes to be a little goofy. It is nice to see a Marvel Film lean in to being weird and use the acting talent of the film to actually pull it off (a feat not quite achieved by "Ant-Man 3" or "Doctor Strange 2"). One particular scene on an alien planet dances right on the edge of ridiculousness, but is pulled back by Brie Larson's charm, and to be honest, the scene stealing good looks of Park Seo-joon
Overall, the marvels was extremely enjoyable, and I highly recommend going to see this in theaters. I saw it in IMAX and, especially with the constant teleportation of the three leads, the extra viewing space was definitely worth it.
"The Marvels" is in theaters now.