Club Penguin – My 1st Impressions
I know I am late to the game, but not being a big gamer or having kids Club Penguin was only slightly on my radar. I glanced at it when Disney purchased it back in 2007 and I share the releases/news from the various events they host from time to time, but I had not spent any time exploring the environment.
First a little history Club Penguin started in Canada in 2005. It was acquired by Disney in 2007 and has been part of the Disney Interactive portfolio since. Club Penguin has both free as well as paid membership. It is targeted at children ages 6 to 14, but there are no restrictions on who can play. There are parental controls and settings that can be utilized to monitor/lock down your child's account such as how long they can spend online or are they allowed to chat with others , etc..
The game itself is very similar to other online experiences in that you have a character and can interact with other players, by chatting or playing games. Or you can choose to roam around and do various activities by yourself. You collect coins, stamps, and other wares as you play. Many of these add-ons are only available to paid members.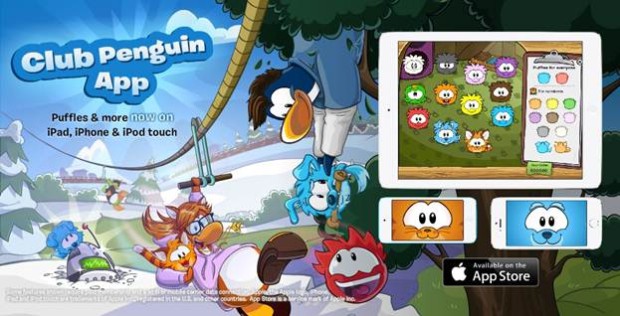 You can interact with Club Penguin via a computer, app, of Nintendo game system.
From time to time Club Penguin hosts events. For example they just wrapped up a Frozen event with special activities, furniture, clothing, puffs, and even an ice palace to go and listen to a version of "Let it Go". In the past they have done other Disney movie tie ins such as the Muppets.
As I mentioned at the start I am not the target audience by any stretch of the imagine but thought it was time to see what the environment was like since I get a question or two on it from time to time. Overall for someone like me it was interesting to see what they did and check out a couple of the games. I spent a couple hours roaming around and playing the games and just exploring the world over the course of several days. Since I was new I did not know any of the vocabulary and had to learn everything from scratch. Overall it was quite easy to pick up the basics and understand what was going on. From an adult standpoint I thought it was great to see a prominent safety button and tutorial. I did not engage in any conversations so I cannot comment on the social aspect of the game. Overall responsiveness varied based on time of day and day of the week but overall it was a fairly fluid experience. The one exception being the ice palace where you hear "Let it Go" The first day this was really bogged down but as time went on it seemed to respond better. The graphics are about what you would expect from an online game, nothing spectacular but acceptable. You are not visiting because of them..
Comparing it to other Disney online experiences… it is always a bit unfair to do a feature by feature comparison because there are so many variables and different eras. I would still rank the Virtual Magic Kingdom that ran from 2005-2008 as the most interesting to me. The reason being the topic more than anything. I thought it was a fun idea for us disneygeeks. The Toontown Online and Cars would follow behind that. Again based on subject area. This would be after that, mostly because its not a strong Disney component.. the events and addons are Disney but the underlying storyline/game experience revolves around penguins. Not Disney locations, stories, or characters.