Disney/Pixar's The Good Dinosaur Voice Cast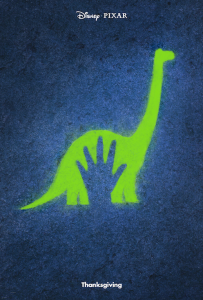 URBANK, Calif. (June 12, 2015) – Disney•Pixar's upcoming movie "The Good Dinosaur" revealed its roster of voice talent today. "We were lucky to work with a number of incredible pros along the way and our story ultimately led us to this amazing and talented group," said the first-time-feature-film director Peter Sohn. "We're all taking this journey with Arlo, and it's been a privilege to see these performers bring our characters to life." 
RAYMOND OCHOA (NBC's "The Night Shift," TNT's "Rizzoli & Isles," "Disney's A Christmas Carol") provides the voice of an Apatosaurus named Arlo.
JEFFREY WRIGHT ("The Hunger Games: Mockingjay" – parts I & II, HBO's "Boardwalk Empire") was tapped as the voice of Poppa, Arlo's father. 
STEVE ZAHN ("Captain Fantastic," "Ridiculous Six," "Rescue Dawn," "Mad Dogs") provides the voice of a pterodactyl named Thunderclap.
AJ BUCKLEY (TNT's "Murder in the First," FX's "Justified") voices a T-Rex called Nash.
ANNA PAQUIN (HBO's "True Blood") is the voice of T-Rex Ramsey.
SAM ELLIOTT (FX's "Justified," "I'll See You In My Dreams," "Grandma") was called on as the voice of a tough T-Rex named Butch. 
FRANCES MCDORMAND (HBO's "Olive Kitteridge," "Fargo") was tapped as the voice of Momma, Arlo's mother.
MARCUS SCRIBNER (ABC's "black•ish") voices Arlo's brother Buck. 
JACK BRIGHT ("Monsters University") provides the voice of Arlo's unlikely human friend, Spot.
ABOUT THE MOVIE
"The Good Dinosaur" asks the question: What if the asteroid that forever changed life on Earth missed the planet completely and giant dinosaurs never became extinct?  Pixar Animation Studios takes you on an epic journey into the world of dinosaurs where an Apatosaurus named Arlo makes an unlikely human friend. While traveling through a harsh and mysterious landscape, Arlo learns the power of confronting his fears and discovers what he is truly capable of.
Directed by Sohn and produced by Denise Ream ("Cars 2"), Disney•Pixar's "The Good Dinosaur" opens in theaters on Nov. 25, 2015.
---
Related Post:
6/2/15 – The Good Dinosaur – New Teaser Trailer & Poster