D23 Expo – Day 2 – Applying Lessons Learned & Taking a 4yr Old (Daynah)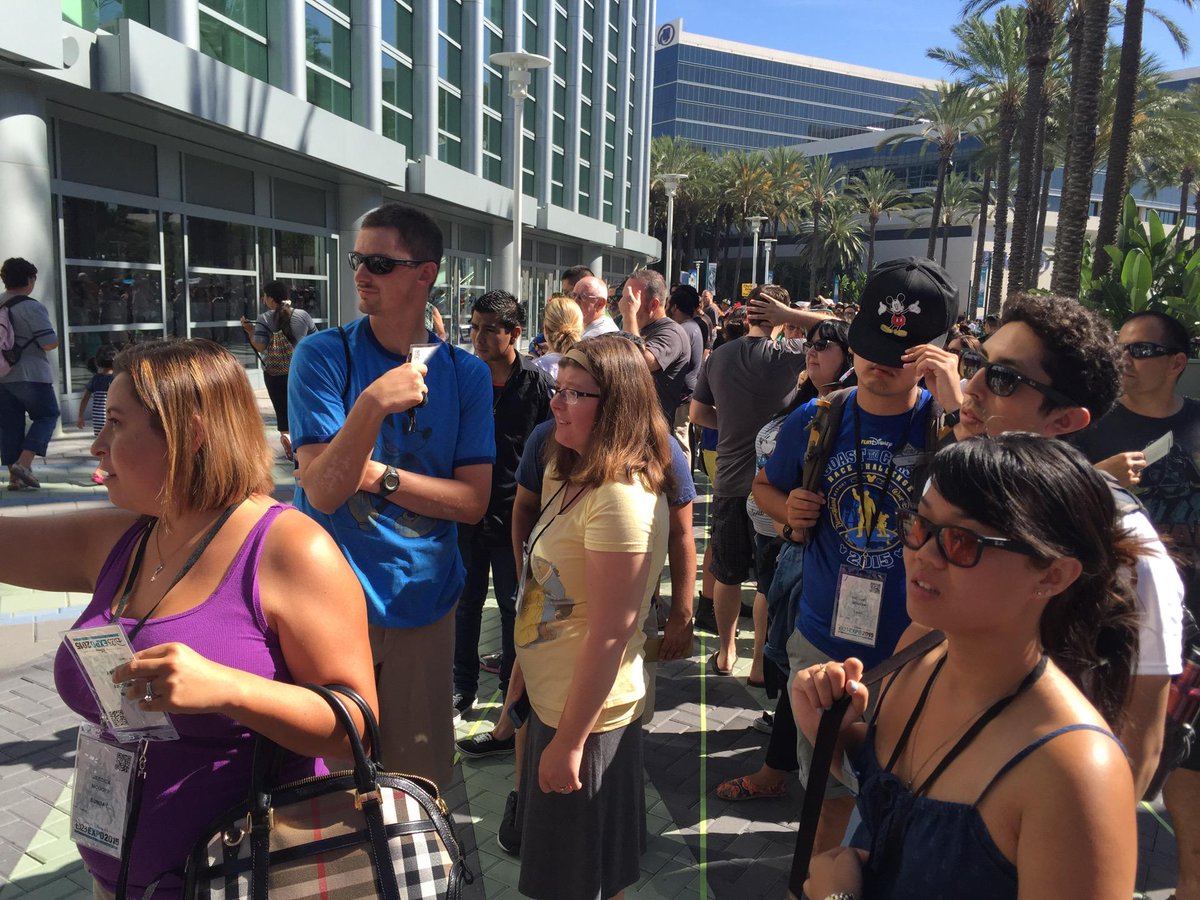 The Early Morning Wait
My Day 2 at the D23 Expo was much different. Having already went through the experience the day before, I knew exactly how to plan my day out better. Plus I brought my husband and my almost-four-year-old daughter on Sunday, so I wanted the experience for them to be as comfortable as possible.
I got up early to pack some snacks and extra clothes for my daughter but let her and my husband sleep in for a while. I knew that by 10:30am, I would be able to just walk in through the D23 Expo doors so I was not in a big rush. We did decide to leave around 8:30am though to get a good parking spot. We had to park on the roof of the Anaheim Convention Parking structure. We got in the General Admission line around 9:30am and waited with everyone else. By that time, it was extremely hot and the sun was directly on us. I just kept positive knowing we will be indoors in about 45 minutes or so.
Some Tips to Keep in Mind:
If you need parking and plan on arriving at a later time, come before 9:30am. Parking will be close to filled by 10am if not earlier.
Bring water, snacks, a hat, sunblock, and maybe an umbrella with you. The event is during the summer when it can get pretty hot, especially when you are standing around and just waiting. If you have a small water mister, bring that too!
Keep kids well shaded and hydrated and bring some extra entertainment for them.
Bring some sort of entertainment for your child. This will make waiting in lines more pleasant.
The Expo Floor and Panels
Once you walk in through those doors and the air condition hits you, it just feels amazing and exciting all over. We were in the doors by 10:15am and the first thing I wanted to show my daughter was Loretta Devine, the voice of Halle the Hippo from Doc McStuffins. Genevieve Goings was up on stage next so my daughter was entertained. We went to see the cast of Teen Beach Movie 2 next and then explored the rest of the Expo Floor.
Here were some of the things we did:
Walt Disney Studios – My daughter loved picking out scenes from her favorite Disney movies and posing in them. We stood in front of the green screen and they took photos of us, then added the scenic background. I think she enjoyed watching the cast member create the photo on the green screen the most because she would run out of the photo quickly to watch the cast member edit it.
Cakes.com – This booth was had so many "Frozen" themed cakes on displayed. My daughter loved it!
Yoda Photo Spot – These photo spots are just a hit with the kids. My daughter walked up to Yoda and posed herself.
Jedi Training Academy – we watched the young Jedi battle it out with Darth Vader.
Saw the cast from Jessie / Bunk'd – My daughter enjoyed seeing familiar faces.
Demo of Just Dance: Disney Party 2 – This game looked like so much fun and they had the music from all of our recent favorite Disney movies like Descendants and Teen Beach Movie 2!
Teen Beach Movie 2 – She really loved watching the cast perform their hottest dance moves. We love this movie, especially the soundtrack.
Lunch Break – It was definitely wise to take a lunch break, especially with a very hungry kid. We rested in the front lounge eating pizza and just soaking all of the excitement. As we were eating lunch, the cast of Teen Beach Movie 2 walked by us. My daughter said she did not recognize Tanner without his kitchen sink!
Sing with Brad Kane (Voice of Aladdin) – Lucky we took a short break because we would have missed this show! As we walked by, they were having a contest on the best singer for "A Whole New World."
Shopping – By 2pm, my daughter fell asleep so my husband and I went shopping and browsing Disney products. We stopped by the Hallmark booth and won a few toys at the Tomy booth.
Frozen FANdemonium: A Musical Celebration – I took my family to their first panel for one of out favorite movies — Frozen! Plus we needed a break and a place to sit and rest out feet. This turned out to be the highlight of our day.
Disney Store – Finally got in line to check out what was in the Disney Store. It was Sunday afternoon so the line was not that bad. It was about a 45-minute wait to get in. Once we got in, it was a a lot of fun. I got to see all the new Heroes and Villains collector dolls. The other limited edition ones were long gone though.
After shopping, we called it a day and headed home. My husband enjoys live music, so the highlight of his day was the Frozen panel where we got to hear the original songwriters sing and play piano. My daughter's favorite thing to see was also the Frozen panel and the cast of Teen Beach Movie 2 performing their dance moves.
D23 Expo with a Toddler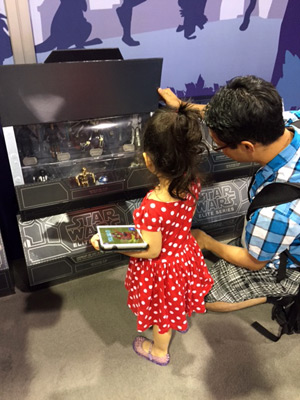 My first day and second day at the Expo were much different. The first day when I was there alone, I was able to hop from booth to booth easily, capturing moments from events happening at the same time. The second day on the other hand, I slowed down a bit to enjoy the time with my family.
On my first day, I was also scoping out booths and events that I knew my daughter would enjoy and better planned for our day together. I knew there was no reason for me to get to the convention center super early since it only made a difference of 15-20 minutes in time to enter the event.
I was trying to decide whether I should bring a stroller or not to the Expo. After how tired I was coming home from Day 1, I knew it would be smart to bring one. There was no way I could carry her all day. There were a lot of crowds and things happening everywhere so I knew she would be overwhelmed and less likely to want to walk. Maneuvering around crowds took a little more time, but the only bottlenecks that I saw were around the Radio Disney and Disney | ABC TV Pavilion booths. Looking back on the day now, I am so glad I brought a stroller. My daughter was tired from all the stimulation and she did nap for an hour in it. When she napped, my husband and I were able to visit a lot of the shops at D23 Expo. Plus, we had a place to hang our bags and other little things we carried with us.
When we went to a panel, we did have to park our stroller at the entry way. But because we had a stroller, we did not have to wait in the long line wrapping downstairs and going upstairs. They brought us in to be seated right away. So there was another nice perk of bringing a stroller!
When traveling with a small child, you can expect more downtime, more bathroom breaks, and more hungry mouths to feed. Luckily, Disney did account for all of that so the bathrooms were easy to find, there were lounges to rest near the front as well as a Family Play Zone on the second floor, and you can find mini food carts around the show floor. It also helps a lot when you have another adult with you that you can switch off with for caring for the child.
Overview
Overall, we all had a fun yet exhausting day. Day 2 for me was much better as I felt more prepared and got to enjoy the day with my family. We got to see some amazing things at D23 Expo and I was really glad I got to share these special moments with them. It may have been more working taking a child around the event, but was very worth it. She often talks about the concerts and all the things she saw at the Expo after it was over.
---
For more D23 Expo coverage and news from Daynah and Jason click here to visit the summary page

About the Author:
Daynah is a mother of one who's passionate about technology and the web. She enjoys blogging about motherhood and crafty Disney projects, as well as browsing Pinterest. You can find her at latest crafts at Scrapp'n and join her motherhood journey at CoderBaby.com. You can also follow her on Twitter.