Paris Trip Log – Day 10 – Heading Home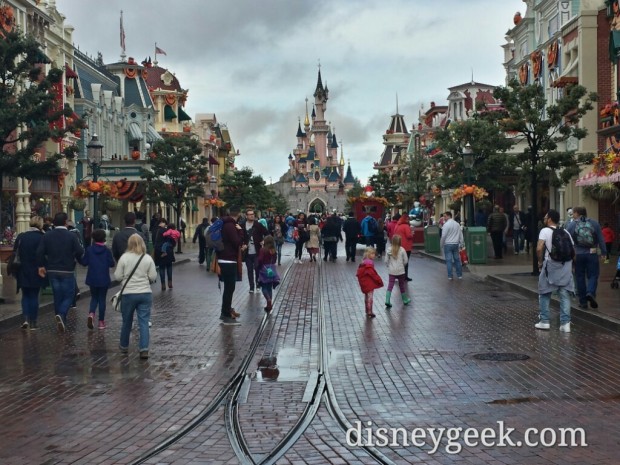 A trip log from Tuesday, October 6, 2015 – A last walk through Disneyland Paris then heading Home…
I woke up around 7am with the plan to check the weather, grab breakfast and head to the park. Unfortunately the weather forecast was correct and it was pouring rain.. so instead opted to lay around the hotel, wrap up packing and eat a leisurely breakfast in the Golden Forest Lounge. After breakfast headed back to the room to zip up the suitcases and wait for the weather to clear. As luck would have it around 10am it did. So I headed out to the park walking through the Disney Village and then into Disneyland. I had about an hour until I needed to leave the park so wandered around Main Street USA, then Sleeping Beauty Castle paying a last visit to the dragon. Strolled through Adventureland and Frontierland one last time before returning the long walk to the park exit. Always tough to leave a park. Walked back through Disney Village and picked up lunch for everyone along the way and met back at the room around 11:45am. After eating headed down to the lobby to check out around 12:15pm. Then did a last lap around the hotel grounds and out to meet our shuttle to the airport just before 1:00pm. There was an accident on the highway so he took us through some towns/villages and farmland to reach the airport. Arrived, checked in and was at the lounge next to our gate in no time. Got caught up on some emails and ate a snack then went downstairs to board just before 4:00pm. The flight left around 5:00pm with the first leg taking us to New York (JFK) via Air France. Arriving into New York just before 7pm as the sun was setting. Made our way quickly from the plane to customs and got cleared then waited for a good 30-45 minutes for our bags to finally arrive. Once they did finished customs and had less than an hour to get to the other terminal, through TSA and to our plane… we made it with 30 minutes to spare when we reached our seat onboard. The flight left on time and we got into LAX almost an hour early. Our bags were first off then had to wait half an hour for our shuttle home. We arrived home and walked through the door around 2am to wrap up this trip.. a full 22 hours after leaving the Sequoia Lodge Lobby.
---
Daily Stats
Pedometer Readings:
Steps – 9,781
Miles – 3.7
Moderate Steps – 6,295
Moderate Minutes – 54
"Tweets" from the day featuring pictures as I walked around
---
Visit my 2015 Paris Trip Summary Page for all links related to 30this trip.