Aladdin Home Video Release Celebration & Teri's Take on the Release
In celebration of the upcoming "ALADDIN: DIAMOND EDITION" release, Scott Weinger, the voice of Aladdin, hosted a special screening of the film at the Walt Disney Studios lot a few weeks ago.
Before the screening we were entertained with snacks and array of games and fun for the kiddos.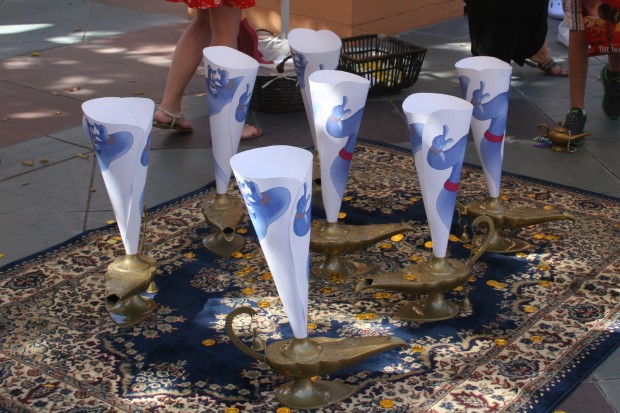 Before this special screening, we were treated to an introduction to the movie by: Ron Clements (Producer/Director) and Scott Weinger (voice of "Aladdin")
The special screening of the movie was extra special for Scott Weinger as it was the first time that his son was seeing the movie. They talked about this before the film, so we never found out his review.
It was a fun celebration for the release of the Disney's Aladdin Diamond Edition and it was great to see the film on the big screen again.
The Blu-Ray version has an extensive list of Bonus Features that celebrate the making of and the behind the scenes that were not included on previous releases of the film.
Here is a clip featuring Behind-The-Scenes with Brad Kane (Voice of Aladdin):

I really enjoyed some of the new bonus material, especially "The Genie Outtakes". In this featurette you are led through some of the wonderful improvisations from Robin Williams (voice of "Genie") by Ron Clements ("Aladdin" Producer/Director), John Musker ("Aladdin" Producer/Director), and Eric Goldberg (Supervising Animator "Genie"). This exclusive look at the "Genie Outtakes", reminds us of how great Robin Williams was and how he will always live through the characters he played.
Another tribute to Robin Williams is the "Genie 101" featurette which provides a look at all of the amazing transformations that he provided as the voice of the "Genie". Scott Weinger (voice of "Aladdin") takes us through all of the characters that the Genie portrays in the movie "Aladdin".
As I clicked through the disc I found the amount of bonus material almost overwhelming to go through. Each item I clicked on revealed more sub items and each had its own featurette. You could spend a lot of time clicking around the bonus material sections on this offering.
All Disney movies are great to own add to my collection, but the extras with Robin Williams makes this Aladdin set stand out and something I will treasure in my collection.
---
---
Related links: