World of Color Dessert Party – 1st Impressions & Details
I was invited to attend a World of Color Dessert Party on Thursday evening at Disney California Adventure.  I have not been to any of the regular dessert parties at the Disneyland Resort so I RSVP'd for opportunity to experience one and share my thoughts on it.
The World of Color Dessert Party started on March 17, 2016 and runs most nights during the World of Color – Celebrate! The Wonderful World of Disney show. Reservations and booking information is available on the Official Disneyland Website – disneyland.com. Currently the price is $79 per person (this includes tax and gratuity but not park admission).  The website says to arrive an hour before show time.  They did not start seating guests until 45 minutes prior to show time.
My Experience:
We arrived in Paradise Bay just before 7:15pm and found the appropriate queue for the dessert party.
As we stood and waited to check in cast members gathered to seat groups.  The process started at 7:30pm sharp and progressed rather slowly.
We checked in and were escorted to our table.  We reached our table just after 7:50pm, so approximately 20 minutes into the event, and we were in the middle of the line with a fair number of guests behind us to check in.  You were seated at a designated table, all appeared to seat four guests and majority were high tables and chairs like this.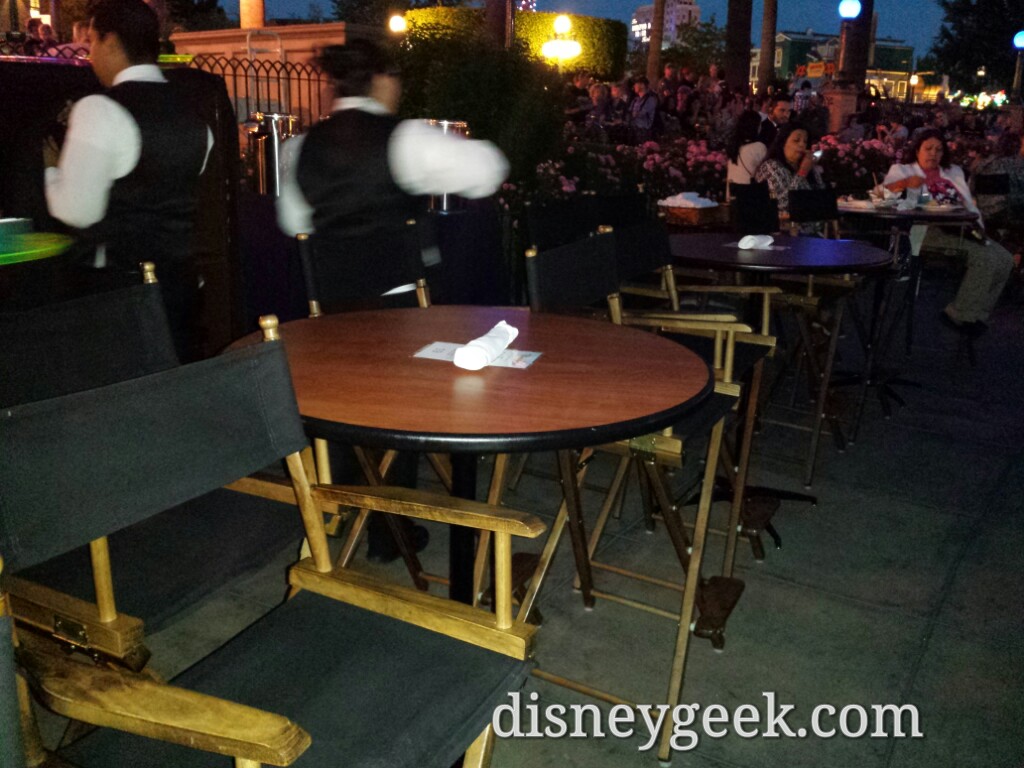 There were several tables at regular height like this one too.
The view from the regular height table.
A bread service was brought to our table right as soon as we were seated.
The table had the menu of desserts that were to be brought.  Your plate had one of each.  Beverages included champagne, sparkling cider, coffee, tea, hot chocolate and soft drinks.  There is also a "surprise and delight"  for children based on availability.  The night we attended this was Made With Magic cups.
They took the drink orders then brought out the desserts and drinks.  Here is the offering, all appeared to be the same, adult and children with no substitutions.  We did not ask about allergy options.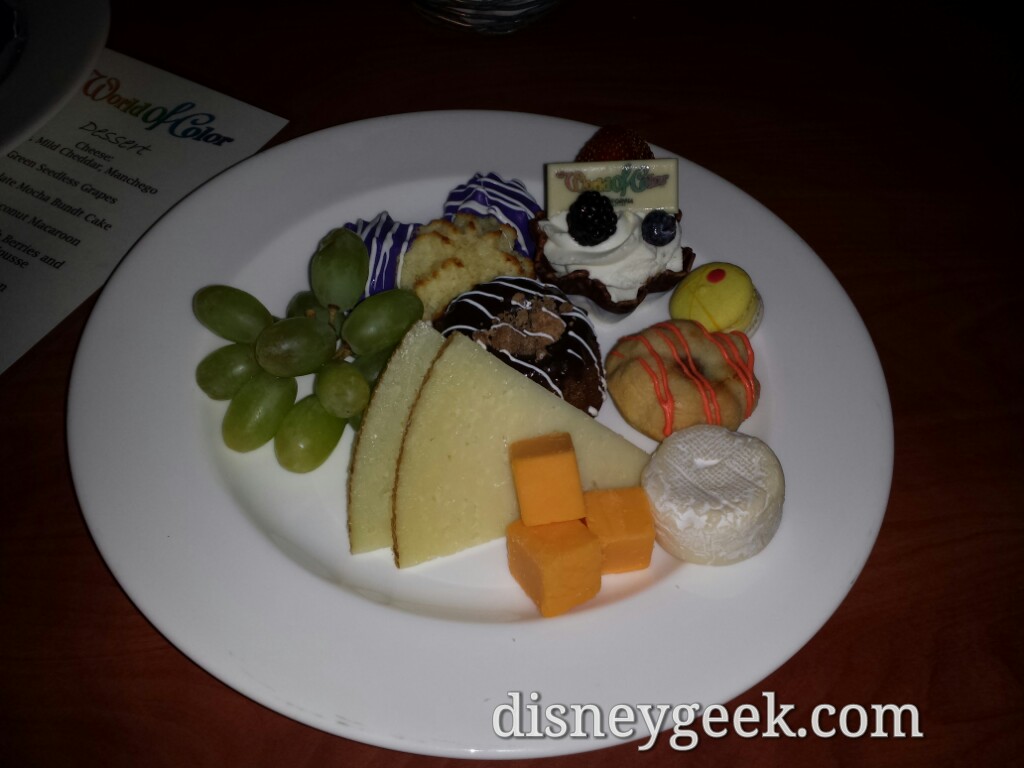 Children's drinks were served in a Made With Magic cup. We asked and they said no to adults having one, even if we were not drinking alcohol.  These were a special item and limited, so they may not be available all nights for kids.
The Cast Member serving us played Happy Birthday for the birthdays in the area on his harmonica.
It was then showtime.    Here are a couple video clips to show the view from my seat.
After the show you could ask for a box to take any of your uneaten desserts home, which we did.   The box is plain if you were curious
Our desserts the next morning
---
Event Impressions:
The best part of this experience was having a seat for World of Color.  I am so used to standing it was a different way to see the show.  The view of the show was good, not the best due to all the people standing in front of you so you could not see the water and low fountains, but good and from the comfort of a chair was worth the trade off.   There were plenty of cast members working the event and checking in on you once seated.    The biggest "miss" of the experience to me is the event seemed rushed.  Approximately half the allocated time went to the check in process and by the time we were seated and served it was show time and you were left eating in the dark and trying to watch the show at the same time.  A more relaxed atmosphere would have been a plus in my group's book.    Maybe starting checking guests in and having them wait with their wristbands and then start seating at the 45 min to show time mark.
The Food:
I am a very picky eater and I do not drink alcohol so  according to just about everyone who has eaten with me or knows me, my eating habits and tastes are something you should not bother to try and understand or use as a measuring stick.  So as expected I did not care for any of the desserts and ended up drinking a Coke and taking a bottle of water to go.  I was disappointed they would not let adults have one of the glow cups if they opted out of alcohol.   I would have liked to have seen a basic dessert option.. plain/regular cookie or brownie or even ice cream treat.. yes it is standard park fare but for basic eaters like me that is our comfort zone.  I would image there are others that attend these like me with their families so some sort of fall back options would be nice.   I have no real baseline to compare this too since I have not done any of the other dessert parties.   Since I am not a food person I enlisted some help from one of my guests at the event, Jeanine.  Here is her assessment of the offerings:
The dessert plate (which was the same for everyone–no options) was pretty standard for the dessert party fare Disney has been providing for such events as the "Fantasmic!" Dessert Party–cheese and fruit, with a cake, a few cookies, and a mousse.  I thought they were all very good, with the standout for me being the brie and the lime yogurt mousse.  As the shortbread and macaroon had something of a dry, heavy nature, the mousse provided a nice change of texture.   Probably my least favorite was the coconut macaroon, as I'm not a huge fan of coconut (as Tallahassee says, "I hate coconut. Not the taste, consistency.")  Volume-wise, it was sufficient where someone could get reasonably full if they hadn't had dinner first, and they provided boxes in case you wanted to take the remainder of your desserts for later.  On the whole though, while everything was well-done, nothing on the plate really jumped out as earth-shaking either.  It is a nice assortment, but probably not the main reason you are going to pay out to join this party.
Conclusions:
The big question is it worth $79 a head for the World of Color Dessert Party.  My answer is it depends.  For someone like me I would not do it again by myself.   I ended up drinking a Coke and having a bottle of water.  The comfy seat for the show was good but there are better views if you do not mind standing and tight quarters.  I asked the others at my table and they too waffled with a it depends.  They thought the desserts were adequate and they really appreciated the seats but thought the time was too short which brought down there overall impression of the event.   If I were a more food oriented person who had not seen the show and/or does not like being crowded into a standing area this would be an ideal party to consider.  You have your own space & seat, food & drinks brought to you, and a good view of the show.
If you have any questions about the event or my experience leave a comment, drop me an email or Tweet and I will be happy to expand/explain.   For more pictures from the event check out my full Disneyland Picture set from Thursday 4/21.